san diego on fire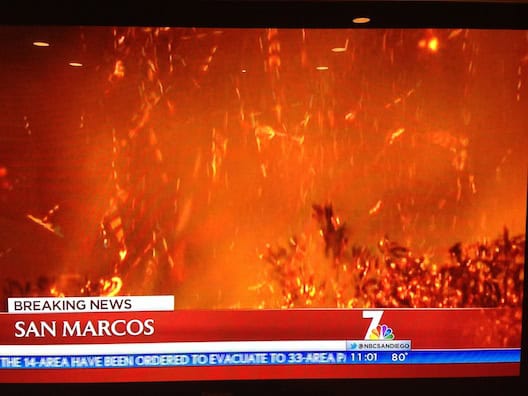 Once again, San Diego is burning.
As I write this, there are at least half a dozen fires out of control and Michael and I are going through stuff, trying to decide what to take if we end up having to evacuate. Again.
We did this back in 2007 and, let me tell you, it was scary.
We're New Yorkers. What do we know from nature?
The day before we had to leave, the sky was a color I've never seen before – at least not in real life. It was an apocalyptic grayish brown. Ominous. Smoky.
The fires were maybe 20 miles away. Schools were closed and I, along with most of my neighborhood, took the kids to the movies. When we came out, it was like we were still in a movie. A movie about the end of the world. Shades of a mustardy yellow smeared the sky. It was hard to breathe.
We went home and packed up both cars even though it was unimaginable we'd have to leave. We lived near the coast, and fire wasn't supposed to jump the freeway.
We knew Jessie, our 130 pound Newfoundland, was going to take up the entire back of my station wagon, so there would only be so much room. All we could take with us was stuff that was irreplaceable – or absolutely necessary.
Here's what we packed:
* the giant carton of photos that I'd never organized, along with every photo album and rogue photo I could get my hands on
* my kids' Bar and Bat Mitzvah videos and all our old home movies
* our laptops, iPods, cell phones, chargers
* a couple of changes of clothes
* some basic toiletries
* Jessie's 35 pound bag of dog food, blanket, boxes of treats, water dish, brush, toys, medicine
* water bottles and protein bars
That's it.
We all slept restlessly that night and woke to an even darker sky. Now, we could see flames. That was it. We were leaving.
As soon as we made that decision, the reverse 911 call came in, telling us we had to evacuate.
I immediately called the Loews Coronado because I had recently written an article about pet-friendly hotels and knew they would take our gentle giant. We got the last hotel room.
My parents, who live about 10 minutes from us, decided to leave, too, even though the hotel was sold out. We offered them our room but, because we had Jessie, they said they'd head down to Coronado and see what they could do.
They ended up staying at the naval base, which was being used to house evacuees. They ate, slept and were treated well, and were so appreciative.
Meanwhile, we pulled up to the beautiful Loews Coronado and Jessie planted herself at the entrance, refusing to go in. WTF?
You see, Princess Jessie only liked to walk on carpet and the Loews Coronado had a marble floor. She wouldn't budge, and when a Newfoundland doesn't want to budge … well, end of story.
One of the bellmen brought out a luggage cart – which we thought was a great idea! – and we tried to pick Jessie up to get her onto it. She hated that idea and sat down outside the front door again. She was not going anywhere.
San Diego was burning and our dog wouldn't walk into the hotel.
People were laughing and pointing and saying how cute she was. We were sweating.
As we tried to cajole her with treats, the hotel manager came out with an armful of towels which he proceeded to lay out like a Red Carpet across the lobby.
Without a second glance, Jessie got up and sashayed her way along the path as though she didn't have a care in the world.
We were exhausted.
We will always be grateful to the Loews Coronado for making us so comfortable during such a stressful time.
We spent two nights at the hotel, glued to the TV to make sure our house was still standing, and commiserating with the other guests in the lobby, which was filled with people sleeping on couches and animals of all kinds. We even ran into our vet there, which was so reassuring in case Jessie needed anything.
It was surreal staying in this gorgeous resort as though we were on vacation when our neighborhood – our whole county – was in a state of emergency. We were so lucky.
We pray that we continue to be lucky, that we don't have to evacuate, and that everyone in San Diego remains safe.
Meanwhile, we know we should be packing our valuables in case we need to evacuate again. But, somehow, it doesn't seem as important this time around because our real valuables are gone. The kids are grown and living 3000 miles away, and Jessie passed away two years ago.
Honestly, we could easily just get in the car and drive away.
But, oh, how I would love to find that picture of Jessie sitting outside the Loews Coronado.