joe john duran talks about the emotions behind money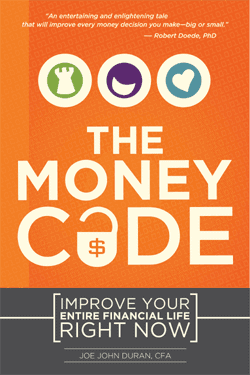 Although I know I need to learn how to keep on top of my finances and be more aware of how I spend my money, financial books are often unappealing because they're written in a language that makes me feel like I know even less than I do. The Money Code: Improve Your Entire Financial Life Right Now was a pleasant surprise because it breaks down the driving force behind our financial decisions into three types of Money Minds, each led by a specific emotion. This was much more interesting to me, and made much more sense.
Author Joe John Duran holds the Chartered Financial Analyst (CFA) designation and earned MBA degrees from Columbia University and UC Berkeley. He is the CEO and founding partner of United Capital, which consistently ranks as one of the nation's fastest growing wealth counseling firms, and you've probably seen him talking about money on CNN or CNBC. Here's what he had to say about his new book, which we're giving you a chance to win along with a $100 Visa gift card.
I found The Money Code fascinating, and was sort of surprised when I took the test and discovered I was driven 43% by fear, 29% happiness and 28% commitment. My husband always talks about how he's driven by fear, but I thought I was more balanced than that! Can you talk a little about those three elements and what they mean?
Don't be surprised – fear is the most dominant of the Money Minds. It could well be that your husband has an even stronger fear money mind than you. Fear types are concerned with finding genuine peace of mind and seek security and safety. Happiness type's primary goal is satisfaction and never feel like they have enough money or time. Commitment Minds always take care of others first and overemphasizes the opinions of others.
Why did you decide to write this book? How did you come up with this format?
I saw people suffer from making bad financial decisions, and then repeat them again. On a personal level, my sister was struggling with significant issues with her finances and it caused unbearable stress on her marriage of 15 years. I wrote the book I wish I could have given her.  The format was chosen to provide an easy to follow way to make smart financial decision. I did not want a typical, hard-to-understand financial book.
Is it better for couples to have the same Money Mind or different ones?
Neither is better. Just like there isn't a better money mind, there are pros and cons to both. If they have the same money mind, there will definitely be less fighting – but both will be repeating the exact same mistakes. If they have opposing money minds, they will probably argue more frequently about money but can learn from one another as they will see it from both sides.
Why is money such a hard subject for people to discuss and to get a handle on?
Because no one was ever given a good example or had honest discussions about money. It is considered unacceptable or taboo to talk about money at the family table or at school. As we get older, it is then expected and assumed everyone knows everything about money, but how would we?
What's the biggest mistake people make with their money – or in the way they think about it? 
The two biggest mistakes people make are 1) ignoring their emotional perspective and how it affects their decision-making and their entire life and 2) not having a clear set of defined priorities in their financial life.
What financial lesson was the most difficult for you to learn in your own life?
Accepting the fact when it comes to money, I will never have true peace of mind and that I will never feel genuine security.
What is the most important thing you hope people will get from your book?
That it is okay to ask questions, and talk openly about financial decisions.
I love that you're donating all profits from the book to "causes that improve the lives of people around the world." Can you share some of those with us, and explain why you decided to do that?
Proceeds will predominately go to underprivileged kids and financial literacy because I connect with what it's like to feel helpless. We want to reach people at a much younger age so they don't struggle so much when they are older.
For a chance to win a copy of The Money Code — along with a $100 Visa gift card! — leave a comment below.