"shameless" — author pamela madsen's sexual journey by walker thornton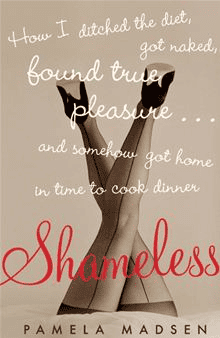 How many of us have wished for a more exciting sex life? Have realized that our marriage has become one of routine with few sparks? Pamela Madsen woke up one day to the realization that she wanted a steamier sex life. That discovery led her on a journey that would change her life — and could change yours.
Shameless: How I ditched the diet, got naked, found true pleasure…and somehow got home in time to cook dinner is Pamela Madsen's story of her journey from overweight wife to full-blown sex goddess. Or, as she describes it, " I took a pretty zany voyage from an honest-to-goodness repressed, monogamous, middle-aged, hyper-achieving, chubby woman with two kids to an honest-to-goodness monogamous, middle-aged, accomplished chubby "sex goddess" with two kids."
I found Pamela Madsen during my research for a blog series on sexuality. I was inspired by a woman who wrote me to say she'd never had an orgasm. I was temporarily at a loss for words. How is it that in this over-sexualized world we live in there are women who don't know their own bodies? It seemed so improbable. But as I read Madsen's confessions of a lackluster sex life and her desire to bring some passion in her life, I realized this is more common than most of us imagine.
I have to admit that I read Shameless in two sittings. I was mesmerized. Fascinated. Aroused at times. Curious enough to look up sacred touch practitioners in my city. Madsen's journey is not for everyone, not for most of us. We get to read about her adventures, her discoveries, her fears and her disappointments. There's enough explicit detail to make this a sexier book than 50 Shades of Grey because it's real life stuff. The reader won't be able to read this book without thinking about her own sex life and her relationship to her body.
Pamela Madsen
Shameless is not simply an erotic story. It is Pamela's Madsen's true-life quest to find herself, through a journey that is erotic and emotional and, at times, a little shocking. What started out as a decision to learn about sensuous massage (the proverbial "happy ending") turned into a transformative experience. Madsen begins to explore the connection between body image, self-esteem and sexual expression. She tackles her eating compulsion. She discovers her BDSM tendencies, sharing openly her fantasies and the sessions she had with a BDSM expert. We don't have to like what she does or even agree with it; not everyone has a desire to explore boundaries of pain and pleasure, control and submission. But, we should respect her desire to tap into her sexual power and admire her courage.
I found myself aroused by the descriptions of her massage sessions and envious of her boldness. Imagine what would it be like to receive a sensuous massage from a sexy hunk of a man without expectations. Imagine a man who knows exactly what to do and has the understanding and insight to make the experience not only physically pleasing but emotionally healing as well.
Madsen follows in the footsteps of pioneers like Betty Dodson, Nancy Friday and, more recently, Joan Price and Kim Anami – women who dare to talk about female desires and fantasies, offering support, instruction and inspiration. Because of the vision and boldness of these women, we will continue to discover our bodies and tap into our sexual power. From any point on the spectrum of sexual exploration and growth, there is a place for every woman.
Shameless is Madsen's quest to tap into her sexual desires, to unleash her true passions and live a fuller life. She risked much undertaking this journey but I think she found a passion that feeds her physically and spiritually. Her story ends approximately where it began, with a sexual relationship with her husband that doesn't fulfill her deepest sexual desires. He isn't interested in expanding his sexual horizons but she's content to be with him as long as she has the sexual outlet she needs. The reader is left to assume, for now, that she lives happily ever after with her "vanilla" husband.
In conclusion, this quote from Madsen sums up the lessons of Shameless: "What I had learned…was that we are all entitled to reach for what we want. It's so hard to feel entitled to desire." She nails it, right there. We are all entitled to have a good, if not great, sex life. We are all entitled, as women, to live the life we yearn for. We just have to figure out what we want and learn how to ask for it!