Talkin' About a Resolution
* Resolution: Write every day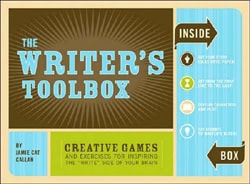 I know a lot of you like to write – personally, I often like "having written" more than actually "writing" – which means you sometimes need a push to sit down and get the words out. The Writer's Toolbox by Jamie Cat Callan gives you everything you need to jump-start your own story. Filled with innovative games and exercises that really work, it's got the ideal equipment to unclog your creative faucet.
* Resolution: Learn to knit 
I love hand-knit sweaters – just not the ones that are hand-knit by me. Sure, imperfections can add charm and character to homemade items but that doesn't mean you want to wear them! Designer Carri Hammett has created Knitting 101 for the absolute beginner, and it comes with both a fully-illustrated book and a DVD that provide step-by-step tutorials so you can see exactly how to purl or cast on. This set makes knitting the relaxing hobby it's supposed to be.
* Resolution: Take care of your feet 
So many of us put fashion before comfort, especially when it comes to shoes – so it's no wonder that our feet hurt. Every Woman's Guide to Foot Pain Relief may not be glamorous but it will get you back on your feet again – minus the bunions, poor posture and aching body parts that start at your soles. Biomechanist Katy Bowman, MS, offers easy exercises and shoe suggestions that may literally change your life. Step into the new year pain-free!
* Resolution: Only indulge in the good stuff 
Life is too short to skip dessert, but don't waste your calories on sub-par sweets. Choclatique by Ed Engoron with Mary Goodbody includes 150 recipes for gorgeous-looking, scrumptious-tasting treats using simple techniques that will make you feel like a professional. Chocolate is the most common craving in North America – duh! – and the book cover alone is likely to have your mouth watering.
* Resolution: Protect your skin
I recently received a sample of Skin Protect by Natura and I have to admit my skin has never looked better. This state-of-the-art therapeutic cream is designed to restore collagen, improve firmness and elasticity and rejuvenate sun-damaged and aging skin. It's got a very impressive pedigree in botanical and nutritional medicine but what matters most to me is that, after using it religiously every night for the past few weeks, my skin is definitely smoother and softer. This will be a very easy resolution to keep!
* Resolution: Read a little every day
The Tiny Book of Tiny Stories goes one better by letting you read a tiny every day – and still feel like you've done something productive! This first volume in the three-book series by Joseph Gordon-Levitt (yes, that cutie-pie Joseph Gordon-Levitt from our beloved (500) Days of Summer and 50/50) and his popular open collaborative production company, hitRECord, features 60 selections from more than 8,500 contributions. One of our favorites: "It's HE-RO," the boy argued. "No," the girl insisted, "it's HER-O." Proof that good things do indeed come in small packages.
* Resolution: Give in and buy the Blu-ray player
I'm a movie reviewer and I JUST did this so, trust me, I feel your pain! I kept hoping Blu-ray would be the visual equivalent of 8-Track but, alas, it looks like it's here to stay. Here's the thing, though. A Blu-ray player can still play all your DVDs so there's no need to replace your entire library. And, honestly, movies look so much better on Blu-ray. Plus, classics like Dead Poets Society and Good Morning Vietnam keep joining the Blu-ray parade. With after-holiday discounts, now is the time to give in.
* Resolution: Accept that you can't do it all
I Don't Know How She Does It, based on Allison Pearson's best-selling book, is out on DVD and Blu-ray, and it will exhaust you! We can all relate to Sarah Jessica Parker as she tries to be a good mother, loving wife and successful executive, and discovers her life is no longer the glamorous Sex and the City. Take a lesson from her character: Make this the year to just say no, focus only on the things that are most important and simply do the best you can.