Best of BlogHer '13
As a blogger, it is impossible to come back from BlogHer, the Kilimanjaro of social media conferences, and not feel a deep need to write about it.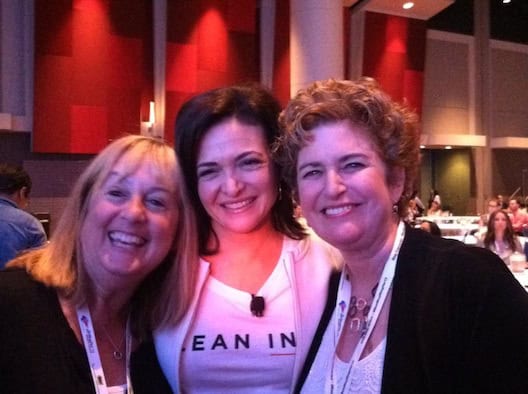 Before I go all warm and fuzzy on you, though, here are a few facts: Over 4000 bloggers attended this year's event in Chicago. Bloggers have become such an influential group that President Obama took time to welcome us via live feed last year and Facebook COO Sheryl Sandberg was a keynote speaker this year. (Notice Cathy Chester and I are taking her advice and leaning in to her, above.) According to one estimate, the BlogHer hashtags generated 334 million impressions over the conference period. Understanding the power of that reach, more than 130 top brands sponsored, exhibited and filled our suitcases with samples.
This was my third BlogHer and every single one has been a completely different experience. Although the workshops are always educational, the parties Awesome (literally) and the Expo fun and valuable, I've come to realize it's the totally unexpected moments – and there are oh-so-many of them – that really define BlogHer for me and make it so meaningful.
Here are some of this year's highlights:
* Spending an amazing, impromptu evening in an empty area of the hotel with eight of my Generation Fabulous soul sisters, talking and laughing for hours, after we missed the Austenland screening we were so looking forward to. I'm sure the movie was great but this night turned out to be so magical and I love these women more than I do Mr. Darcy. Remember their names and go read their blogs: Lisa Carpenter, Cathy Chester, Helene Cohen Bludman, Ruth Curran, Janie Emaus, Nancy Hill, Connie McLeod, Virginia Sullivan. I would share some of what went on that night but, despite our TMI blogging tendencies, what really happens at BlogHer stays at BlogHer.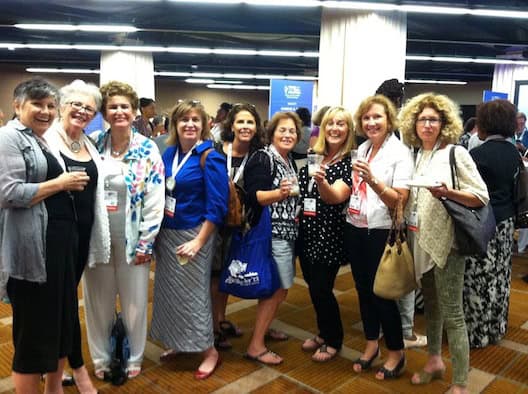 * Having coffee with the awesome James Oliver of the equally awesome WeMontage and, with the help of my new friend, Jane Boutelle, introducing him to the song that inspired this site. James is too young to remember Midnight at the Oasis, so when he found the video on my home page, he pumped up the volume, jumped out of his chair, held his laptop up John-Cusack-in-Say–Anything style, and screamed out to everyone in Starbucks, "Hey, do you all know Midlife at the Oasis?" The mommy bloggers smiled indulgently and I beamed.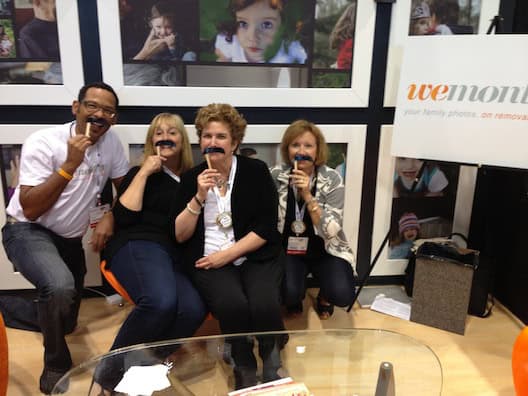 * Standing on stage next to Queen Latifah during the Voices of the Year Awards. Listening to the winners read their posts is always the best part of the official BlogHer conference because it's what it's really all about. I cry, I laugh, I admire these women for writing and speaking so beautifully about the subjects they are passionate about, from poverty, racism and gun control to orgasms, crafting and worms. I am so proud to have won a People's Choice Award two years in a row, and it will come as no surprise to anyone who knows me that I managed to climb onto that stage (which, by the way, is not a great idea in an audience of Instagram-happy bloggers) and park myself next to the Queen herself, where we discussed her upcoming talk show. (Okay, I told her how much I was looking forward to it and she said, "It's going to be great.") I also tried to bring home the eight-foot tall foam core board featuring my winning post but that's a story better kept between the women mentioned above.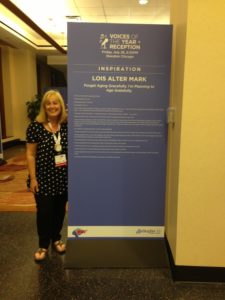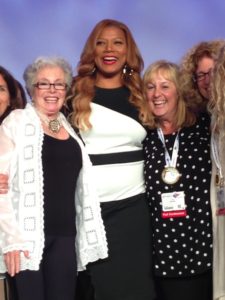 * Hugging Lauren Marie Fleming at the St. Martin's Press booth, and having her remember me and hand me a You're a Big Deal sticker, which I immediately slapped onto my conference badge, causing me to walk around with a little swagger in my step for the next two days.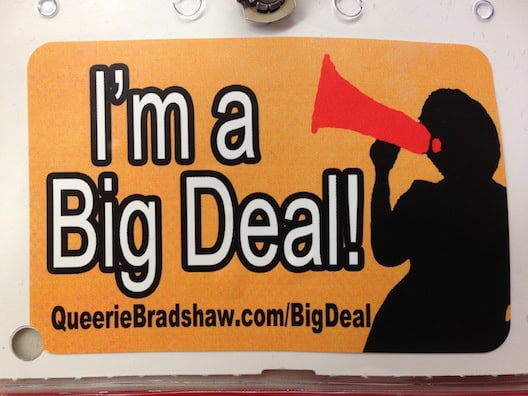 * Meeting Liz Gumbinner over salted caramel cotton candy (OMG!) from Spin-Spun at the AWESOME party, which far exceeded its name. She is a brilliant writer and I hope I sounded remotely articulate as I gushed over her between mouthfuls of fluff.
* Confessing my pillow issues to Kristi Morris while testing the iComfort Directions Serta Sleep System, falling hard for the Directions pillow she suggested and being assured by my new BFF Kelly Ellis that she would send me one in the mail. As someone who has not been able to find a comfortable pillow for years, I can't even begin to tell you what this means to me. Kelly, I will thank you every night when I lay my head on that beauty.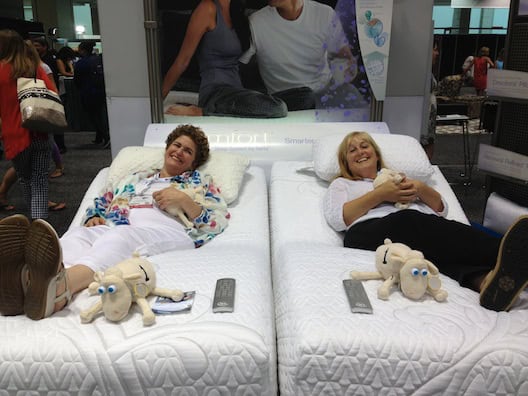 Spending a half hour here with Morra Aarons Mele from Women Online/The Mission List, and a half hour there with Carole Ricks from AARP, discussing life, death and social good. These are smart, thoughtful women who are doing so much for other women – and they are a joy to be around. I can't wait to work with both of them.
I could easily continue this list – sharing a room with Cathy Chester, who empowers women with disabilities; sharing a cab with Estelle Sobel Erasmus, president of Mothers and More;  sharing laughs with Helene Cohen Bludman as we went straight from a Land of Nod party filled with Huggies diapers to an AARP party thankfully devoid of Depends; sharing a tearfully profound conversation with Ruth Curran, who develops Cranium Crunches to encourage brain health; sharing good times with my peers at the Boombox Network's eagerly-anticipated B(l)oomers party – but what it all comes down to is that, at the age of 54, I've found my tribe.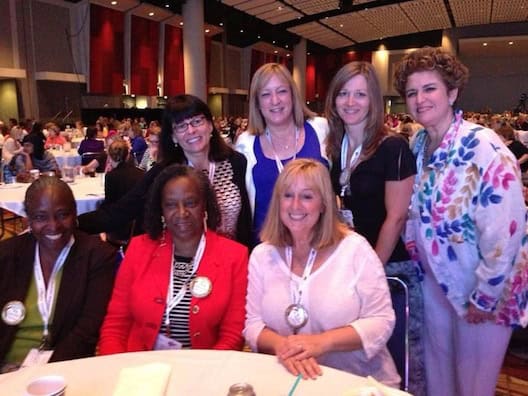 The women who blog are amazing. They work harder than most people you know, and they are constantly learning, sharing, helping. They will Tweet about social injustice and get more accomplished with 140 characters than many esteemed writers do with 140 pages. They will raise money for causes, take newbies under their wing and spread the word far and wide about an idea or product that will improve lives. It is an honor to be in their presence.
Yet they – we – have had to fight hard to be taken seriously, being dismissed with flip articles about the rowdiness and silliness of blogging conferences. These criticisms are just plain inaccurate, and they belie the truth of what makes blogging so important – which is, well, the truth.
Good bloggers are authentic. They open their hearts and tell it like it is. They are your virtual best friends and, if you're lucky — like I am — they also become your real ones.