Could there be a better way to start the new year than with Big Magic?
I've been a huge fan of Elizabeth Gilbert since I discovered Eat Pray Love  — long before it became EAT PRAY LOVE — and audibly gasped when I saw the three words that pretty much guide my life. Her novel, The Signature of All Things, is the book that made me passionate about reading again during a disturbing dry spell, and I've seen her speak at two Oprah events and, most recently, in San Diego at a sold-out event I wrote about for the Del Mar Times.
Her latest book, Big Magic: Creative Living Beyond Fear, is another must-read but for different reasons. Her self-proclaimed "manifesto" is a guide to getting rid of all the excuses that are holding you back from being the creative person you want to be.
I finished it in a day and have recommended it to so many friends who have also gobbled it up and thanked me for this life-changing book. It's the kind of book where you nod your head, and end up highlighting almost every sentence. It's profound and practical and written as though your best friend is talking to you.
In my head, Elizabeth Gilbert is my best friend so doing a phone interview with her was absolutely one of the highlights of last year for me. Although the book came out in September, I wanted this interview to be my first post of 2016 so her words would inspire you to read Big Magic, stop making excuses and get out there and do the thing that makes you happy. Because inspiring is one of Gilbert's great gifts.
Speaking of gifts, I'm also giving away a copy of Big Magic to one lucky subscriber so be sure to read the rules to enter after you read what Liz (yes, we are BFFs now) has to say: [Read more…]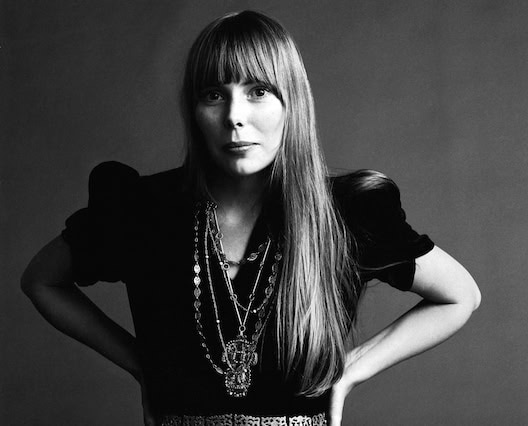 Happy birthday, Joni Mitchell!
Like many women of my generation, I can pretty much define an entire period of my life through Joni Mitchell songs.
I remember spending hours lying on my twin bed listening to Blue and Court and Spark over and over again, wondering how she could possibly have seen my diary and put my thoughts and emotions to music, expressing them so much more articulately – and beautifully.
So I was excited to read Joni Mitchell: In Her Own Words, which comprises a series of interviews she did over the years with her friend, Malka Marom. And that friendship brings a depth to the interviews that makes you feel like you really get to know Joni Mitchell. [Read more…]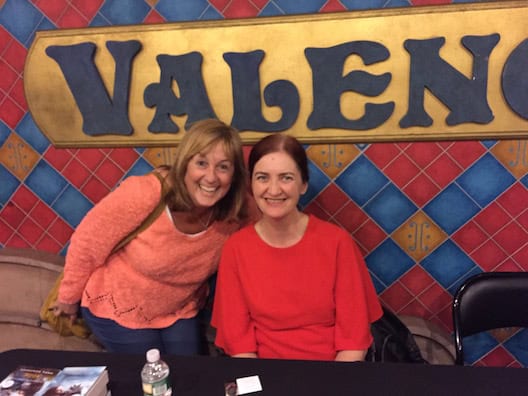 I got to see Room the other night in New York, and say hi to author Emma Donoghue, who was doing a Q&A after the screening. The movie was excellent, thanks to powerful performances by Brie Larson and 9-year-old Jacob Tremblay, and a screenplay written by Donoghue herself.
I will be reviewing the movie next week when it opens in San Diego — and if you live here or have friends in the area, make sure you all subscribe to my newsletter because I'm sending out an invitation to see the movie ahead of time — but, meanwhile, I thought I'd re-post my interview with Donoghue from 2011 to get you in the mood.
If you haven't read the book yet, GO READ IT NOW! [Read more…]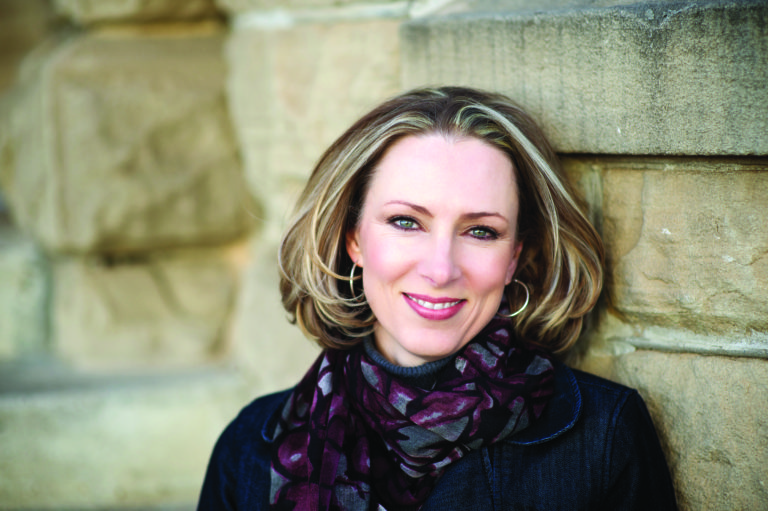 I'm so excited I got to interview Linda Castillo about her new thriller, After the Storm, because I love all her books and pretty much stay up all night reading every time she publishes a new one.
After the Storm is the latest in her Kate Burkholder series, which takes place in Ohio's Amish country. It's another nail biter, and the whole idea of terrible things happening in a society that doesn't even believe in electricity is fascinating.
Read my interview with Linda, then enter to win a copy of After the Storm. [Read more…]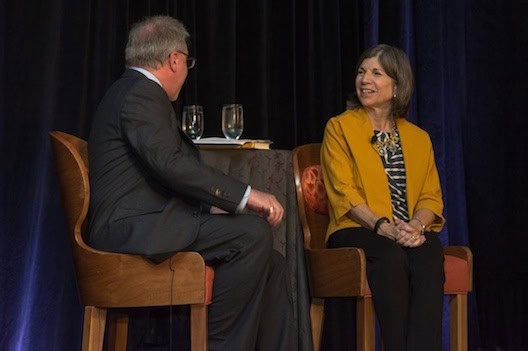 My NaBloPoMo post for today was picked up by Huffington Post so I hope you'll head over there to read and comment.
As I mentioned to you last week, I attended the annual Author's Luncheon for Words Alive, a local non-profit organization that promotes reading. This year's headliner was Anna Quindlen, one of my favorite authors ever.
I got to interview Anna, who was as warm and down-to-earth as you would expect. Check out what she had to say, and read about the books that make up her Ideal Bookshelf. You may be surprised at some of her choices.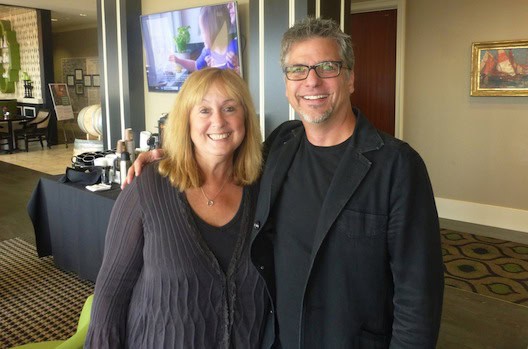 The Art of Racing in the Rain is one of my all-time favorite books, and I was thrilled to meet author Garth Stein last week at a luncheon sponsored by the Downtown Breakfast Rotary Club of San Diego and Warwick's Books for his new novel, A Sudden Light.
My recap is in the Rancho Santa Fe Review but I want to share one really important part of Garth's talk just with you. It's kind of an underdog (!) story. If you're a writer or are struggling with any kind of obstacle, this just may be the encouragement you need to keep going. [Read more…]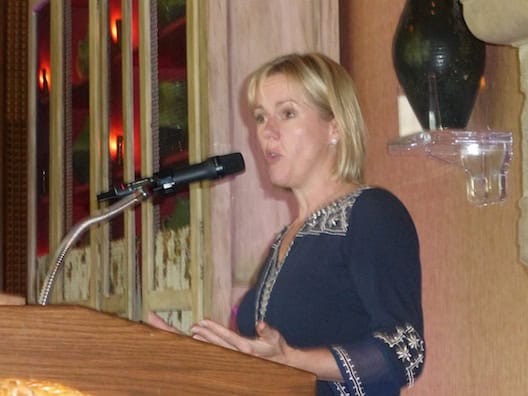 JoJo Moyes wrote a guest post for me years ago, when her novel, The Last Letter From Your Lover, was published. I became an immediate fan and when Me Before You came out, it became one of my all-time favorite books.
I recently got to see her speak about her latest novel, One Plus One, at a luncheon at the Del Mar Country Club, which I covered for the Del Mar Times. It was a great event, and you can read my article about it here. You can win an autographed copy of her book just by leaving a comment below.
I got to spend time alone with Jojo afterwards, and she is so down to earth and so funny, it was like hanging out with a long-time friend. Here's what our conversation sounded like (minus the parts I promised I wouldn't write about!): [Read more…]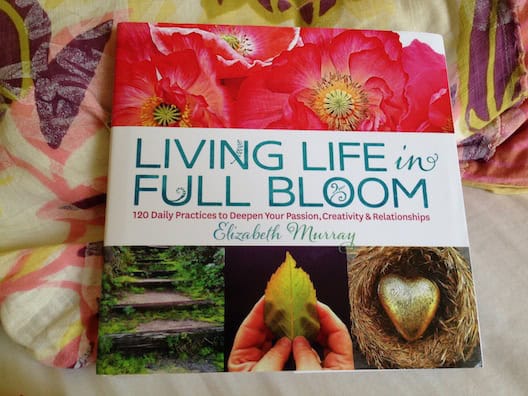 My friend gave me a copy of Living Life in Full Bloom: 120 Daily Practices to Deepen Your Passion, Creativity & Relationships, and – spoiler alert – I will be buying copies to pass on as gifts to people I love. [Read more…]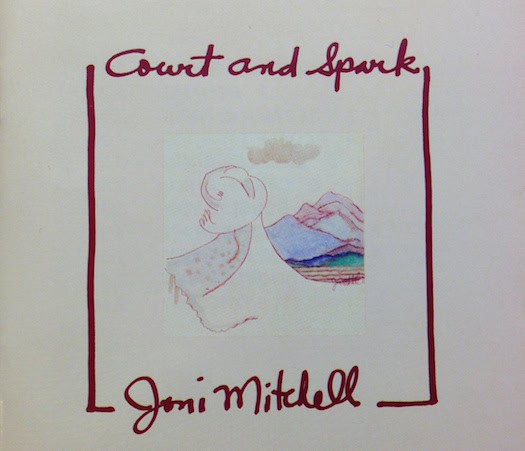 I vividly remember bringing home Joni Mitchell's Court and Spark, lying in my bed and listening to it on my record player, dreaming of love and heartbreak, and only getting up to turn over the album or put the needle back to the beginning.
So how can it be 40 years since that classic album was released?! [Read more…]
My husband swears by yoga. He takes a class almost every day, and it's become so important to him, it's made me think about trying it myself.
I've been reading Pick Your Yoga Practice: Exploring and Understanding Different Styles of Yoga by Meagan McCrary, and am shocked by how many different types there are. Of course I've heard of Bikram and Ashtanga but Moksha and Jivamukti? [Read more…]