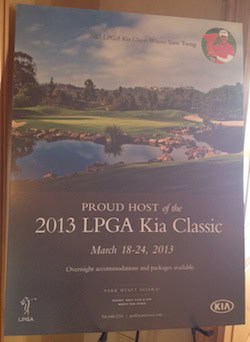 Michael and I have been married so long, we often finish each other's sentences. Apparently, though, that doesn't mean either one of us has any idea what the other one is talking about — as we were dumbfounded to discover today.
Kia had given us a 2014 Sorento to test drive, and invited us to take it on a road trip up to the LPGA Kia Classic Golf Tournament at the Park Hyatt Aviara for the weekend.
Because Michael was so inspired by the pros, he decided to leave and play a round himself while I watched the matches from the comfort of the Kia Skybox. It was the first time he got to drive the Sorento, because I had been hogging it since it was delivered.
Now, Michael is an avid golfer and has tried, for years, to get me more interested in the game. I thought it would make him happy to hear that I was having such a good time at the tournament and was really paying attention to the shots and the greens, so I decided to text him and share my enthusiasm.
This is the ridiculous conversation that ensued. (My texts are in white, Michael's are in green.) [Read more…]