I am all about companies that give back in some way, and one of my favorite companies, Uncommon Goods, knows it's Better to Give.
I've given so many gifts from their awesome site because it's like giving two gifts in one. With every purchase you make, Uncommon Goods donates $1.00 to the Better to Give partner of your choice. Over the 12 years they've been doing this, they've given $1,000,000 to charity.
Right now, the non-profits they're partnering with are RAINN (Rape, Abuse & Incest National Network), American Forests, International Rescue Committee and Reach Out & Read. In exchange for me introducing you to this fantastic program, Uncommon Goods is going to donate $100 in my name to one of these organizations.
How do I decide which one to choose? I'm going to leave it to you since every one of these causes is so important, and I really want to hear what you think. [Read more…]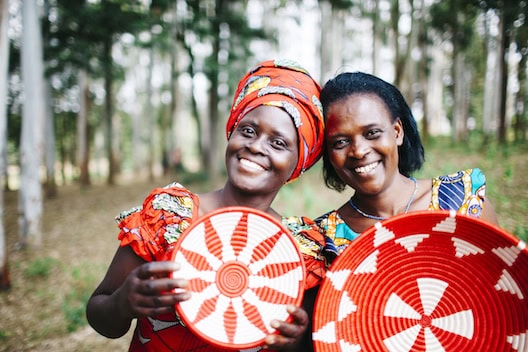 This post is sponsored by Everywhere Agency. All opinions are, as 
always, 100% my own. Note: Please click on the links even if you 
see strikethroughs, which I can't seem to get rid of. They still
work and this is such an important cause.


I have always believed that female energy has the power to change the world, and Macy's Rwanda Path to Peace initiative absolutely proves that's true.
In 1994, more than a million people were massacred in the tiny African country of Rwanda in a violent ethnic cleansing. In a period of 100 days, 20% of the population was slaughtered. It was one of the worst genocides in human history yet the rest of the world went about its business, oblivious to the horror and suffering.
With so many men dead or in jail, the women of Rwanda, most of whom found themselves suddenly needing to become the breadwinners of their families, took it upon themselves to do what needed to be done. The Hutu and Tutsi women, representing both sides of that deadly genocide, came together to weave baskets of peace.
Politicians and world leaders could learn a big lesson from them. [Read more…]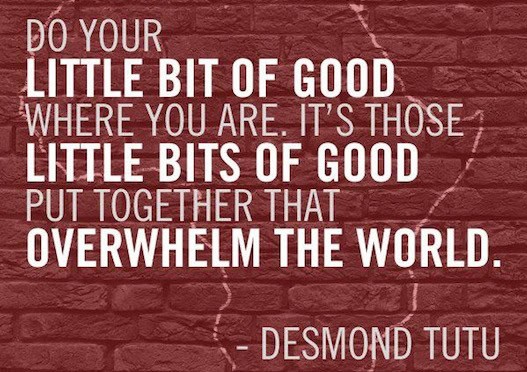 I love this quote because it's a reminder that we can all do a little bit of good every time we do anything — even when we shop for holiday gifts.
I've come to realize that the only way to foster change is to put your money where your mouth is and support companies that give back in some way. Here are five great options for gifts that give back. They'll make your recipients happy and they'll make a real difference in the world. [Read more…]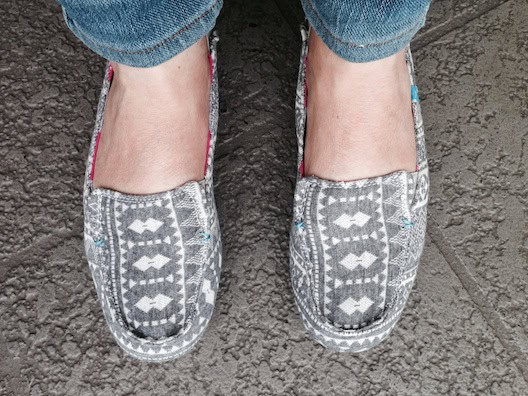 How cute are these shoes?!
I am in love – LOVE – with my new Freewaters and, most of all, with the fact that each pair provides clean drinking water to those in need. [Read more…]
Somewhere around my 50th birthday, my friends and I started holding restaurant menus up for each other across the table so we could read them. I held books at arm's length and if my husband put something under my nose to take a look at, I had to push it a foot away to actually see it.
At my annual eye doctor visit, I marched in and announced, "Okay, I'm 50 now and I guess I'm finally going to have to get glasses." He nodded, somberly, did his usual, extensive exam and said, "Nope, your vision is still 20/20."
I was thrilled but thought he was nuts. I recounted my near-breakdown in the shower, when I couldn't even remotely read the itsy bitsy print on the back of the expensive conditioner to find out how long to keep it in my hair. I skipped the part about throwing the bottle on the floor in frustration.
"You don't need glasses," he assured me. "You need a magnifying glass." [Read more…]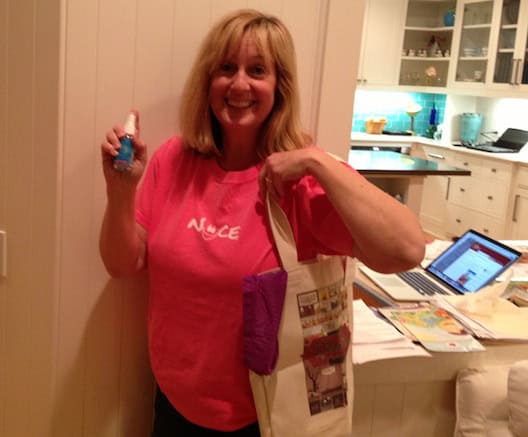 The holidays are over, but whether or not you got the gifts you were hoping for, here are a few must-haves that are inexpensive enough to treat yourself to and that you'll probably find yourself using all the time. Leave a comment below and you just may win one of them! [Read more…]
I told you yesterday about Look Good Feel Better, a fantastic group that empowers women by helping them deal with the appearance-related effects of cancer and its treatments.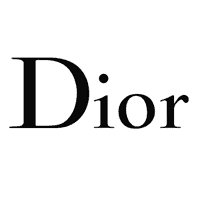 One of their most exciting annual fundraisers is the online Dior LGFB Auction, which just went live on Tuesday. Yes, it's that Dior, and, yes, you're going to want one of each item! The auction is divided into three categories: Luxe Trips, Elite Experiences and Shop Now. These are exclusive luxury items that may get your bidding finger twitching more than Christian Grey's palm.
Some of the items up for bid include a trip to the Dior Haute Couture Salon in Paris, a "Dior Secret Admirer" monthly delivery and – what would have been my dream come true at a different point in my life – an internship at Dior.
There are also one of a kind experiences like attending a Hollywood premiere or a Marie Claire photo shoot, having lunch with Dior CEO Pamela Baxter and getting a makeover from Allure.
The auction closes on October 29 so log on now and start drooling shopping. Because 100% of proceeds benefit Look Good Feel Better, this is the time to splurge without guilt, knowing you're doing a really good deed!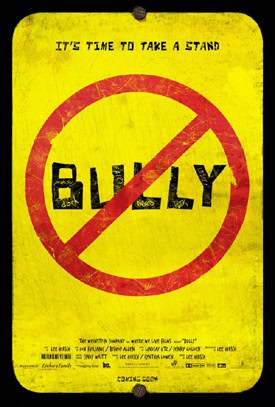 The powerful new documentary, Bully, by award-winning filmmaker Lee Hirsch, continues to be surrounded by controversy. First, the profanity spewed by some of the bullies in the film caused the MPAA to give it an R rating, taking away its accessibility to the kids who really need to see it (a decision which has since been overturned and the rating changed to a more accurate PG-13). Most recently, the movie has been accused of oversimplifying and distorting the problem. [Read more…]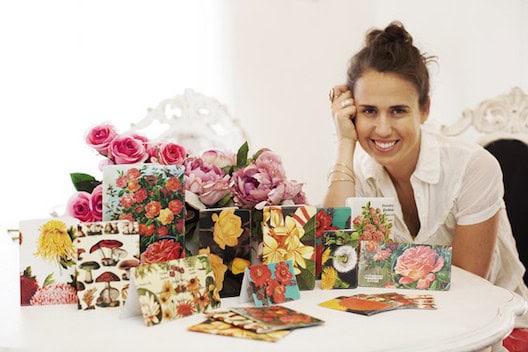 With the holidays too quickly approaching – Halloween seems to turn into Christmas/Chanukah overnight! – I thought I'd help you out with some great gift ideas so you can start your shopping early, online and by making a difference.
In honor of today's date, I knew we had to celebrate with 11:11 founder/designer Jamila Tazewell. 11:11 just may become your new favorite company, and you will love their colorful and fun wallets, passport covers, notebooks, all handmade from recycled materials. [Read more…]
I'm a huge fan of LUSH — not just for their amazing beauty products but for their unwavering commitment to being "green." So, with Earth Day on the calendar this week, we couldn't think of a better source of easy tips and suggestions than LUSH Green Officer Shama Alexander. She's helping LUSH make major contributions to conservation, recycling and charity, and I'm honored to have her share her thoughts with us. Now, if she could just convince the company to open a store in San Diego …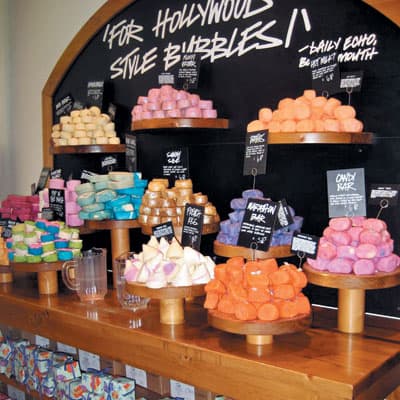 We love the idea of a Green Officer, and think every company should have one! Is that your official title? Why did LUSH decide to create that position?
First, there is no such thing as an "official" anything at LUSH! My business card says "Environmental Officer" and everyone calls me "Green Officer" — either is fine. LUSH decided to fill this role as with so much growth, they were looking for a dedicated individual to oversee their environmental initiatives.
We've always sung LUSH's praises for being a socially responsible company in terms of packaging, ingredients, charitable efforts. How does your position complement all those efforts that are already part of the company's philosophy?
LUSH's philosophy is simple. Our values are deeply rooted in the basic principles of stewardship to people, animals and the planet. We are a family and operated under the belief that one hand feeds the other.
What is your biggest goal as a Green Officer?
My goal is to always be as human as possible. To affect change, I need people to trust that I have their best interest in mind.
What are the challenges you face in that position?
Sustainability is a practice of choosing your battles. There never is a perfect solution that will magically make plastics disappear or eat up emission pollution. So, there is never a cut-and-dried determination that can be made for any one problem we face. The most difficult challenge is when there is absolutely no business case to be made for a financial investment. Then it comes down to the line of reasoning that "It's the right thing to do," which is never an easy point to contention.
What are you most proud of having accomplished?
I am lucky to work with a wonderful group of passionate individuals. I am most proud of our workforce. They are an amazing group of passionate activists, who aren't afraid to take on new challenges and fight for what's right. Anything I throw at them, they rise to the occasion. I really accomplish more than what can be mentioned because of their support. The people of LUSH are what make me most proud.
Tell us about some of the specific projects or issues you're working on.
Oh my, too many to answer all in one sitting! Let's see, there's the Zero Waste initiative, the Eco-Warrior program roll-out (our green team's name) for both retail shops and manufacturing facilities, the Sustainable Soap-ply Chain model for greening our procurement, emissions accounting …
What are some of the unique things LUSH does every day to help the planet?
Well, here are a few, for starters:
We design products that need no preservative and no packaging, making our products green from the moment they are born. More than 60% of our global sales are unpackaged products.
Every year we save three million plastic bottles from being used and thrown away by selling naked shampoo bars around the world. We reduced our palm oil consumption by 250 tons a year simply by changing our soap base, which helps to save our rainforests and the orangutans that depend on it for life.
We have an in-store return program for incentivizing our customers to return our #5 plastic black pots to us. Customers receive a free fresh face mask in return for their old used pots and we upcycle them into new products.
Our store carrier bags are made with 100% post-consumer recycled paper and are recyclable and compostable.
Our gifts, lovingly wrapped in 100% recycled paper, saved over 1000 trees and 90,000 pounds of greenhouse gases last year.
The products that leave our manufacturing facilities and web sales center are all packed in 100% post-consumer recycled cardboard boxes, taped with water-based paper tape and packed with either repurposed cardboard or recycled Lush Times, making the packages completely recyclable anywhere. Even the "popcorn" filler in our gift boxes and web order packages are 100% corn-based, so they are biodegradable and compostable.
The industrial plastic wrap that holds our store shipments together is biodegradable and recyclable.
All of the materials our design team uses for window displays are recyclable or reusable.
We know that LUSH products are "green." How does that mission translate to your work environment? How are the LUSH offices "green?"
Our workshop makes all LUSH furniture from certified sustainably forested pinewood, to ensure that we are not adding to deforestation. In ordering recycled paper for our administrative functions last year, we saved over 300 trees, 140,000 gallons of water, 680 gallons of oil and reduced greenhouse gas emissions by 28,000 COe (carbon dioxide equivalents). Between both of our manufacturing facilities in Toronto and Vancouver, we composted over 100 tons of organic waste and recycled over 200 tons of recyclables last year.
What special activities or products does LUSH have planned for Earth Day?
I will be rolling out our new retail green team program (mentioned earlier) and have encouraged all of our shops to get out and volunteer for something green!
What's your personal favorite LUSH product? Why?
People ask me this all the time. The truth is, I don't have one! I love all our products. If I were forced to choose, I would likely go with Trichomania solid shampoo. I don't use it just as shampoo, though. I use it as soap, too! I absolutely love the creamy rich coconut smell. It makes me think I live on tropical island and forget I'm in the cold Pacific Northwest!
Can you give readers some easy tips for being responsible citizens of the Earth?
Just be negative! With everything you do, try to reduce it to little or none at all. Whether it's waste, energy or water — always think negative!
What should consumers look for when buying beauty products?
Packaging. It is my biggest pet peeve. There are so many wonderfully natural beauty product options from reputable companies available on the market. So try to put your "dollar vote" on the ones that use the least gimmicky marketing in their packaging.