spring cleaning: #40bags40days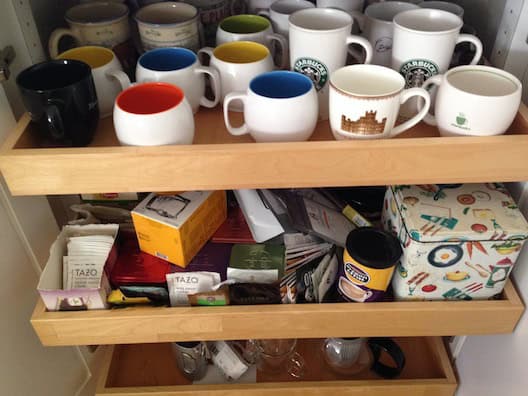 "What are you up to?" my son asked from New York yesterday.
"I'm cleaning out the tea," I replied.
Then we both burst out laughing at the ridiculousness of that. "Wow, now that is a First World activity, huh?" I admitted.
But it had to be done because we are a family of tea drinkers, and the amount of tea and number of mugs we owned was becoming overwhelming. We had enough to start our own teahouse.
I've found that when my house is too cluttered, so is my mind. I find it hard to think, and that's when I finally start purging and organizing.
So, I emptied out the three — yes, three — drawers that hold our tea stuff, and placed everything on our kitchen counter so I could see it in all its glory. Anyone want a cup of tea? Or, at least, a cup?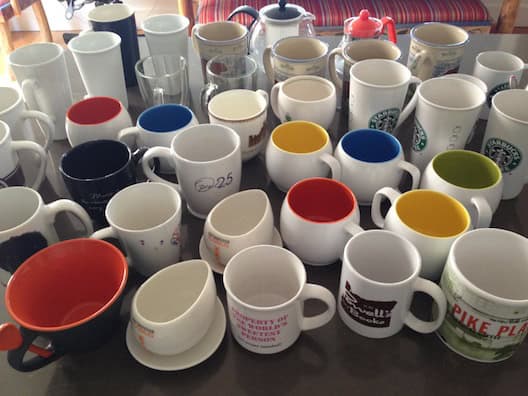 I got rid of a bunch of mugs I had gotten at various conferences, and I threw out all the loose teas that had probably long lost their taste. I organized the tea bags so we could actually see what flavors we had, and I put all of Michael's green teas in front so he could find them easily.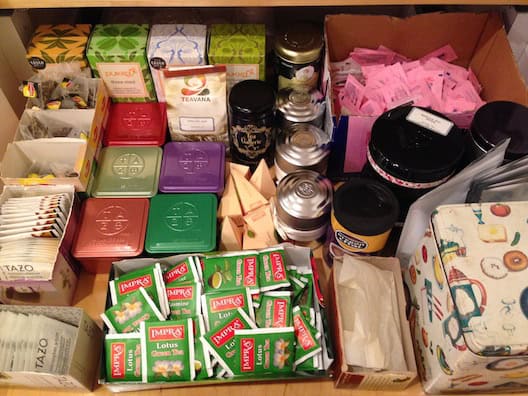 There's still a lot of tea here but now we can see it all and there's only one layer. Much more zen-like.
Feeling accomplished, I made myself a cup of chai and went to check Facebook, where a BlogHer article came up about #40bags40days. Talk about timing.
Billed as "the ultimate organization and purge challenge," this project is all about cleaning out one small area of your house at a time and ultimately getting rid of 40 bags in 40 days.
Game on.
Because the tea stuff was easy and productive, I decided to tackle the kitchen junk drawer.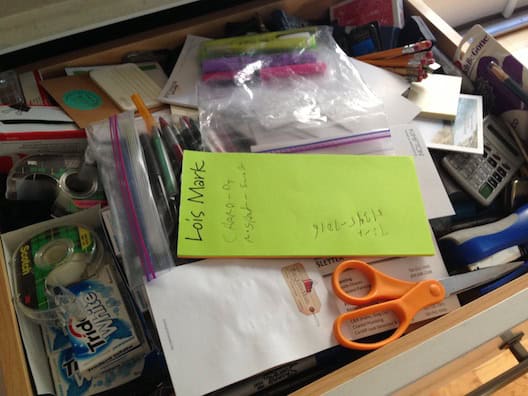 I, once again, started emptying everything on the counter but was shocked at this: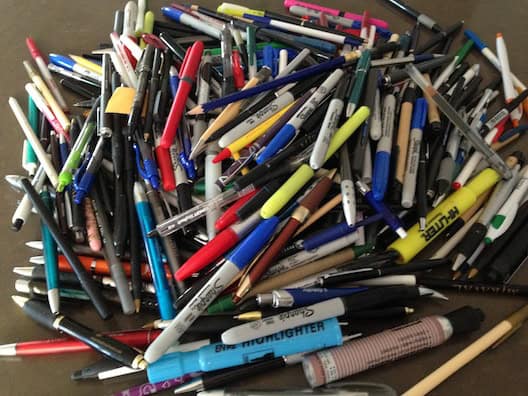 It was like when the circus clowns get out of the Volkswagen. I mean, seriously, how did all those pens even fit in that drawer?
I tossed all the ones that didn't work — yes, I tested them all — and made a bag of the ones I don't like to give my mom. Honestly, I'm sure she has a drawer like this, too, but when she saw the picture I posted on Facebook, she called to say, "Don't throw those out." So, happy belated birthday, mom!
I dumped a bunch of free notepads, put all the pens in bags and even used one of the empty tea containers for paper clips.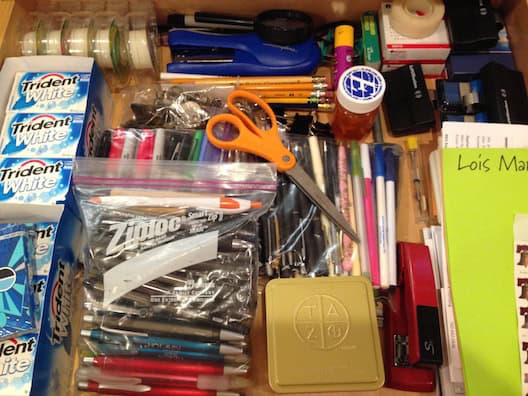 Isn't that so much nicer?!
Feeling inspired, I went up to our bathroom to clean out my drawers and pack up a bag of "spa" supplies for my friend, Ruth, to bring on her Global Volunteers trip to St. Lucia.
Because this was for a good cause, I was brutal. I forgot to take a "before" picture because I just went in and started grabbing. Suffice it to say, this drawer barely opened before. As a travel writer and lifestyle blogger, I get tons of products and I always bring home toiletries from hotels. Most of the shampoos and conditioners are terrible for my hair, though, I don't use bar soap and I can only use so much body lotion.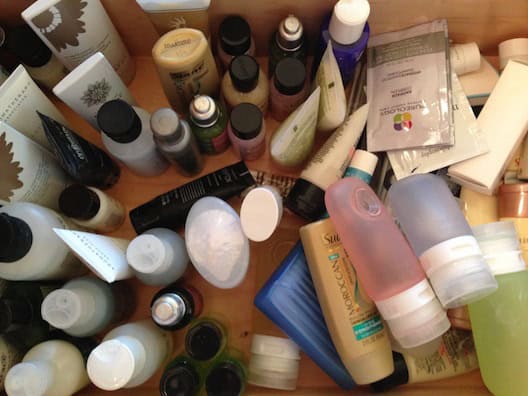 So I put together a big, heavy bag for Ruth, and now have a drawer which may not be the most stunning-looking but works so much better for me because it's filled with products I will actually use. It's easy to see what's in it and it feels so much lighter. Plus, the women of St. Lucia will be treated to all kinds of pampering treats. Win win.
Final tally for the day: 5 bags
1. Bag of mugs and extra tea to give to my mom
2. Bag of expired teas and unnecessary boxes thrown out
3. Bag of pens and assorted cute things to give to my mom
4. Bag of dried-up pens, paper, junk thrown out
5. Bag of beauty products to Ruth
This was so easy and has already made such a difference. If you want to join me in #40bags40days, I'd love to follow your progress, too.
I'm afraid, though, that by the time I'm finished with this project, the person who will really have to start #40bags40days will be my mom.