laughing my way to erma bombeck writers' workshop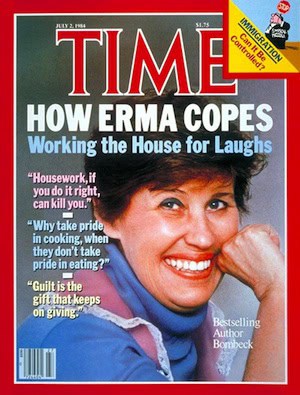 I could never have imagined when I was young and wishing I could write like Erma Bombeck that the prestigious organization continuing her work would name me – me! – Humor Writer of the Month or that I would be attending an actual Erma Bombeck Writers' Workshop with some of the best in the business.
Yet, it did and I am, proving, as Oprah always says, "the Universe has bigger dreams for you than you could ever dream yourself."
So I'm off to Dayton, Ohio this morning for an event that is only held every other year and that sold out in twelve hours. And, in a coincidence that I'm taking as a positive sign, Huffington Post just published my Blogger Idol-winning travel adventure, "Amster-damn," about my family vacation in the land of pot, prostitutes and dykes.
I'm so excited to absorb the words of keynote speakers who include the legendary Phil Donahue, author Lisa Scottoline and her daughter, writer Francesca Serritella, author Mary Lou Quinlan, comic Judy Carter and sitcom genius Bruce Ferber.
I'll be taking notes fast and furiously during sessions led by people I admire greatly, like Suzanne Braun Levine, Ilene Beckerman and W. Bruce Cameron.
I can't wait to meet in real life the amazingly supportive, smart and hilarious people I've already met and feel like I've gotten to know in our Erma Facebook group. I will be cheering them on as they put themselves out there to pitch book ideas and perform stand-up.
I'm looking forward to spending quality time with my writer friends from around the country who mean so much to me – especially my roomie, Helene Cohen Bludman, who is either the Thelma to my Louise or the Louise to my Thelma. Whichever.
And I'm planning to laugh and cry and hone my craft until I make my words sing and my readers laugh and cry with me.
Erma once wrote, "There are people who put their dreams in a little box and say, 'Yes, I've got dreams. Of course, I've got dreams.' Then they put the box away and bring it out once in a while to look in it, and, yep, they're still there."
I will not be one of those people. I'm taking my dreams out of their box, packing them in a suitcase and letting them them loose in Dayton, Ohio. Who knows where the Universe will take them from there?
Follow me and my dreams via Twitter.