life reimagined: i'm now organized!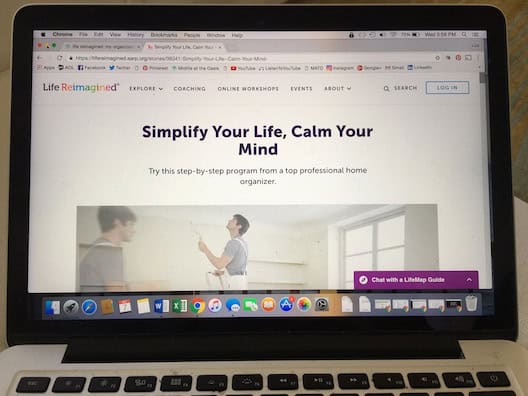 Thanks to Life Reimagined, who sponsored this post and provided incredible support during my project, I have actually reached my organization goal.
I know — I'm as shocked as you!
You may remember that I was invited to try out Life Reimagined last month, and I decided that was a good time to finally tackle the crap all over my house my organizational issues. That meant I was actually going to clean out the kids' rooms — they're both happily ensconced in apartments on the other side of the country — and I was  going to do something about the junk room, below, that was always supposed to be my office.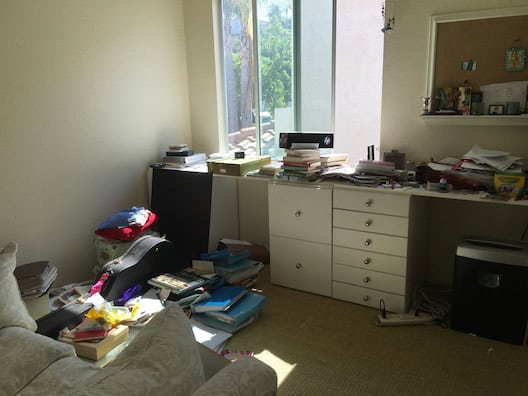 Well, what I've accomplished in less than 30 days is amazing, and it's because of all the resources offered by Life Reimagined. They're not only motivating but they're practical and easy to implement.
And, because we all learn differently, Life Reimagined offers so many varieties of help, whether you'd rather talk to a real person, answer questionnaires or read articles by experts.
Not surprisingly, I'm a reader. One of the first articles they led me to was "Take the Clutter Cure by Transforming Your Relationship With Stuff." It was like it was speaking directly to me: "Those scrapbooking supplies have been sitting there for eons—and you haven't touched them. Adams says you sometimes have to face down the hard questions, like "Am I ever really going to do this?" If you've haven't acted in 12 months, admit that it's just not going to happen."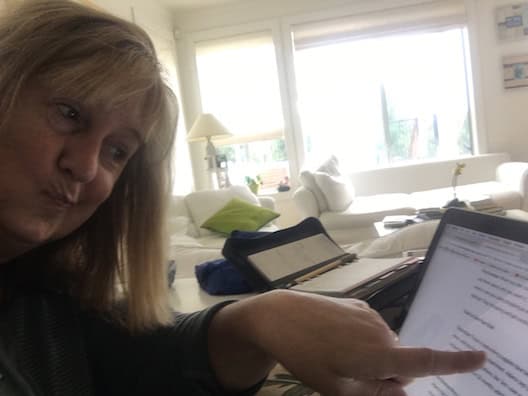 I used to do Creative Memories — more like 12 years ago — and that room is filled with scrapbooking supplies that have been sitting there for eons.
Wait! Correction, post Life Reimagined: That room was filled with scrapbooking supplies that have been sitting there for eons. Now, my car is filled with them and they're on the way to Make-A-Wish. I feel so good about this.
When my son came to visit, we threw out a ton of stuff, including all of his baseball and golf trophies (which are just as meaningful in photos) and got his room ready for a paint job and a bathroom update.
My daughter and I cleaned out her room by text and it was the most stress-free de-cluttering we've ever done together. I sent her a photo of each item and she wrote K or T for keep or toss. Almost everything received a T — yes! — so I filled half a dozen bags to give away and another half dozen to throw out.
Now that we have pretty much blank canvases, Michael and I are deciding how we want to use these rooms. A gym? Ha ha ha ha!! No. A library? YES! We're leaving the kids' beds because we want them to come home as often as they can, but it is so liberating to have gotten rid of so much stuff that no one needs or wants.
"Simplify Your Life, Calm Your Mind," states another great article I found on Life Reimagined. It says that "Clutter is stress: It nags at you, drags you down psychologically, slows you down physically." That is so true, and I can't tell you how much better I already feel. I'm excited to get the contractors in here.
And I'm also excited that Life Reimagined is offering Midlife at the Oasis readers two weeks of their services plus 30 minutes of coaching FREE. Just head to the Life Reimagined website and get started.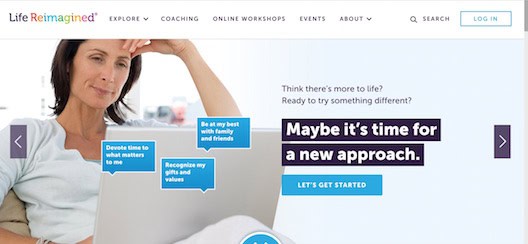 This has been a life-changing experience for me, and I'll post photos of the rooms when they're painted and decorated. Meanwhile, I hope you'll go out and take advantage of this amazing opportunity to create the life you reimagine. I can't wait to hear about it!