binge watching downton abbey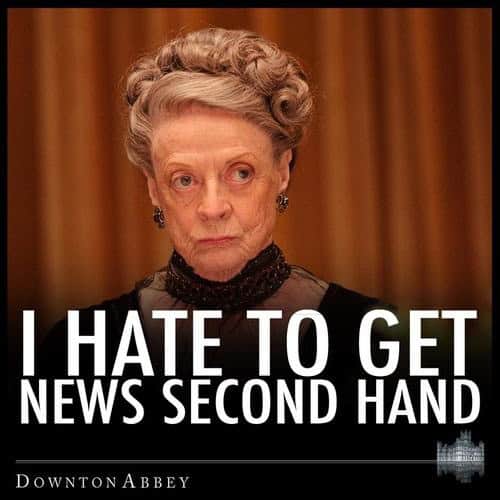 I had a busy night planned for last night. I was going to write a post, answer emails, respond to comments and pitch a few story ideas.
Instead, I powered through the entire fourth season of Downton Abbey.
All nine episodes.
And I now feel as full and satisfied and content as if I'd just finished reading one of my favorite books.
Last season, despite Herculean efforts to avoid spoilers, I found out about Sybil while I was Googling SOMETHING ELSE, and it made me furious.
I just don't understand why Masterpiece Theatre doesn't show Downton Abbey at the same time in the UK and the U.S. It's a spoiler waiting to happen.
On Sunday night, when one of my friends posted a link to a site where he had just finished streaming all of season four, I immediately headed over there but couldn't get it to work. There were ads that looked practically pornographic, a pop-up requiring my credit card information, and a general sketchiness.
So I watched the season opener on TV along with the rest of the country but was determined to get that link to work. Living in California, this is even more necessary because, otherwise, I have to remember to avoid the internet altogether when a show I care about is being watched three hours earlier on the East Coast.
Trust me, watching American Idol or The Voice is totally anti-climactic when you already know who won.
I Googled "watching season four of Downton Abbey" and spent more time researching than I did when we were looking for new health insurance. I finally discovered a different link to the same site my friend had suggested.
When that opening music came on and sweet Isis started walking across the screen, it was like the angels were singing.
I won't spoil anything for you but let me just tell you to watch episode three (that's the next one; the premiere here was a double episode) before anyone tells you anything. And then send me a message so we can discuss!
Binge watching a TV series has become the equivalent of staying up all night to finish a good book. It makes the experience so much richer and more meaningful, and the amazing thing is that the last scene of the season is EXACTLY what I had hoped it would be.
So, although I can't wait for season five, I'm happy and relaxed and can't wait to hear what you think.
You're welcome.
See you in about 12 hours.