win david gray's beautiful new album, "mutineers"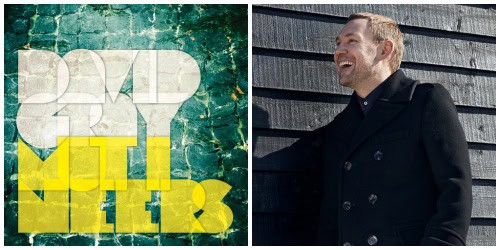 I was so moved when my husband recently told me he still kept a voicemail I sent him years ago saying that the David Gray song, "Real Love," had just come up on my iPod and it made me think of him.
It's a gorgeous song and one of the reasons we've been huge David Gray fans since hearing his hit song, "Babylon" back in 1999.
Ten studio albums later, Mutineers, his latest, will be released on June 17. My son, who's seen Gray perform a number of times, took his girlfriend to see him in concert in New York in April and texted me to let me know I'd love the new songs.
He was right.
I was lucky enough to receive a free download of Mutineers to review from One2One Network and it's been playing on repeat in my house and car since my first listen.
The album – Gray's first in four years – starts off with the appropriate "Back in the World." Its surprising joyfulness is infectious but Gray's distinctive voice gives it an emotional depth that defines all his songs.
Next up is one of my favorite songs on the album, "When the Crow Flies." It's signature Gray, combining raw emotion with a touch of tenderness.
Gray is an English singer/songwriter who writes like a poet and sings with a tone that has literally brought tears to my eyes. There's a spirituality to his work that touches a really deep and meaningful place in me. He's been compared to some of the best, like Van Morrison, with whom he shares a sensibility that propelled his chart-topping "White Ladder" to become Ireland's bestselling album ever.
Mutineers is one of those rare albums that reminds me of the days I would listen to albums straight through because they were so good as whole works of art. There's not a bad song on this one.
Gray will be touring this summer, and you should try to catch one of his shows because they're real treats.
Meanwhile, you can preorder Mutineers on iTunes or Amazon, and enter to win a copy of the CD right here!
For a chance to win, simply leave a comment below. Contest ends on June 14 at midnight Pacific time. Winner will be notified by return email. Prize can only be mailed to a U.S. or Canada address.