"sing street" movie review and giveaway!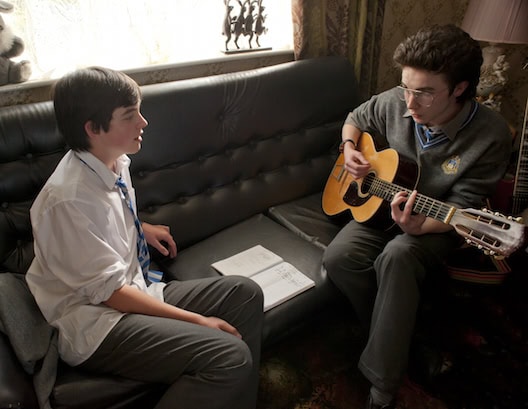 I am a big fan of Irish movies and Irish music.
So it's no surprise that Sing Street — about a 14-year-old Dublin boy (Ferdia Walsh-Peelo) who starts a band to get the girl of his dreams, completely won me over.
Now available on Digital, Blu-ray and DVD, it's a must-see.
Writer/director John Carney, who also gave us Once and Begin Again, takes us back to the '80s when young people were emigrating from Ireland to England in search of jobs. Conor is having trouble adjusting after the economy forces his parents, who are having their own marital problems, to switch him to a rough inner-city public school.
When his older brother introduces him to Duran Duran and the music videos that are becoming the hot new trend, he is moved and inspired. He invites model Raphina (Lucy Boynton) to star in his band's video and, miraculously, she agrees. Now he just has to form a band and start shooting videos!
This is a charming coming of age story, and the classic '80s soundtrack  — Joe Jackson, The Cure, Hall and Oates — brings back so many memories. Conor is an adorable character, and watching him write songs and passionately throw himself into the music is infectious.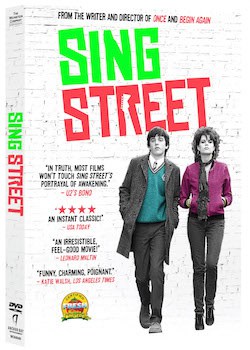 Sing Street is a testament to the power of music to transform lives. Thanks to Anchor Bay Entertainment, I'm thrilled to be giving one lucky subscriber a copy of the Sing Street DVD and a $25 iTunes Gift Card to purchase the official Sing Street soundtrack.
For a chance to win, you must be a subscriber to my weekly newsletter. If you're not a subscriber, first sign up in the right sidebar of this page. Then, simply leave a comment below. For a second chance, tweet this:
Contest ends on August 10 at midnight Pacific time. Winner will be notified by return email. Prize can only be sent to a U.S. mailing address.
Follow Sing Street on Twitter, Instagram and Facebook and find out where to buy the movie on GoWatchIt.
I apologize in advance for the fact that you won't be able to get some of these songs out of your head.