win "spotlight," this year's best picture, on blu-ray!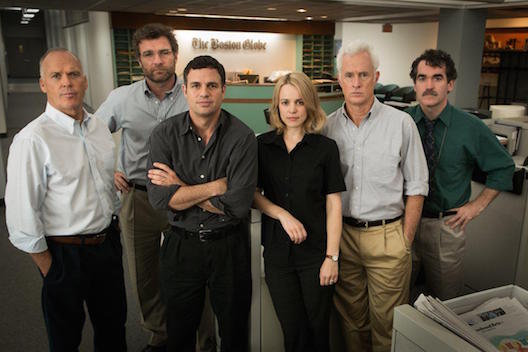 I was so happy when Spotlight was named Best Picture at last week's Academy Awards because 1) it broke the tie between my son and me, so I finally won our family Oscar pool, 2) it gave me faith in the future of movies that a good story was more highly prized than visually-focused action crap films like Mad Max: Fury Road and The Revenant, 3) it shows the importance of solid, investigative reporting, and will hopefully inspire the next generation to return to it after decades of tabloid journalism, 4) it's a great movie.
Spotlight is the true story about the team of reporters at the Boston Globe who broke the scandal of priests abusing children. With tenacity, determination and compassion, they exposed a cover-up that had been going on for decades and that had reached the highest levels of Boston's religious, legal and government establishment. The investigation itself won a Pulitzer Prize, and the movie absolutely does it justice, deservedly winning its industry's highest honor in the process.
With an all-star cast starring Michael Keaton, Mark Ruffalo, Rachel McAdams, Liev Schreiber, Stanley Tucci and John Slattery, this is ensemble acting at its best.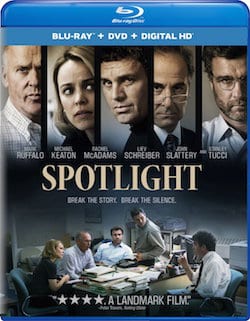 Spotlight is now available on Blu-ray Combo Pack, and it comes with some fascinating bonus features, including: Uncovering the Truth: A Spotlight Team Roundtable, Spotlight: A Look Inside and The State of Journalism.
I have half a dozen Blu-ray Combo Packs to give away to Midlife at the Oasis subscribers.  (If you're not a subscriber, first sign up for my weekly newsletter in the right sidebar of this page.)
For a chance to win, simply leave a comment below. For a second chance, tweet this:
Contest ends on March 13 at midnight Pacific time. Winners will be notified by return email. Prizes can only be sent to a U.S. mailing address.