"girl rising"

I have very mixed feelings about International Women's Day, which was celebrated this past weekend. On one hand, yay for acknowledging the gender that makes up more than half our population. On the other hand, WTF?
Last year, I kind of protested the day and wrote about why I look forward to a time when we no longer have to set aside a day to celebrate women who have risen above the challenges placed in front of them but, instead, simply give them the same rights men are granted every day. (Note: the Equal Rights Amendment has still not been passed, people, contrary to what many Americans apparently believe.)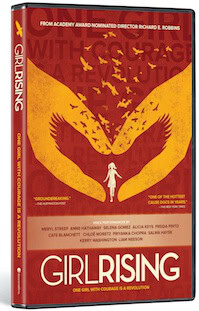 This year, I decided to take a different approach to the day by watching Girl Rising, the powerful documentary from Academy Award-nominated director Richard E. Robbins.
The film follows nine girls in different parts of the world, each of whom is paired with a writer from her own country to help tell her story. These stories are heartbreaking yet ultimately inspiring. By making their voices heard, each of these girls is helping to change not only her own life but those of girls all around the world.
The brave girls include Suma, a former slave in Nepal; Yasmin, a 13-year-old rape survivor in Egypt; Sokha, a Cambodian orphan discarded like the trash around her in the landfill in which she grew up; and Amina, an 11-year-old in Afghanistan who was sold in marriage to her cousin for $5000.
What we are reminded after each story, narrated by A-listers like Meryl Streep, Cate Blanchett, Kerry Washington and Alicia Keys, is that the way to break this cycle of poverty and violence is education. Yes, it is as simple as that.
Studies prove over and over that educating girls provides one of the best returns on investment in developing countries. Economies improve dramatically, mortality rates and disease decrease. It's why Oprah opened her Leadership Academy for Girls in South Africa.
Knowledge is, literally, power, yet there are 66 million girls out of school around the world.
Why are we holding our girls back?
I sobbed as these girls talked as dreamily about attending school as our daughters talk about shopping or their latest heartthrob. Malala is obviously not alone in her determination to receive an education.
In the film, I was so moved by young Wadley who had just memorized and presented a poem in class when the earthquake hit Haiti. Despite the devastation and destruction, all she wants is to return to school. She refuses to accept the fact that her family has no money to pay for it now, and she comes back every single day until the teacher finally relents and lets her stay. It's a triumphant and empowering moment not just for her but for those watching. I can't wait to see the impact she makes on the world when she gets older.
The documentary itself has inspired a global movement. Schools, families, community groups and individuals are getting involved by screening the film (which should be required viewing by all), sharing stories and making donations. Find out how you can make a difference at GirlRising.com.
Let's get those 66 million girls into school and make this International Educating Girls Year. That will be a much more sincere and effective way to honor females than waiting until next March to celebrate International Women's Day.