win a copy of "inferno" by dan brown before the movie opens!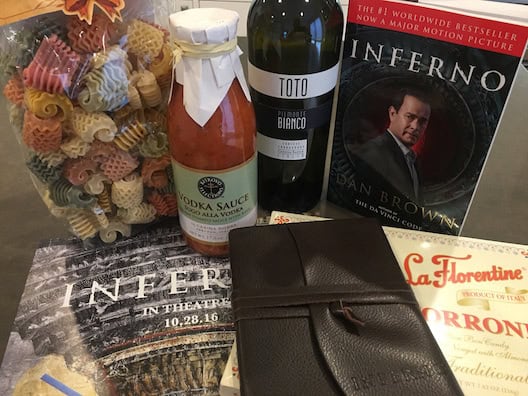 I am a big Dan Brown fan — not to mention a big Tom Hanks fan — not to mention a big Felicity Jones fan — oh, not to mention a big Ron Howard fan — and I can't wait to see Inferno, which is opening everywhere on Friday.
This box of swag from one of my favorite publicists has especially gotten me in the mood since it's full of so many things that bring back memories of our amazing trips to Italy, where Inferno takes place.
In the movie, famous symbologist Robert Langdon (Hanks) follows a trail of clues tied to Dante, the great medieval poet. When Langdon wakes up in an Italian hospital with amnesia, he teams up with Sienna Brooks (Jones), a doctor he hopes will help him recover his memories. Together, they race across Europe and against the clock to stop a madman (Ben Foster) from unleashing a virus that could wipe out half of the world's population.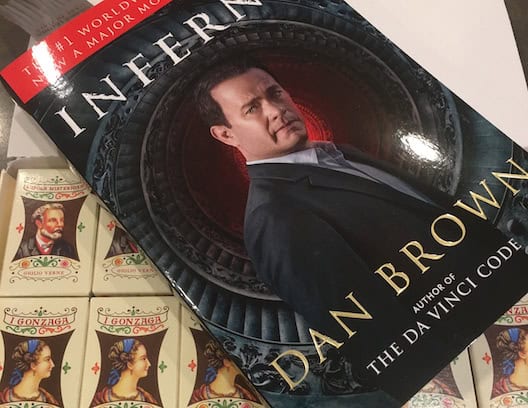 After we read the book years ago, my son and I had a fantastic conversation about one of the big themes of the story: overpopulation. It was fascinating to hear his opinions, and I would love to see the movie with him – except that he's 3000 miles away.
So you can have some thought-provoking discussions, too — and because I always believe in reading the book before seeing the movie — I'm thrilled to be giving away a copy of Inferno to one lucky Midlife at the Oasis subscriber.
For a chance to win, you must be a subscriber to my weekly newsletter. If you're not a subscriber, first sign up in the right sidebar of this page. Then, simply leave a comment below.
For a second chance, tweet this:
Contest ends on October 31 at midnight Pacific time. Winner will be notified by return email. Sorry, but prizes can only be sent to a U.S. mailing address.