"beatriz at dinner" movie review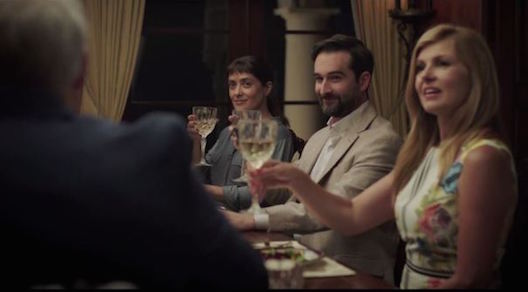 Every one of us who joined the Women's March, wore a pussy hat or is simply doing everything in her power to resist the current Administration will recognize themselves in Beatriz in Beatriz at Dinner.
Salma Hayek, in the title role, is radiant yet unglamorous as a poor immigrant from Mexico who has moved to Southern California, where she lives in a run-down little house with her beloved goats and dogs and works as a healer at an alternative cancer center. She exudes empathy and compassion despite her own personal hardships.
After an emotional day at work, Beatriz deals with rush hour traffic to get to her second job as a massage therapist. It's obvious that Cathy (Connie Britton), her wealthy client, cares about Beatriz, going so far as to insist she stay overnight and join them for dinner when her old car breaks down.
Dinner, though, turns out to be an important business dinner Cathy and her husband are hosting to celebrate the green-lighting of a big new development project. Their guest of honor is Doug Strutt (John Lithgow), a renowned real estate tycoon who also happens to be a pompous ass.
It doesn't take long for Beatriz to realize she, in her practical khakis and sensible shoes, is totally out of her league. She starts to sees Cathy in a whole new light, and it's like the Talking Heads song, "This is not my beautiful house. This is not my beautiful wife," except that it's all beautiful — and yet, oh, so ugly.
At first, the three couples humor Beatriz as a charming novelty, but things go downhill quickly as Strutt shrugs off the fact that the new project will destroy the home of a group of endangered birds. Beatriz, understanding her place as a guest, turns to her wine glass for support as Strutt laughs about protestors and throws out snarky, narcissistic titles for his memoir.
By the time he pulls out his phone to share a photo of the dead rhino he spent days trophy hunting in Africa — "I don't consider it murder," he says, nonchalantly, while his friends nod in agreement — Beatriz has had enough.
"Are you for real?" she screams, throwing his phone at him. "This is disgusting."
To everyone's shock, she accuses him of building all his pleasures on other people's pain and tells him that rather than chasing something to kill it, he should try healing something. "That's hard," she says.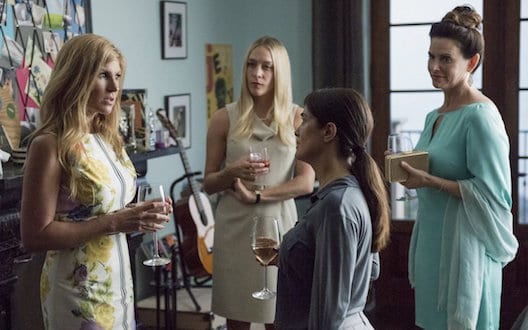 I don't want to say any more about the movie other than that you need to see it.
Beatriz at Dinner makes its point naturally and without being preachy. The dinner table is the perfect place for this conversation, which needs to be had, to take place. In fact, it often does.
Before this election, Lithgow's character may have seemed too over the top to be believable. But, over the past year, we have all been Beatriz at dinner at some point, sitting at a table, quietly seething as someone just like him spouts their toxic views, and having to decide whether to let it go or let loose.
Although I found the ending to be ultimately unsatisfying, I can't think of a better one. And that's the problem — with the world more than the movie.