"the greatest showman" movie review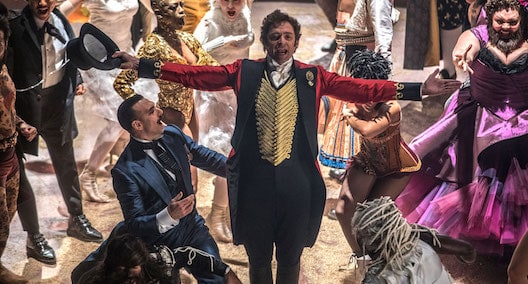 I am so conflicted about my feelings for The Greatest Showman.
I should hate it because I strongly believe elephants and other animals have no place in the circus.
I should hate it because, from all accounts, P.T. Barnum was not a man to be admired.
I should hate it because there's really a lot wrong with the story.
And yet I loved it.
I loved the big production numbers and the anthem-like songs about empowerment.
I loved the sense of wonder and awe.
I loved the performers and the love stories and the daring feats.
I credit a lot of my feelings to the rousing soundtrack by Benj Pasek and Justin Paul, who won an Oscar for La La Land (which, I'm sorry to say, left me cold except for Emma Stone's imagining of a different life toward the end of the movie) and a Tony for Dear Evan Hansen (which I'm finally seeing on Broadway next month).
The songs in The Greatest Showman are ones I would actually listen to. When the Bearded Lady proudly belts out This Is Me — "When the sharpest words wanna cut me down/I'm gonna send a flood, gonna drown them out/I am brave, I am proof/I am who I'm meant to be, this is me" — she validates everyone who's ever felt like a "freak," sending a powerful message of acceptance.
If that helps one viewer feel better about themselves, I don't care if the story takes liberties with the truth.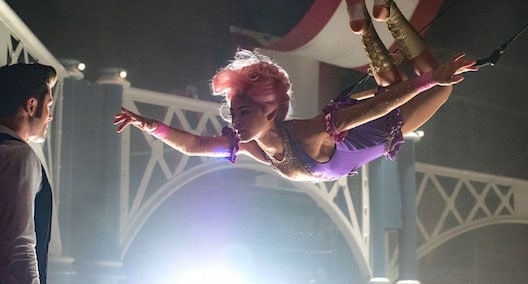 In fact, I think it's best to watch The Greatest Showman as simply a movie — not a biography, not a history lesson, not a true story.
If you just take it at face value and forget Hugh Jackman is supposed to be portraying the man responsible for what ultimately turned into the now-defunct Ringling Bros. and Barnum & Bailey Circus, you will leave the theater smiling and humming.
"People come to my show for the pleasure of being hoodwinked," Barnum explains to a journalist in the film. And, oh, what pleasure it is.
You can call it hoodwinked or call it magic, but I was happily swept away in the whole spectacle that is The Greatest Showman. At a time when we could all use a little escape, I hope you'll let yourself be, too.