"london road" movie review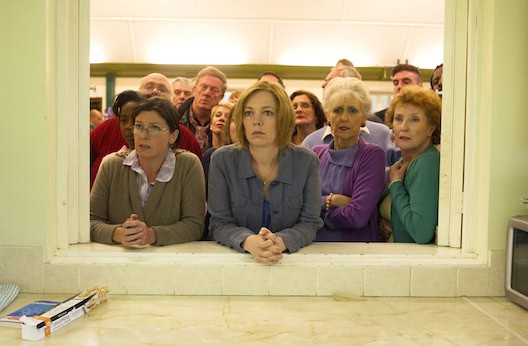 I admit a serial killer on the loose is an odd choice for a musical — which is one of the reasons I was absolutely riveted by London Road.
Based on a British stage play about a real-life crime, the movie version of London Road is vibrant theatre in its own right.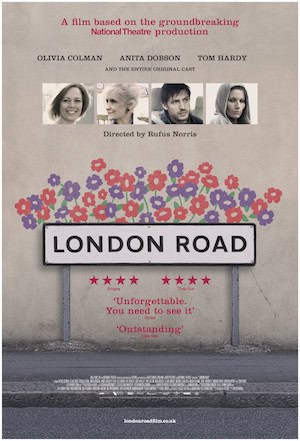 As we find out in the first few minutes of the film, five prostitutes were murdered over 10 days in the small town of Ipswich, England in 2006. Until then, London Road, the scene of the crimes, had been a quiet street where residents kept to themselves and nothing ever happened.
Over the course of the next three years, these residents were interviewed and the dialogue remains true to "what they said exactly like they said it." Except, of course, in the movie, they sing it.
And I loved it.
When London Road played at the Royal National Theatre, it received great critical and audience acclaim, selling out every performance. As a movie — starring the cast of the original production, by the way — it manages to retain that live theater feeling while adding the intimacy of film close-ups.
We get to really explore these characters as they walk around in fear, suspecting everyone they pass on the street. When a neighbor is arrested for the murders, the residents of London Road are thrust into the spotlight. It is fascinating — and often disturbing — to see their reactions.
Although we learn the murderer's name, we never get to see his face because, really, the story isn't about him at all. It's about the community. It's about the power of groupthink. It's about what we do to cope and survive.
It's amazing to realize that all of the song lyrics are taken from actual transcripts. Director Rufus Norris does a fantastic job of making it seem natural — and haunting — when the characters burst into song. A big part of the credit goes to Alecky Blythe and Adam Cork, whose book, music and lyrics will stay with you long after the lights have gone back on.
London Road is one of the most original movies I've seen, with a great soundtrack and strong performances. (Yes, that's Tom Hardy!) It's not your typical musical — and that's a compliment. In fact, you just might call it arresting.