"march of the living" movie review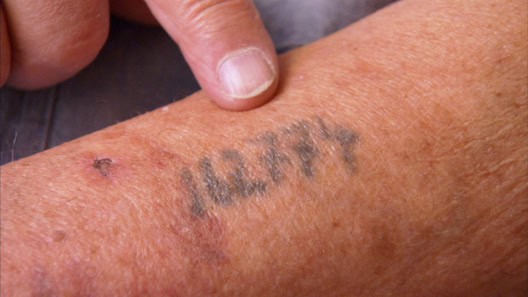 Yes, that is a very disturbing image, above.
Yes, it is impossible to imagine that the Holocaust actually happened and could happen again.
And, yes, that's why you and everyone in the world needs to watch Jessica Sanders' powerful documentary, March of the Living.
Every year since 1988, thousands of teens from around the world have traveled to Poland with Holocaust survivors to march from Auschwitz to Birkenau. They visit — and, in the case of the survivors, revisit — the concentration camps where millions of Jews were put to death in gas chambers.
More than 100,000 kids have already participated in the annual March of the Living — a reverse Death March, as they call it. It's forever changed their lives. And this documentary just may change some, too.
The film follows a group of survivors and teenagers from the United States, Brazil and Germany as they make the emotional journey. Along the way, they discover familiar names and photos that remind them that the Holocaust personally effected so many families including, in many cases, their own.
"When you see your relative's name crossed out, proving he died in the Holocaust, it knocks you out," says one teen.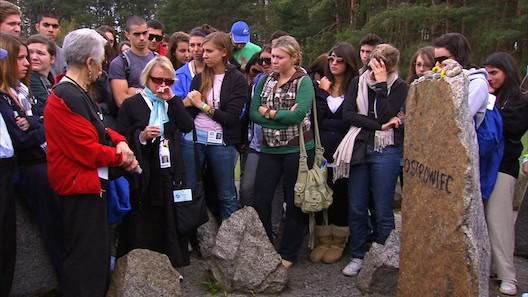 To the kids, this is a wake-up call that behind the staggering statistics were millions and millions of real human beings. As they're confronted with rooms full of shoes and human hair and piles of ashes, their horror grows. "It's something totally unbelievable," admits one of the boys. "I was in shock for hours. It wasn't like crying over a girlfriend or the end of a trip. I never cried like that before."
"It's terrifying to think people could be so heartless," agrees one of the girls.
To this last generation of survivors, this is a final chance to educate future generations. "It's so easy to forget," sighs a survivor, "and there's a real danger with that."
When asked what they want the march to be, another survivor replies, "Anything that will help people understand."
The importance of that desire becomes apparent when a high school senior says that the Holocaust felt so disconnected to her before she came on the March of the Living because it occurred before the internet and she couldn't see it online. Think about that for a minute.
"It is very important for young people to see what happened so it never happens again," says one of the survivors. "Silence is not an option."
There are so many emotional moments in this film, including the relationship between the teens and the survivors. It's moving to watch them comfort, support and educate each other — and tragic that the Holocaust is what brought them together.
The teenagers of other religions come to understand the universality of the Holocaust, and realize that no one is immune to this kind of hatred. "This is not just a Jewish thing," says one of the girls. "You could be gay or black; if you weren't Aryan, you could have died."
The movie is, sadly, particularly relevant at this time because of the possibility of Donald Trump — someone who took a Star of David image off a Neo-Nazi website to use in a derogatory manner to describe his opponent, and whose supporters regularly post tweets identifying and threatening Jews — becoming President of the United States. As he promises to deport Mexicans and Muslims, it is more important than ever to make sure history doesn't repeat itself.
Also, with the passing of Nobel Laureate Elie Wiesel this week, the world lost a brilliant Auschwitz survivor who, as The New York Times wrote in his obituary, "became an eloquent witness for the six million Jews slaughtered in World War II and who, more than anyone else, seared the memory of the Holocaust on the world's conscience."
March of the Living begins with Wiesel's quote, "To hear a witness is to become a witness oneself."
Watch this film, hear the witnesses and do everything you can to make sure none of us ever witness anything like the Holocaust ever again.