win a copy of "nightcrawler" starring jake gyllenhaal!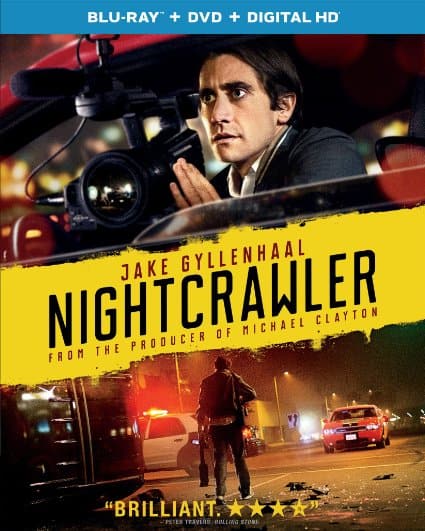 I wrote about Nightcrawler a couple of months ago, when my San Diego Film Critics Society group named it Best Picture of 2014. We honored it with a total of seven awards, and you can read my review here to find out why it deserved them all.
Nightcrawler is dark and thought-provoking, and Jake Gyllenhaal was appropriately nominated for a Best Actor Golden Globe — and should have been nominated for an Academy Award — for his riveting performance as a freelance cameraman covering the underbelly of Los Angeles crime journalism.
I know this movie has flown under the radar for a lot of you — or you think it's too violent and scary — and I'm hoping you'll give it a chance now that you can watch it at home. In theory, it's not my kind of movie, either, but I honestly thought it was fantastic. It's a great commentary on today's society, and it will give you a lot to discuss.
The movie is coming out on Blu-ray and DVD on Tuesday, February 10 and you can win a copy now. To enter, simply leave a comment below. For a second chance, Tweet this:
Contest ends on February 15 at midnight Pacific time. Winners will be notified by return email. Prizes can only be sent to a U.S. mailing address.