"still alice" blu-ray/dvd giveaway!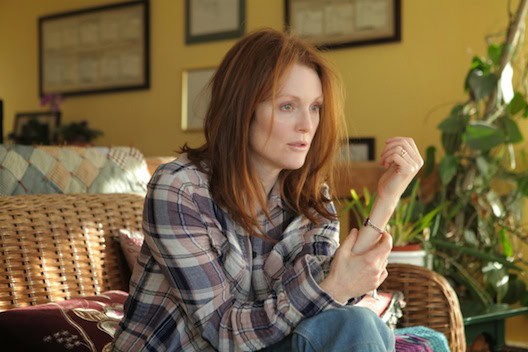 John Black, 42 West Street has been imprinted on my brain ever since I read Lisa Genova's bestselling book, Still Alice, years ago.
That's the name and address Alice's neurologist uses to test her memory – a test she fails but I was determined to pass.
So when, in the movie version, John Black apparently moved to 42 Washington Street, it kind of freaked me out. Had I remembered it incorrectly all this time? Was I losing it?
I can't imagine why the filmmakers would change an address that so many readers have reassuringly pulled out of their memories time and time again. Don't they realize their audience is already worried they're experiencing many of the same symptoms as Alice?
You see, Still Alice is the story of a 50-year-old woman who is diagnosed with early onset Alzheimer's Disease. It's powerful, heartbreaking and a must-see.
Dr. Alice Howland (Julianne Moore) is a confident, well-respected linguistics professor at Columbia University and the author of the field's pivotal textbook. When she can't find the word she's looking for during a presentation at UCLA, she laughs it off but senses something is wrong. As it turns out, the word is "lexicon," which becomes a sobering foreshadowing of what she's starting to lose.
Communication is Alice's forte – the woman scores 66 point words in Words With Friends! – so her diagnosis is particularly devastating. At one point, she admits, "I wish I had cancer instead." And you can see why.
Her husband (Alec Baldwin) and three grown children (Kristen Stewart is a revelation as the rebellious youngest daughter) each have their own ways of dealing with Alice's disease, and caregivers will relate to them all. This is a very real movie, and one that will make you think.
But the movie belongs to Moore. To say she is mesmerizing doesn't begin to cover it. She transforms before our eyes and, emotionally, we are with her for the journey. As we watch her become a ghost of herself, we can feel her frustration, her terror, her ultimate vacuousness. It is to her credit that the movie never becomes sappy.
After her diagnosis, Alice agrees to speak to a group of Alzheimer's patients and their families – and the difference between her UCLA speech and this one says it all.
"This is hell," she says. "But it gets worse. We become ridiculous, incapable, comic. But this is not who we are. It's our disease. I am struggling to stay connected to who I once was."
Moore makes sure we are always aware of who Alice was. She gives a performance moviegoers will never forget. And, when Oscars were handed out a few months ago, neither did the Academy.
Still Alice is now available on Digital HD and will be coming out on Blu-ray and DVD on May 12.  I'm giving away three copies, which include a fascinating bonus feature about Alzheimer's in addition to deleted scenes and two other all-new featurettes.
For a chance to win, simply leave a comment below. For a second chance to win, Tweet this:
Contest ends on May 15 at midnight Pacific time. Winners will be notified by return email. Prizes can only be sent to U.S. mailing addresses.