oscars giveaway! "the theory of everything" on blu-ray and dvd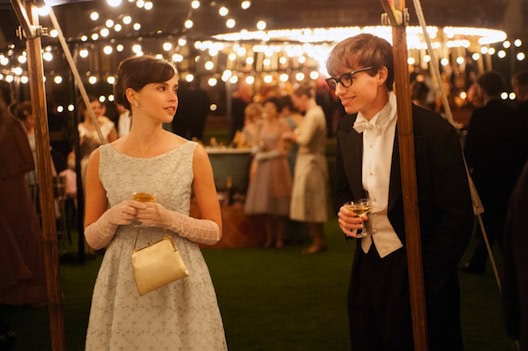 I loved pretty much everything about The Theory of Everything.
The movie, which is nominated for eight Academy Awards, including Best Picture, Best Actor and Best Actress, tells the amazing story of renowned astrophysicist Stephen Hawking. Diagnosed with Motor Neuron Disease and given a death sentence while pursuing his PhD in physics at Cambridge at age 21, Hawking went on to change the way we see the world — thanks not just to his brilliant mind but to his wife, Jane.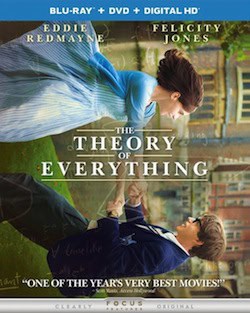 I wrote about the movie back in November in honor of National Family Caregivers' Month because Jane Hawking played such an instrumental role in her husband's success. In fact, it is unlikely he would still be alive today, never mind made the scientific contributions for which he's credited, without her unwavering support and sacrifice.
In many ways, The Theory of Everything is more Jane's story than Stephen's. It's based on her own memoir, Travelling to Infinity: My Life With Stephen, and it's a love story, a biography and a powerful testament to the human spirit.
The Theory of Everything was just released on Blu-ray and DVD, and I'm so happy to have four copies to give away.
To enter, simply leave a comment below. For a second chance, Tweet this:
Contest ends on February 25 at midnight Pacific time. Winners will be notified by return email. Prizes can only be sent to U.S. mailing addresses.
My money's on Eddie Redmayne to win Best Actor on Sunday night. How about yours?