two days, one night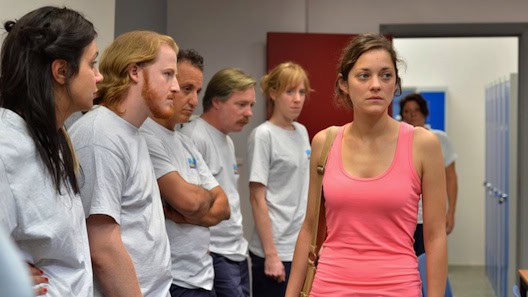 While the theaters around us were packed with audiences catching up on American Sniper, Whiplash and Foxcatcher, Michael and I enjoyed an almost-private screening of Two Days, One Night, the Belgian film by Jean-Pierre and Luc Dardenne, for which Marion Cotillard has been nominated for a Best Actress Oscar.
I had already watched it via a screening link before our San Diego Film Critics vote – in which we did honor her with the Best Actress award – but I wanted Michael to see the movie because her performance is astonishing and the impact of her story is quietly devastating. And I wanted to watch it on the big screen.
Described, the storyline seems mundane: Sandra (Cotillard) returns to work at a solar panel factory after an extended sick leave for her depression, only to discover that her co-workers were given a choice between letting her keep her job or receiving a 1000 euro bonus – and they chose the bonus.
At her friend's urging, Sandra asks her boss to hold another vote and he agrees, giving her the weekend to convince each of the 16 to sacrifice their bonus for her job.
Sandra's family desperately needs her salary to keep them out of social housing. Her husband works at a restaurant, and they have two young children.
But her co-workers need their bonuses, too, as is apparent by the houses in which they live, the second jobs they have, the layoffs their own spouses are experiencing. They are not greedy; they're just trying to survive. And their ethical dilemma is what makes the story so fascinating.
Sandra does not want to put anyone on the spot but, of course, she must, just by the nature of her request. We follow her as she visits each co-worker, exhausted, shoulders hunched, eyes warily expecting a "no" every time. She pops Xanax like mints although her loving husband encourages her to rely on him for support instead.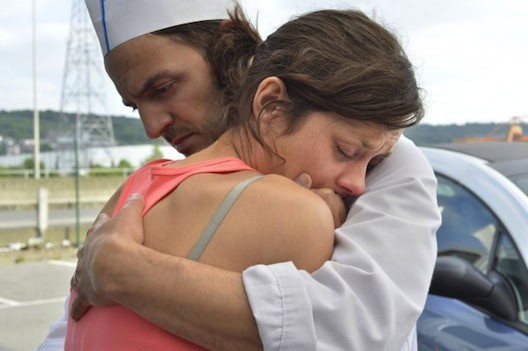 Her encounters with her co-workers are the stuff of human drama. Although they start out politely, emotions run high, resulting in everything from tears to fistfights – and each one takes its toll on Sandra.
Watching Cotillard disappear into Sandra is riveting. With her makeupless face, her messy ponytail and her bra straps hanging out of her tank tops, she is so real and so vulnerable, you completely forget she's been on the cover of Vogue. You just want to embrace her as your friend, your sister, and assure her everything's going to be okay.
This seemingly small story of one ordinary woman is actually a huge universal tale which makes you consider what you would do in the same situation and why co-workers are now pitted against each other rather than banding together to protest that system. Whatever happened to Norma Rae?
Although getting out of bed is, for Sandra, an accomplishment in itself, she pushes herself beyond what she believes she's capable of – and just the fact that she's doing something becomes empowering to her. There's a profound lesson here about the power of simply taking action.
It's a shame Cotillard won't win the Oscar this year. That award will go to Julianne Moore, whose equally-deserving performance in Still Alice, is more "dramatic" and has more mass appeal.
Cotillard's raw portrayal of Sandra is so understated, it seems like she's not even acting. Without an ounce of showiness, she embodies John Lennon's words, "A working class hero is something to be."
In her own little world, Sandra is a true heroine.