You are here:
Home
/
Social Good
/
Causes
/
my oasis: healing with elephants in thailand by julie lemerond
my oasis: healing with elephants in thailand by julie lemerond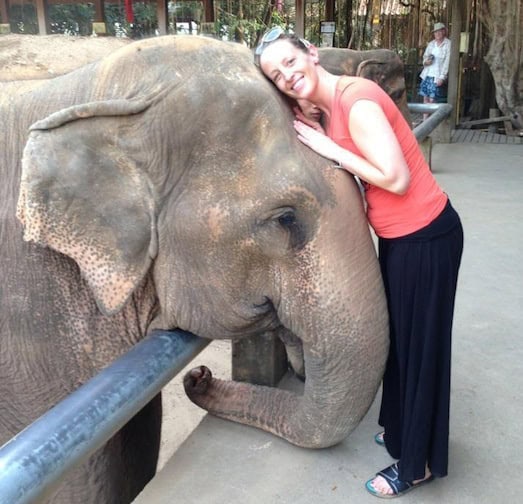 About a year ago, a friend of mine referred to us as "middle-aged" in a blog post. "What the heck is she talking about?" I thought. And then it dawned on me that we were turning 40 and, if an average female American life expectancy hovers somewhere around 80, then we are indeed "middle-aged." Because I still get carded and people seem shocked when they find out how old I am, it's hard to wrap my brain around the idea that I am halfway through life.
Knowing 40 was on its way, I decided I wanted to do something big. It's kind of that age where you realize "this is my life" – for better or worse. While there's always room for re-creation and new beginnings, you have already laid the groundwork as to what your experience on this earth looks like by the time you hit 40. I wasn't unhappy – I love my life – but there were unanswered questions and experiences still looming that would never come to fruition if I didn't start just grabbing life by the balls and saying "Let's party!"
So I started saving for a trip to Thailand as a gift to myself for my 40th birthday.
I wanted to volunteer somewhere as well as have take yoga, get Thai massages and just utterly and completely relax. I wanted this trip to be a way for my soul to grow.  I'd be traveling solo.  I'd be traveling soul-o.
Initially, I had planned on volunteering at an orphanage or working with kids. But nothing seemed to be coming together with the organizations I was looking into.
Until I found the Elephant Nature Park.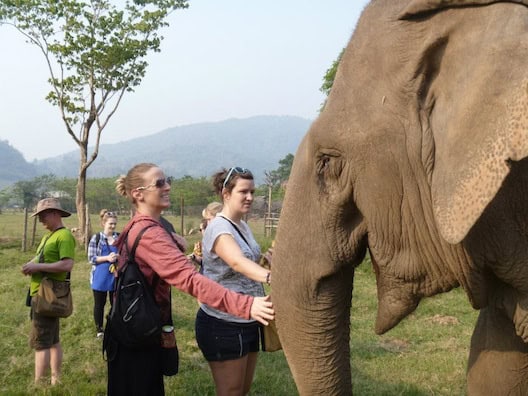 Week-long volunteer vacations at this Elephant Orphanage are all-inclusive and affordable.  There are numerous elephants at this haven in the mountains of Northern Thailand, and they invite volunteers to spend a week or more helping out. The work would be physical, and the rewards would be deeply emotional.
Another part of this soul-o trip for me was to take a break and get out of our American way of life. As the years were passing, I felt like all I did was work. Even though I worked at a beautiful place, I sat at a computer in a windowless office under fluorescent lights for eight hours a day. Most days I felt ready to go home after about four hours of work. On the side, I taught yoga, which has become one of the great loves of my life. It became my safe island to retreat to in the midst of daily storms. But trying to have a healthy work/life balance when all I really did was work, was really starting to drain me. Planning this trip became another bright light to look forward to at the end of the day. My soul was aching to see and feel and breathe another world.  My passport was dusty, and so was I.
Volunteering at the Elephant Nature Park (ENP) is an absolutely wonderful and yet heartbreaking experience. Once there, you learn that nearly all of the elephants come from backgrounds of turmoil, abuse, slave labor and torture. We learned the dirty truth behind the fun elephant rides and cute elephant paintings that tourists enjoy.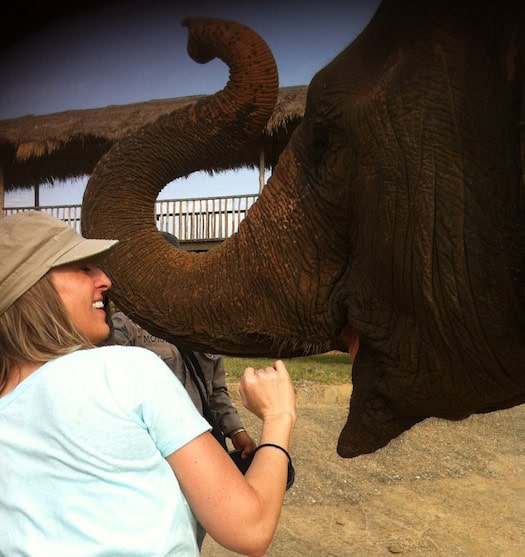 In order for an elephant to get into a mindset to allow people to ride on its back, or take a paintbrush in its trunk, or pull a ton of logs up a hill by chains around its neck, often means that the elephant was beaten to the point of submission. Baby elephants are stolen from their mothers and subjected to a week-long torture chamber called the Phajaan, also known as the Crush.  This 'ceremony' is done by hill tribes to tame elephants, and is even blessed by the tribal elders.  They believe they are separating the elephants spirit from the body, and this ritual is used throughout Southeast Asia (as well as other parts of the world) to tame elephants so that they can be used by humans to work either in the tourist industry or doing heavy labor.
My week at the ENP was spent washing and cutting small pineapples and watermelons to use for elephant food, using a hoe to cut back the dried leaves of a banana tree (exposing colonies of ants like I have never before seen), tearing bamboo from the stem of a branch, cutting 3-foot stems of grass with a dull machete in 95-degree heat, and digging my hands into hundreds of bananas in a huge vat, mixing them with corn to make banana balls for the elephants.  And oh, yes, I shoveled elephant poo into a wheelbarrow, which I then wheeled to a huge pile of manure.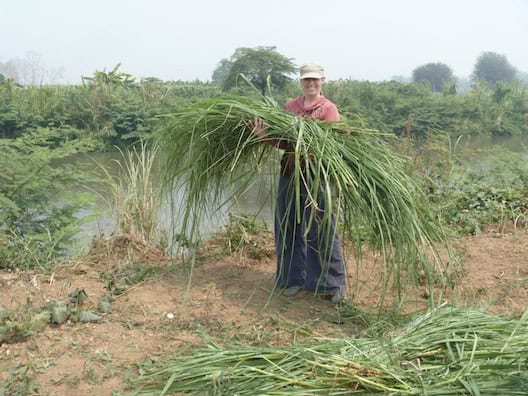 I walked the fields with a tour guide and the Mahouts, who are the elephant caretakers.  After a while, I started finding favorites among the elephants. Bua Loy would walk up to the feeding platform and drop her trunk, waiting for food, staring me down. When I walked towards her, her ears would start flapping, just like a dog's tail wags. I was amazed at how gentle she was, knowing that the scar marks on her forehead were from being stabbed with a hook for many years, and knowing that the back right leg that she limped on was broken years ago while logging. I cried, knowing that she was chained up for three months straight and forced to breed (read: raped) until she was sold to the ENP because she never got pregnant.
Maybe my soul and the elephants' souls at the ENP had something in common – a desire to live a better life, to be natural and free to roam and explore and just simply be. Maybe that's the reason I was drawn to this particular venture so strongly when I was planning my trip.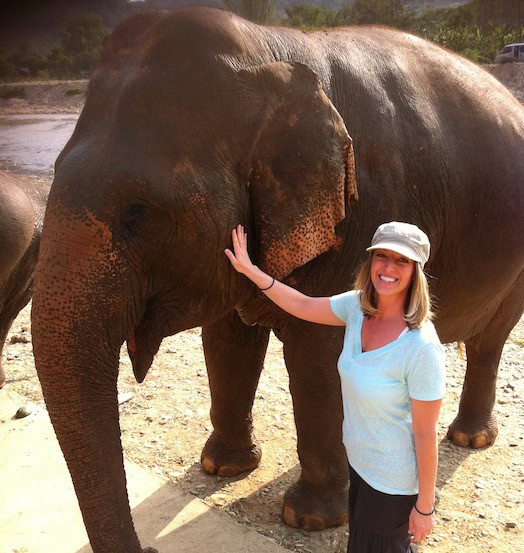 Perhaps it had less to do with the elephants than it had to do with me – both of us coming to the park to heal, to rehabilitate, and to continue in this world more at peace and with joy, and living the lives we always imagined for ourselves.
Julie is a fellow Ultimate Viewer who also went on Oprah's Ultimate Australian Adventure with me! You can read her tribute to Oprah here, her posts about the Ultimate Day "O" Service here and here, and her Facebook fast here.