You are here:
Home
/
Social Good
/
indego africa: changing women's lives by design
indego africa: changing women's lives by design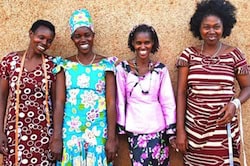 I have always had a thing for Africa. It, by far, tops my bucket list, and I feel so deeply that it will be a life-changing experience for me when I finally get there.
In the meantime, I was lucky to be invited by The Mission List to review some products from the amazing Indego Africa website. Indego stands for Independence, Development and Governance, and this fair trade nonprofit is providing all of those by partnering with cooperatives of women artisans in Rwanda to sell their gorgeous handcrafts around the world. All – yes, all – of the profits are then used to train these women in business, literacy and computers. The social impact Indego Africa has already made is astounding; just check out the statistics here.
This is a fantastic social enterprise in itself but the products are so beautiful, they raise it to a whole different level. In fact, because it's design-driven and considers itself a fashion company with a social mission, you can find many of Indego Africa's pieces at places like Anthropologie, Nicole Miller and J. Crew.
I was generously gifted a redeemable code worth $75, so I immediately called Sara at college and we spent some quality mother/daughter time "ooh"-ing and "ah"-ing over the accessories and home décor, and discussing each piece – in depth. Happily, $75 goes a long way with Indego Africa, and we went back and forth until we finally decided on bracelets for all. Please note this decision was not made lightly, and I still have my eye on the Copabu wooden fruit bowl and the Color Weave oversize beach bag.
I gravitated right to the sweetgrass set but because I couldn't choose between the warm and cool brights, I opted for the entire rainbow set. (Hmm … As I just went back to put in the links for you, I got all goosebumpy again again the patterned sweetgrass set which would look really great mixed in with these. This is why it's so good to be able to rationalize that shopping here is like making a donation to charity.) I wear them all the time, often in different color combinations, but they make the biggest impact when worn by the armload, and I always get tons of compliments on them. I also find myself admiring them while I sit at my computer.
Sara was smitten with the Butare bracelet in mustard yellow, which is made of metal and wrapped with sweetgrass. It is beautifully simple and simply beautiful. We discovered that the bangle adds a sophisticated edge to the whole sweetgrass set – this was a discovery akin to that of combining peanut butter and chocolate – and I got to wear it that way first because it was Mother's Day. Of course, I may not let Sara finish her senior year in Boston now, if it means the bracelet goes with her.
Because we didn't want my husband to feel left out, we got him the banana bracelet for men. (I'm giggling a little to myself because Sara and I have each "borrowed" it more than once.) It would make a great Father's Day gift. (Wink, wink.)
As much as I love all of these bracelets, though, what is most special is the card that accompanies each product. It features the name of the artisan and her cooperative, handwritten and signed. I can't tell you how meaningful this is to me, and the powerful connection it represents.
Visit the Indego African website and you'll see what I mean. Just look at the joyful faces of these women! Many of them were widowed in the 1994 genocide and are the sole providers of their household, supporting an average of more than five dependents. Yet they are taking control of their future, and lifting their families and their communities out of poverty. They are so inspiring, and are proof of what happens when you support women globally. You can read their personal stories, watch videos and get to know them better on the website.
I hope to meet some of these women someday – my bucket list trip just got an asterisk next to it. Until then, I will be helping them fight their war against poverty and illiteracy by arming myself and everyone I know with the gorgeous bracelets they're making to save their world.