win a beautiful black pearl necklace from avalon pearls!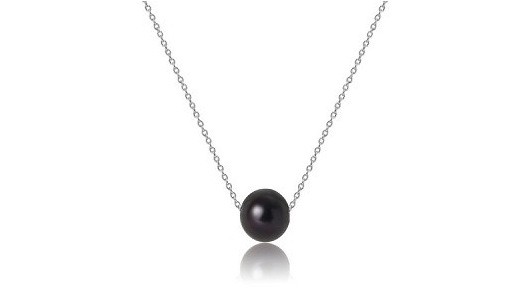 Don't you love this single black pearl pendant?
When Avalon Pearls invited me to choose a piece from their amazing selection to review and give away, I asked my mom which one she liked best. Always one to think outside the box, she chose the black pearl.
So, happy birthday, Mom! And happy day for one of you!
When you spend time on the Avalon Pearls website, you totally understand why so many stylish women are known for their quotes about pearls. "A woman needs ropes and ropes of pearls," said Coco Chanel. "Pearls are always appropriate," agreed Jackie Kennedy. And Lady Sarah Churchill admitted, "I feel undressed if I don't have my pearls on. My pearls are my security blanket."
Avalon Pearls jewelry is made from the best quality pearls which are certified by the Gem Institute of America, a grading system that guarantees the quality of the pearls. The best quality pearls are rated AAAA downward to A. The company makes sure that all pearls exceed the quality of their competition.
They also make sure they give back, and recently raised money for Charity Water. To me, this makes them, well, a gem of a company.
I'm always interested in learning the back story of a company, and Avalon, meaning apple, was the city where King Arthur first retrieved Excalibur, his legendary sword, and where he later went to heal his wounds from the famous battle of Cammlan. Avalon Pearls jewelry represents strength, courage, and perseverance.
Wearing that black pearl beauty would certainly give you confidence.
So, for a chance to win, simply leave a comment below. For a second chance, Tweet this:
[Tweet "Enter to win a beautiful black pearl pendant from @AvalonPearls #jewelry #giveaway #pearls]
Contest ends on February 9 at midnight Pacific time. Winner will be notified by return email. Prize can only be sent to a U.S. mailing address.
Hint: you may want to leave this page open so someone who loves you gets the idea to give you something from Avalon Pearls for Valentine's Day 🙂