dunkin' donuts new grandde burrito, plus a giveaway!
This is a sponsored post. The Dunkin' Donuts love is 1000% mine.
As if I needed another reason to love Dunkin' Donuts, well, hello GranDDe Burrito!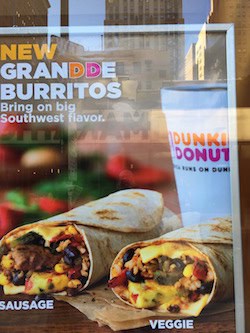 As you know, I am obsessed with Dunkin' Donuts and could happily eat donuts for breakfast — or any meal, for that matter — but even I understand I should really start the day with some protein. So, when Dunkin' Donuts asked me to write about their new GranDDe Burrito (don't you love that DD in there?!), I agreed immediately.
This is Dunkin' Donuts' biggest breakfast launch of the year, and big is no exaggeration.
The GranDDe Burrito is a 10 ounce breakfast burrito filled with a spicy omelet made with jalapenos, red bell peppers and pepper jack cheese with habanero. It's surrounded by a rice and bean blend containing corn, fire-roasted peppers and onions, and everything is wrapped in a nice warm tortilla. Although it's available in both sausage and veggie versions, I opted for the veggie.
Yum.
Here — just take a look inside.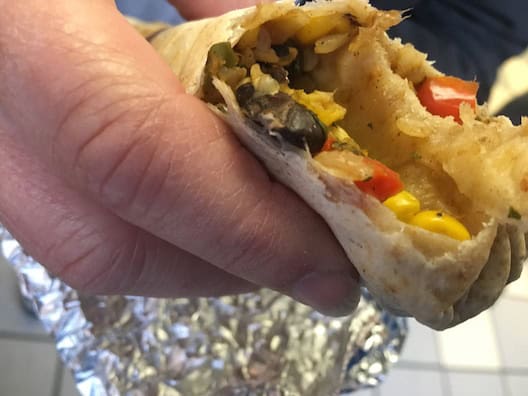 I know. You want one now, right?
Well, lucky for you — and me — Dunkin' Donuts is now serving breakfast items all day long because, well, breakfast isn't just for breakfast any more. Dunkin' Donuts knows that people want what they want when they want it. And they'll want this GranDDe Burrito all day long!
The GranDDe Burrito is only available for a limited time, though, so to make sure you get a chance to taste one yourself, Dunkin' Donuts is offering one lucky winner a $25 Dunkin' Donuts gift card.
To enter, all you have to do is Tweet this, below:
Contest ends on March 7 at midnight Pacific time, and winner will be notified by return email.
Enjoy your Dunkin' Donuts breakfast — whatever time of day you have it!