5 truths and a lie by madge stein woods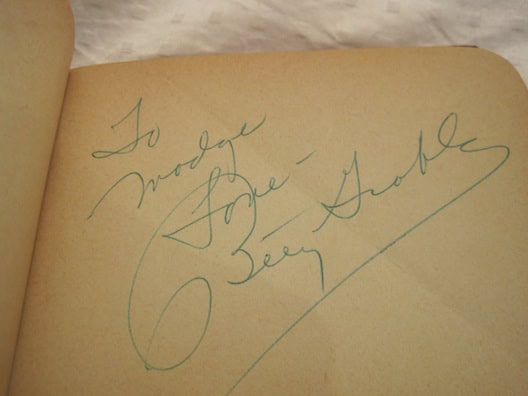 I love getting to know all of you better, and am thrilled that a couple of you even played 5 Truths and a Lie in the comments section of my post. Here's the truth about Madge Stein Wood's statements. They are awesome! (And be sure to check out Rachel Joyce's post here.)
I have Eleanor Roosevelt's autograph.
TRUE. As a child I collected autographs.  I have an old autograph red leather book and it's filled with autographs that either I got or my parents got for me. They include Eleanor Roosevelt, Betty Grable, Gene Kelly, Kirk Douglas, Fabian, Mary Martin and many others.
I ran for secretary of my grammar school and printed pencils with Vote for Madge Stein for Secretary. I lost and they banned props.
TRUE. I lost the election to Dee O'Brien and was crushed. I had hundreds of pencils left over.
I have more wrapping paper than most people have in a lifetime.
TRUE. I have been a collector of wrapping paper forever. My neighbors know they can always come here and I have every kind they would need. My Mom had an office in our home and she had rolls of wrapping paper hanging on the wall. I have mine all in a closet – not nearly as cool as my Mom's.
I once skated in an ice skating show with my sister to the song about the little rambler.
TRUE. I did indeed skate in an ice skating show at Jerry Paige on Pico Blvd in West Los Angeles. I took ice skating lessons with my sister and we did this show for the school and the public. Our song was the one about the Little Nash Rambler. Check it out on You Tube.
I walked in the first Avon 60 mile in October 1998.
TRUE. I did walk the first Avon walk from Santa Barbara to Malibu. It was 60 miles over a three day period. They said there were over 1200 blisters, and I was lucky enough not to get one. I had overtrained. Only on the last five miles did I have to start walking backwards as my legs were cramping. I came home, and took Aleve and a bath. The next morning I literally had to crawl to the bathroom.
I have written a novel under a pen name that was a hit in its day.
FALSE. This is the totally fake story. I love to write and wish this were true but, if it were, I wouldn't have been able to ever keep it a secret. It would have had to have a penalty not to tell anyone or it would have been spread all around the world.
I once met a boyfriend in the arriving customs at LAX international terminal in a full length mink coat, high heels and nothing else in the middle of August.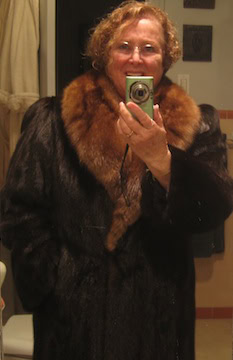 TRUE. I once borrowed my Mom's full-length brown and black fur coat from the 50's and went to the airport to pick up a boyfriend. This was one of his fantasies and I thought, "Why not?" I was sweating like a pig and I knew everyone knew what was going on. The coat only had one hook in the front so I had to hold it so it wouldn't expose my nude body. He was shocked and happy. We broke up shortly afterward. I've always have loved this story anyway. My mom never forgave me for doing this in her coat. She is still alive but I have the coat now, as I always loved it. Because of PETA, I have only worn it a few times.
You can read Madge's blog here.