california women's conference – uniting and empowering women by rebecca olkowski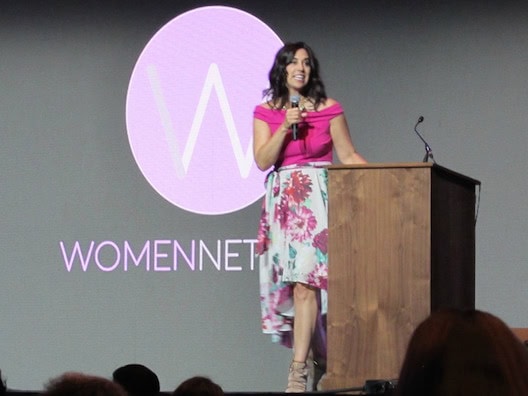 Women have enormous power, as we've seen in recent months.
Last week, female entrepreneurs and thought leaders gathered in Long Beach for the annual California Women's Conference. Attendees came from all over the world to be infused with motivation, inspiration, empowerment, mentoring, and sisterhood. I was thrilled to be one of them.
The conference was sponsored by Women Network LLC, which was founded by CEO Michelle Patterson, pictured above. She and her team brought together a long list of speakers, mentors, and dynamos who share a passion for furthering women's rights, passing on leadership skills to the business community, and creating change.
The conference included a large expo with companies displaying their products and services, breakout sessions, mentoring exercises, and networking opportunities.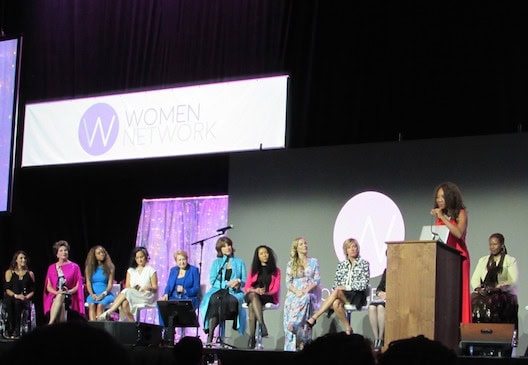 Some of my favorite takeaways from the 2017 California Women's Conference were:
Seeing that can't and won't aren't options.
We each have the opportunity to show up for each other.
Everyone can have a second, third, fourth act, no matter what your age or situation.
Change is hard but getting stuck in a place you've outgrown is even harder.
Well-behaved women rarely make history ~ Eleanor Roosevelt
Empowered women empower women.
If you never risk, you lose.
A highlight of the event was the annual awards presentation. Two honorees were Tamika D. Mallory and Carmen Perez, co-founders of the Women's March on Washington. What an amazing accomplishment to pull off peaceful marches with over 5 million women all around the world.
Posthumous recognition also went to Leah Adler Spielberg (Steven's mother) and poet Maya Angelou.
I was impressed by the work of The Waterbearers, an organization of women changemakers who deliver portable water systems to third world countries so that clean water is accessible to those who need it. The organization is led by Spryte Loriano and Jane Brinton. 
The political panel featured Alex Cornell du Houx (politician from Maine and Navy officer), Barbi Applequist (non-profit lawyer and activist), Sherry Bebitch Jeffe, (USC Professor and political analyst) and Wendy Gruel (former LA City Controller and Mayoral Candidate). They held a rousing conversation that was inclusive rather than exclusive. Gruel and Applequist described the pain of losing elections themselves but emphasized the importance of not letting a loss keep you from moving forward and serving the public in the best way you can.
I was a little disappointed in the turn out this year. It was on the sparse side compared to previous years, but that may be attributed to our contentious political climate. I would also like to see less motivation and outward selling and more practical step-by-step sessions to help women move their businesses forward and collaborate. The overused perception of finding our "why" and "being persistent" are getting tired in my book.
As women, we need to come together as often as possible in conferences like the California Women's Conference, in our communities and online. We are powerful changemakers. Our presence is needed more than ever to protect women's rights and spread empowerment to our sisterhood of women entrepreneurs and community activists.
Please visit Rebecca Olkowski's great blog, Baby Boomster, and check out her other guest posts on Midlife at the Oasis about Bruce Springsteen, the Oscar-nominated short films, and the costumes in the movie, Brooklyn.