picture this: my africa photos and an amazing offer from wemontage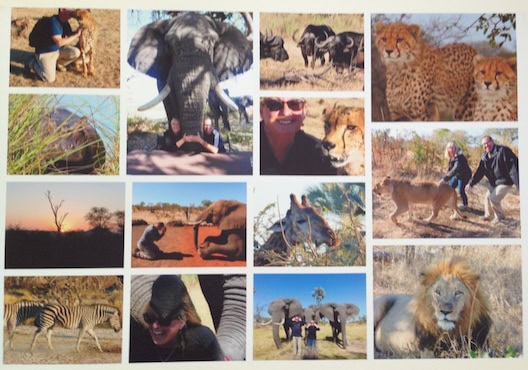 My favorite decorations for my house are photos and books. Both tell stories, and there is nothing I love more than looking at my old pictures and reminiscing about the moments they capture.
Like everyone else, I take a ton of photos but rarely print them out, so most of the framed pictures we do have on display are from a decade ago.
When my husband and I recently came back from Africa with memory cards filled with 2000 photos, I had no idea what we would do with them or how we would be able to make them accessible enough to enjoy and tell the real story of our amazing experience there.
Cue the music, and enter Michelle Nahom, James Oliver and WeMontage. Michelle writes A Dish of Daily Life and is a photo organizing expert, so when she introduced me to James, I knew I was about to get my answer. I just didn't know it would be so much bigger and better than I could ever have dreamed.
James Oliver is the founder of WeMontage, and he is one of the nicest, most genuine people you will ever meet. We became phone friends immediately, gushing  over his adorable twins who happen to be the perfect models for his ingenious product. Just look at them!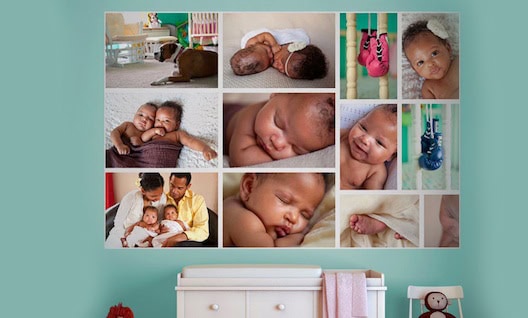 James enthusiastically told me all about WeMontage, which prints your photos onto removable wallpaper and creates a custom montage for you that, because of both its quality and size, packs quite an emotional wallop. He's passionate about what he's doing – and once you see the finished product, it's obvious why. This is a really special, innovative idea that lets you display your photos in an easy and unique way.
When James offered me a chance to create my own WeMontage for free to test and share with all of you, I was already imagining my Africa pictures organized on the wall before I finished saying "yes."
Then came the hard part: choosing the pictures to use. I want to stay on this point for a minute because it was, by far, the most difficult step of the WeMontage process for me – and it shouldn't have been. It's the part that could make you put off completing your order indefinitely, and what happens then is that your photos remain in the computer and you miss out on the joy of seeing them daily.
I went back and forth through my photos more times than I can count, aware that Michelle had suggested I use 12-15 pictures for a montage that's 6 feet x 4 feet. (That's the smallest size available but you can create bigger ones, as well.) After spending days culling down my collection, I finally ended up with 14 pictures that really told the story I wanted to remember.
I had made such a big deal in my head about which lion picture to use and which elephant one, and here's what I learned: in the end, it doesn't matter. Once you have your finished montage, you will never think about the photos you didn't include. You will just admire what's there and be so thankful you have the memories right there in front of you.
After downloading my photos, which literally took about 10 minutes, the WeMontage software started shuffling them around and giving me options until I found the arrangement I wanted. Again, this is not worth going crazy over because I don't think you can go wrong with any of them. James assured me the process is idiot-proof and that the software is designed to make the optimal use of your photos, based on their size and quality. Plus, a human being looks at the arrangement before it's actually created, just to insure that you'll really love it.
I placed my order and headed to Chicago for BlogHer, where James held court at the Expo, attracting hundreds of bloggers with his stunning montages – and personality. Hanging out with him was definitely a conference highlight for me, and I hope Steve Harvey will take note, not only of James' 'stache, but, more importantly, of how he magically transforms a stash of photos.
The day after I arrived home, less than a week after I had ordered my WeMontage, I practically tackled the FedEx guy when he rang my bell and presented me with my highly-anticipated box. When I opened it and saw how beautiful my montage came out, I almost cried. In fact, it inspired me to finally clean out this room so it would be worthy of this gorgeous piece hanging on its wall. (That will be a future blog post.)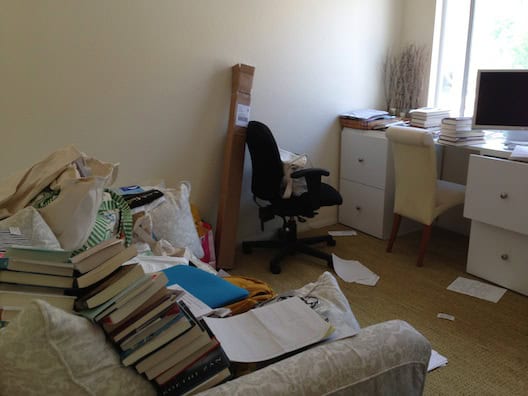 To say that my husband and I are not very handy is an understatement, so we were a little nervous about actually installing the WeMontage. We are, however, pretty dramatic so let me assure you that, although we did get out the leveler in order to act like we had a clue what we were doing, "install" is a bit of an exaggeration. Basically, Michael and Sara got up on the couch while I supervised – "a little higher on the right" – and took photos.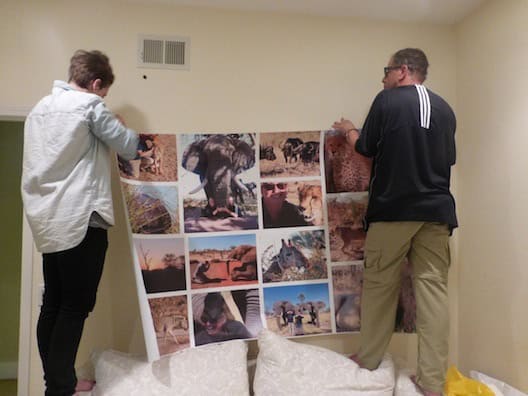 You definitely need two people to put it up but the "canvas" is much less fragile than you'd imagine. And it's surprisingly easy to move around and smooth down if you make a mistake or get it bunched up a little. Once you have the top even, you can just strip away the backing and pat down as you go.
Isn't it gorgeous?!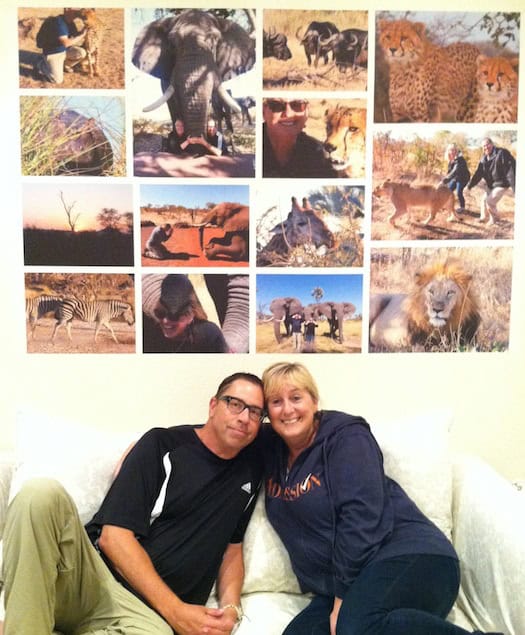 Every time I walk into the room, I am transported back to Africa. To my oasis. It makes me so happy, and I am so thankful to James for helping me get my photos out of the computer and onto my wall.
You will be thankful to James, too, because he is offering Midlife at the Oasis readers a 15%  discount on your own WeMontage. Head to his website, and use code "WEEKEND" when checking out. Don't wait! It expires on January 26 at midnight, which is good because it will make you get this done without spending a ridiculous and unnecessary amount of time choosing your photos.
My suggestions:
* Pick a theme, whether it's a vacation, an event or specific people. This immediately narrows down your choices and makes it easier for you to select your pictures. Don't stress over the individual photos. In this case, it's true that the whole is greater than the sum of its parts.
* Less is more. Fewer pictures mean larger images, which will give your montage greater impact.
* Don't overthink it. This is an amazing offer, and you will never regret having ordered one of these fantastic conversation pieces. Buy gifts now, too — for family members, friends, kids' teachers and coaches. I guarantee you will be the hero of the holidays.
* Email me at lois@midlifeattheoasis.com if you have any questions at all. You can find James on Facebook and Twitter, and he will always get back to you. If you're lucky, he may even share a new picture of his babies!
* Please send me a photo of your own WeMontage when you make it! I'd love to see it!