win a jord wood watch!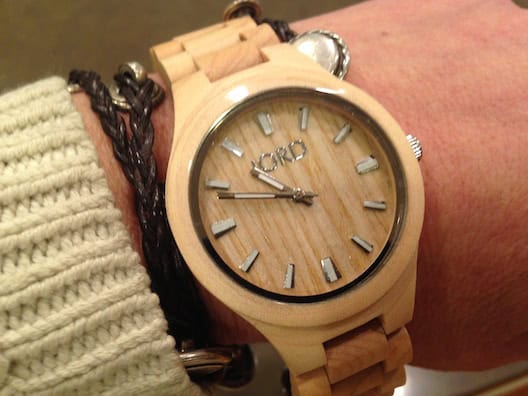 How gorgeous is this watch?!
Since receiving my JORD watch, I find myself seemingly obsessed with time. I cannot stop looking at my wrist!
As someone who is all about natural materials, I love JORD wood watches, which are handcrafted with great attention to detail. This is the Ely in maple, and it's so simple and sophisticated, you can wear it by itself or pair it with your own bracelets.
Check out the JORD website to see all the other styles for both women and men. (Hint: A JORD watch would make a great Valentine's Day for the guy in your life.) While you're there, you can learn how to pronounce JORD the correct way. I could tell you here but it's much more fun to actually listen to it! As a little trivia, JORD means soil, land, earth in Swiss — although the company itself is located in St. Louis. Go figure!
Anyway, JORD is generously offering one lucky winner an Ely of their own — or $129 toward the watch of their choice.
They're also giving you lots of ways to enter to win, and I hope you'll take advantage of all of them. I've made it even easier for you by leaving a pre-made Tweet for you, below the entry form. Simply click to Tweet and then enter the URL in the Tweet about the giveaway section.
a Rafflecopter giveawayHere's the easy peasy Tweet I promised you:
Winner will be notified by return email. Prize can only be sent to a U.S. mailing address.
Hurry up now. It's time to enter (which you would know if you had this watch)!