lois and helene take a road trip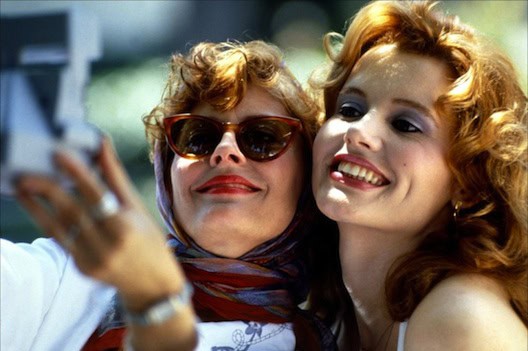 When my friend, Helene, and I decided we were going to drive up to the Entertainment and New Media Network conference in Anaheim together, I knew we needed a car to match this very special event.
You never see someone pull up to the Red Carpet in some boring, non-descript car, right? So how could we show up in a mom car – especially when we were probably going to be the oldest attendees there? We had to make a splash. We had to be red hot.
I turned to my friend, Josh, who said he had the perfect car for us. And when the 2014 Mazda3 s Grand Touring 5-Door was delivered to my driveway – in Soul Red Metallic, no less – I just smiled.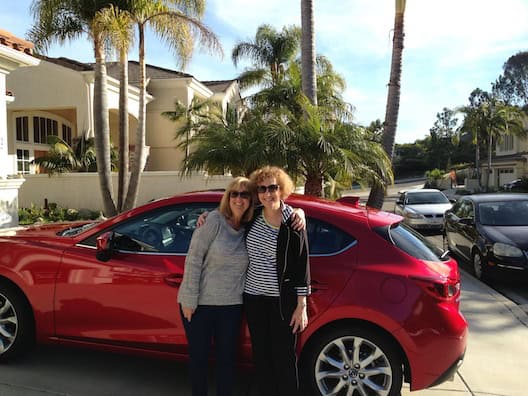 Helene and I felt so empowered and confident in this beauty, we joked we were Thelma and Louise, packing up the car and heading out on our adventure. FYI, if you're wondering about the fifth door, it's what they're calling the hatchback which, unfortunately, was only big enough to store Helene's (admittedly humongous) suitcase.
I drove the first leg of the trip, feeling good about the Mazda's blind spot monitoring, adaptive front lighting system, rear cross traffic alert and forward obstruction warning. These safety features are likely to become standard in all cars as the baby boomers get older because once you drive with them, it's hard to drive without them.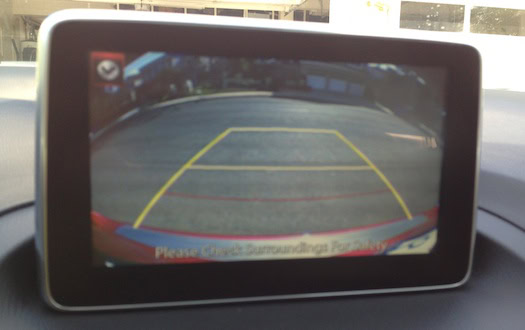 One of the features I could do without is the 7" touch-screen display, which was a little too in-your-face for me. It takes such a prominent position in the car, I kept wanting to push it down. I also wasn't crazy about the Active Driving Display – a clear little screen above the dashboard that projects your speed in an almost holographic fashion. They may be very high tech but I found both of these features very distracting.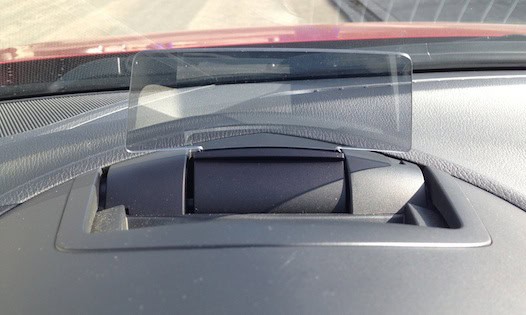 Our ride itself, though, was smooth and quiet, and we programmed the navigation system even though I already knew the way to Laguna Beach, where we were planning to stop for lunch and a little shopping. The Sirius XM radio assured we had music for the whole trip since I had forgotten my iPod in all the excitement.
Because the Mazda is so lithe, we were able to score a prime parking spot in crowded Laguna. After a couple of relaxing hours eating and browsing the stores and galleries, we settled back into the comfy car and Helene took the wheel.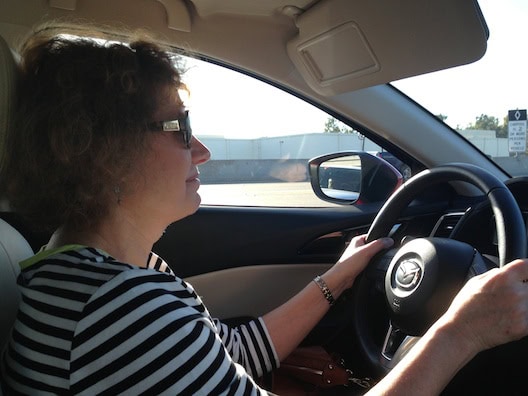 We were having a nice drive when suddenly we found ourselves at a Stop sign next to an unnerving sign warning, "Steep grade. Use low gear." We looked in front of us and freaked out. There was nothing there except space. We actually had to lean forward to see any kind of ground. This was the stuff of Olympic skiers' dreams – the kind of terrain extreme athletes don't even bother going down because it's easier to just jump. What was it doing in Laguna Beach??? And why didn't they warn us a couple of blocks back?
"Oh my God!" gasped Helene. I tried to stay in Zen mode to keep her calm but my eyes were huge and my heart was beating out of my chest. There were so many cars behind us, there was no way we could turn back. We were going to have to go down that hill.
Why in the world had we ever mentioned Thelma and Louise? Was this our Grand Canyon moment? Did we not remember how that turned out for them?
I offered Helene these words of wisdom: "Just go really slow." What could I have possibly thought she was going to do? Floor it?
Helene gritted her teeth, clutched the steering wheel and inched us safely down the hill. She did an amazing job, and the Mazda handled beautifully. We will forever be grateful we were in that car.
As an aside, when I got home after the conference (with more than half a tank of gas left, thank you very much), I Googled "steep hill in Laguna" to find out exactly where it was and make sure I never ended up there again. Here's what I found, although it doesn't remotely capture how terrifying the ride down was for us.
I'd like to say that was the end of our drama but once we got on the freeway, we were met with piles of clothes that Helene had to maneuver her way around, miles of stop-and-go traffic, and confusing exits that forced her to cross over six lanes. Through it all, the Mazda stayed in control, signaling when it was safe to make her moves and directing us to our destination.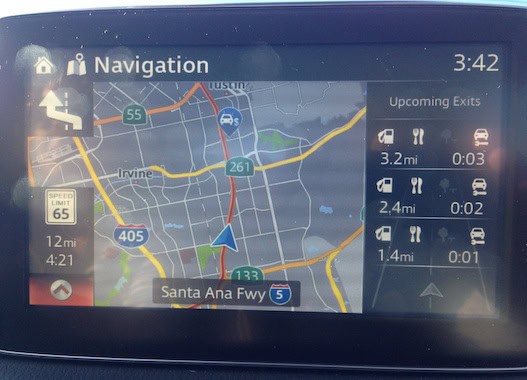 By the time we arrived at the Hyatt Regency Orange County, we were exhausted. Worst of all, no one saw us make our grand entrance in our sexy Mazda and the car sat in the parking lot for four days.
We had a great time at the conference, though, mingling with entertainment and travel industry professionals and even hobnobbing with a couple of celebrities.
I can't swear the car was responsible for the fantastic weekend we had but I'm pretty sure if Thelma and Louise had been driving a Mazda3, their story could have had a happy ending, too.