my interview with ted of ted's pain cream!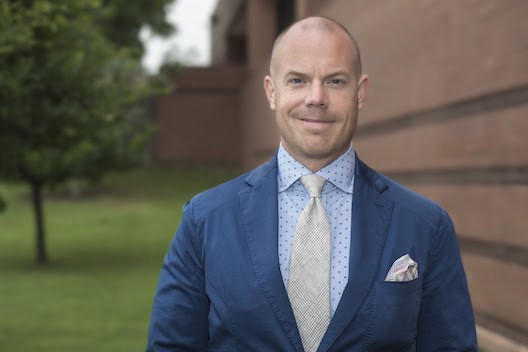 Thank you to Ted's Pain Cream for once again sponsoring this post 
and, more importantly, for continuing to make me feel better.


Since, after trying Ted's Pain Cream, I have been waxing poetic about founder Dr. Ted Price, I thought it would be good to actually get to know him.
So, everyone, meet Ted. Yes, he's a neuroscientist but he's very down to earth — the man named his product Ted, not Dr. Price, after all — and he's funny and he's a dad. And if you have any questions or comments for him, please feel free to leave them below. I'm sure he'll have the answers.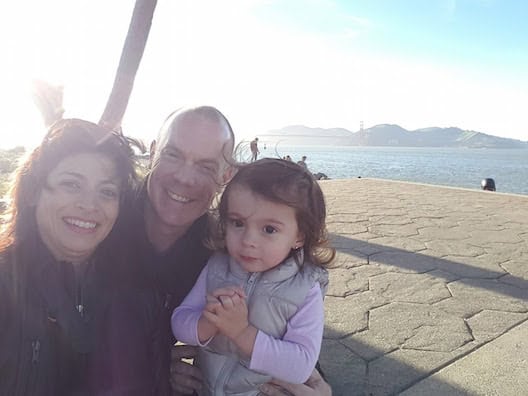 I feel like I know you already because Ted's Pain Cream sits by my bed and you are actually THAT Ted! So, first of all, thank you because your cream really does help my aches and pains.  Can you give us a little background about how and why you created it? I know necessity is the mother of invention and all that, so what made this a necessity for you?
I run an academic lab that studies pain and at the time (back in 2011) we were doing a lot of work on the idea that resveratrol could be used to treat pain because it activates an enzyme in cells called AMPK. We thought that AMPK did the right types of things in cells to decrease neuronal excitability. Since pain is essentially caused by hyperexcitable neurons in the peripheral nervous system, called nociceptors, we thought that activating AMPK could reduce pain. Resveratrol is a well-known natural product that is also known to be very safe. The problem with it is that if you take it by mouth, it does not get out of your stomach very well and even when it does, it does not stick around very long in the circulation. Therefore, we were working on giving it locally at places where you might have pain to activate AMPK locally and overcome the issues with resveratrol bioavailability.
At the same time, I was having a lot of trouble with my left foot. When I was a postdoctoral fellow at McGill University in Montreal I had a spinal cord injury that hurt the nerves that innervate my foot. Since then I have had weakness and pain in my foot and ankle but at that time the pain was so bad that I could not play basketball anymore. I love playing basketball and I was increasingly frustrated that nothing was making me better. I remember one day, sitting in my office in pain, thinking about how ridiculous it was that I was a pain expert and was unable to do anything for myself. I decided I would try to make something that I could put on my foot with the resveratrol that I had in the lab. I went to a good friend in the Pharmacy school, Bo Lian.  Bo and I made the first resveratrol cream then and I started trying it on my foot.  Within a very short period of time my foot felt almost normal and I was back on the basketball court.  As you can tell from the timeline, it took a long time for us to go from that original cream to a product that we could get into the hands of people, but we finally got there!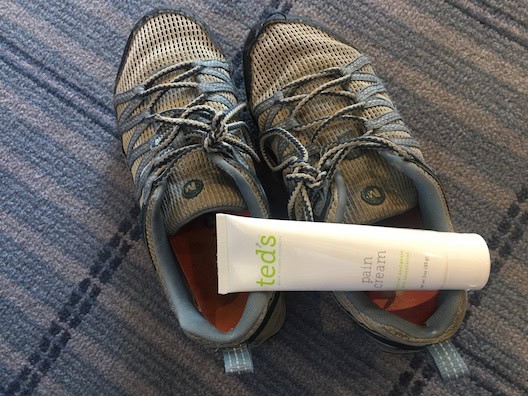 What makes Ted's Pain Cream so unique?
It's unique because it is designed to target hyperactive nerves that cause pain. We formulated the cream with wintergreen oil and resveratrol because both of these natural products are known to activate AMPK. We really think that is the key to how this works.  We know that injuries activate signaling pathways in nerves that promote pain. The work we have done in my lab shows that activating AMPK is a powerful way to reduce this hyperactivity.  We have published 15 peer-reviewed papers on this topic since 2011 and many other labs around the world have shown similar findings with AMPK activators. The literature on the topic is very robust. We are the only topical pain cream on the market that is designed to calm the hyperactivity in nociceptors that is really the driver of pain.
Which kind of aches and pains does it seem to be most effective for?
The cream works wonders for tendonitis, plantar fasciitis and muscle pain because the wintergreen oil and resveratrol can get into the tissue where those hyperactive nerve endings, activate AMPK and reduce the pain. I think that the cream can also work well for other types of pain. We have had a lot of people with neuropathic pain in their hands and feet from either diabetes or chemotherapy tell us that the cream has worked very well for them. This is very exciting for us.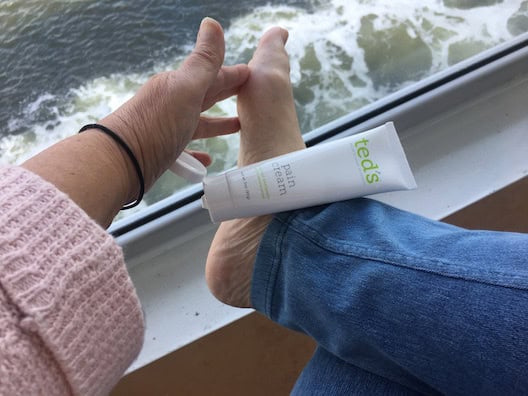 How did you get the cream to smell so good?
That is the smell of wintergreen oil. Many love the smell. Others don't. I actually don't like the smell and we are actively working on a new preparation that has no smell.
Why did you decide to name it after yourself? And, hey, no judgement here! I would have proudly done the same thing if I came up with something like this.
This is a funny story. Originally we called the company Resveratech, sort of a play on resveratrol. When we met with the marketing firm that we work with (that is run by an old high school friend of mine – Matt Bull) they did not like the name at all. We went through a ton of different names but eventually they said that the product was invented by an actual neuroscientist working in the pain area and none of the other OTCs for pain came about this way. They thought that naming it after me, and using my connection to the science would be a good way to build the brand.
It's awesome that your company makes it a point to give back. Why did you decide to offer a scholarship to a neuroscience student?
I am a professor and head of the neuroscience program at University of Texas at Dallas. I am also an alumni of this University. I did my neuroscience undergrad degree here and graduated in 1997. My first exposure to neuroscience came from classes taught by the late Larry Cauller, who was just a wonderful role model and professor. He inspired me to go into neuroscience and is a major reason that I am here doing this job today. Tres Thompson, another professor in the neuroscience program, started the Larry Cauller Scholarship in his memory a few years ago. The scholarship exists to send students in neuroscience to national or international neuroscience meetings to present their scientific work. I support the scholarship personally because it is very important to me and I am proud that Ted's Brain Science Products also supports the Larry Cauller Scholarship through donating proceeds from sales.
Your website is Ted's Brain Science Products. Plural. Can you give us the scoop on what's coming next? Can you work on something to make pounds disappear like pain?
No plans for anything other than products for pain, sorry. We are working on a few new things. The first priority is a gel that will have no scent. We are in the beta testing phase for that new product. Its very exciting!
Without getting too scientific, what else is new in the neuroscience field these days?
The thing that has me very excited about new research in the pain neuroscience area is the idea of disease modifying pain therapeutics. One of the worst types of pain is neuropathic pain. It affects about 5% of the population and there is no treatment that really works for these people. Neuropathic pain is a horrible disease and we are now starting to finally understand what causes it to be so very long lasting. I think these discoveries will lead to new therapies that will revolutionize neuropathic pain treatment.
Anything else you'd like to share with my readers?
Yeah, I would like to emphasize that our understand of the neurobiology of pain has advanced dramatically in the past 10 years. I know it seems like there are few things out there for pain treatment, but we are among a growing number of groups that are pushing hard to get our latest science into the hands of people that want better pain treatment. As a chronic pain sufferer myself, I have a lot of hope for what is to come, and I am excited to be a part of this growing movement.
One last thought: I love that your Twitter account says, "Ted is not on Twitter. Ted is in the lab, where he should be." You stay in the lab and make more great products, and I'll Tweet about them for you. Deal?"
That's a deal!