woman up box subscription – plus a discount!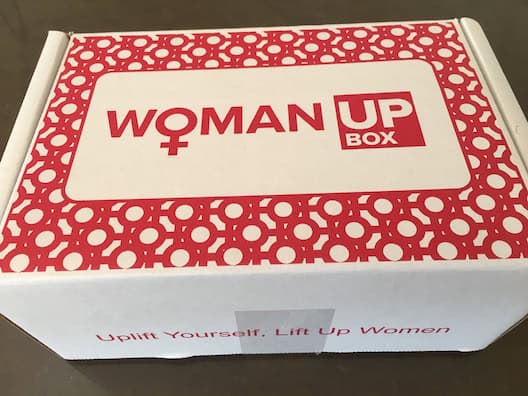 Hey, friends, time to Woman Up!
You know I am all about empowering women, and you also know I'm a big fan of subscription boxes.
So, of course, I couldn't resist the offer to review the new Woman Up Box subscription service, whose goal is to lift women up. One of these inspiring cards comes with every box and it includes easy ideas for giving the women in your life a supportive boost.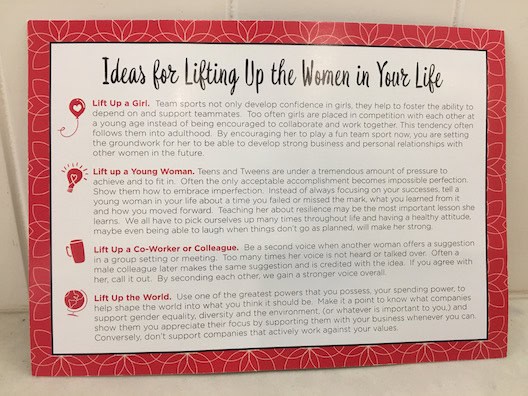 Putting its money where its mouth is, Woman Up Box sources all their products from women artists and women owned or operated businesses. Every month, they donate 10% of proceeds to a woman-focused charity. For July, that organization is the well-deserving Dress for Success.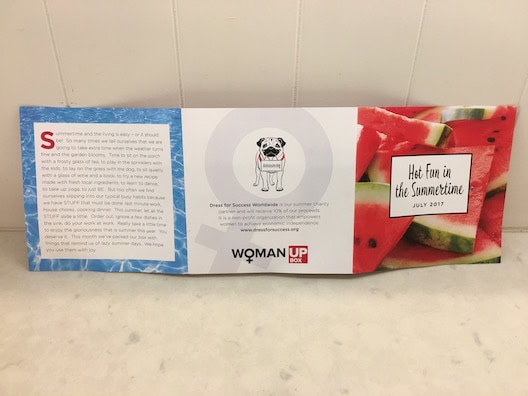 As you can see, the theme for July is Hot Fun in the Summertime, and this box definitely lives up to it. Like every box, it includes treats for the mind, body, soul and senses.
Okay, I know. You want to see what's inside. Da da da da! Take a look at these goodies: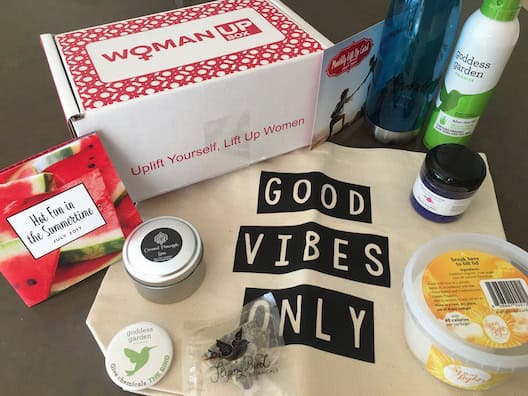 I'm obsessed with tote bags so I love that it came with this cute canvas bag which holds all these great products. And I love being able to read about each item, who makes it, where to get more and – for most of them – how to get a discount.
Here are my favorites.
This Coconut Pineapple Lime Candle Tin just smells like vacation. I'm going to bring one on my next business trip to pretend I'm actually lying on a beach in the Caribbean.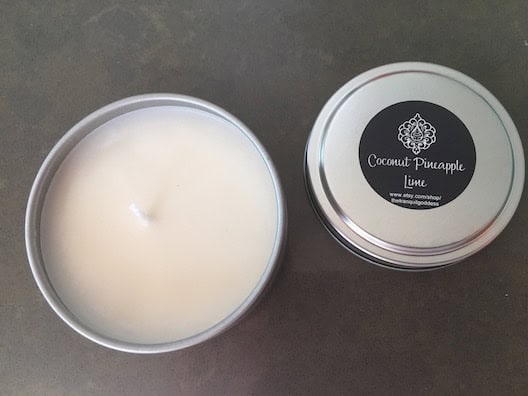 Continuing the coconut theme, this whipped shea butter from Passion Moon Potions feels so good and smells delicious. The word "potions" itself evokes the idea of magic, and this one miraculously softened my skin and brought back great memories of our trips to Maui.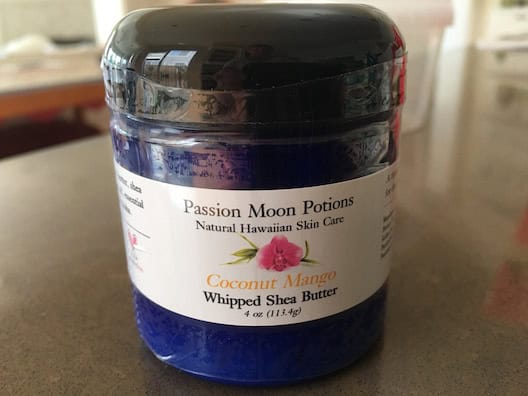 The watermelon cotton candy was a guilty pleasure. I don't want to admit how quickly I finished it but, you know what? I don't feel bad about it at all because 1) it's only 40 calories per package 2) it's organic 3) yum.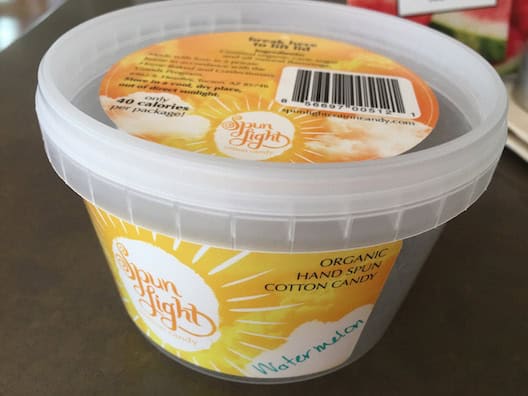 Honestly, everything in this box was fun, practical and of great quality. It definitely lifted me up!
Now, to lift all of you up, Woman Up is offering a special discount code on subscriptions for my wonderful Midlife at the Oasis readers.
The usual price is $49.95 for a month to month subscription of 6 to 8 lovingly curated products. You can opt for a petite subscription of 3 to 4 products for $34.95. If you prepay for a 6 or 12 month subscription of either one, you get a discount. The value of the products is always higher than the price of your box.
Try it out with our exclusive discount code. Just visit Woman Up Box, choose either the regular or petite box and enter MLATOTENOFF at check-out.
I can't wait to hear what you think. And I can't wait to see what next month's box holds!