Congratulations to Eddie Redmayne, who was named Best Actor at the Academy Awards last night. His portrayal of Stephen Hawking in The Theory of Everything was amazing, and you can enter to win a copy of the movie, now on DVD.
It's the most wonderful time of the year — Oscar night!
As I mention every year, this is my favorite night of TV. I do NOT like to be disturbed while the Academy Awards are on so, although I'm very happy my sister will be here and my parents are coming over, there will be no chatting during the show! This is serious business to me. [Read more…]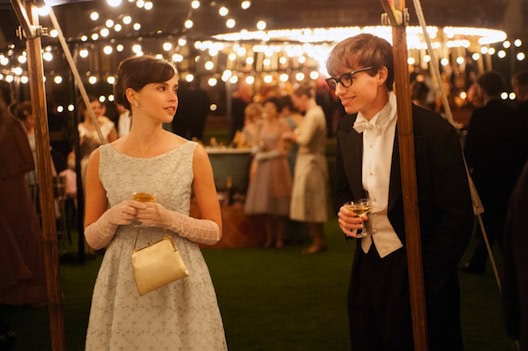 I loved pretty much everything about The Theory of Everything.
The movie, which is nominated for eight Academy Awards, including Best Picture, Best Actor and Best Actress, tells the amazing story of renowned astrophysicist Stephen Hawking. Diagnosed with Motor Neuron Disease and given a death sentence while pursuing his PhD in physics at Cambridge at age 21, Hawking went on to change the way we see the world — thanks not just to his brilliant mind but to his wife, Jane. [Read more…]