Electric bikes are the hot item for boomers this holiday season! Read why on Boomeon, and leave a comment for a chance to win one of 10 Pedego watches, valued at $100 each!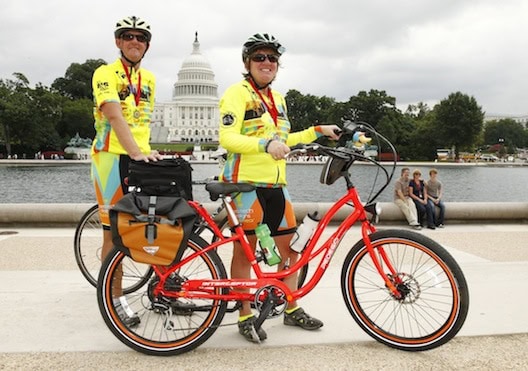 My NaBloPoMo post for today was picked up by Huffington Post so I hope you'll head over there to read and comment.
Maybe you remember my experience on the Pedego electric bike when I was in Long Beach? I was so intrigued by the whole idea of electric bikes, I did some research and discovered Cathy Rogers, a 57 year old woman who was able to ride across the country — more than 3000 miles — because she had the electric bike. In fact, she was the first person to do that.
Cathy's story is inspiring, and I hope you'll read my interview with her on Huff/Post 50. I'm actually going to write a couple of other posts about Pedego electric bikes, too, because I'm convinced they have the potential to keep baby boomers feeling younger for a long, long time and help us reach otherwise unachievable goals.
Have you ever ridden an electric bike?