best of scottsdale, day 3: hotel valley ho and a taste of old town
Michael and I love to eat.
Ha ha! Like that's news to anyone!
We've been on a food tour in San Diego, and I went on one in Chicago – and they were both fantastic. Food tours are a great way to get into the culture of a city and experience a few of the highlights. So, of course, we were excited to do A Taste of Old Town Scottsdale through Arizona Food Tours.
We met our guide, Zach Egedy, in front of the Scottsdale Historical Museum, and were immediately drawn in by his enthusiasm and knowledge. There were about 20 of us on the tour, and everyone was in a good mood because we were going to be spending the next couple of hours stuffing our faces. Many of our fellow foodies were also happy just to be in sunny Scottsdale after coming from cities around the country that were still being bombarded with snow.
We started our tour at the Rusty Spur, the oldest saloon in Old Town. A registered historic landmark, it once served as Scottsdale's bank and, in fact, its old vault now stores the liquor. More importantly, though, the Rusty Spur serves juicy burgers which are, understandably, their signature.  If the ones they gave us are just considered small samples, I can't imagine what a full-sized one would look like. If we had ended the tour then, we would already have been full and happy.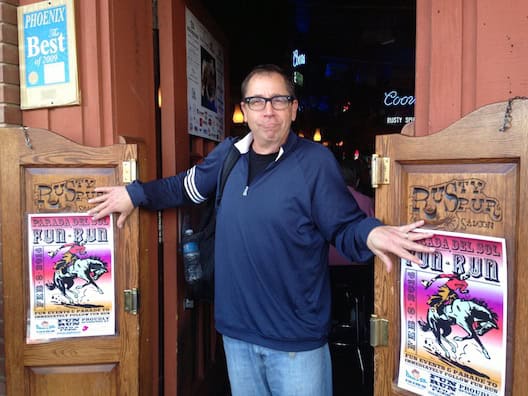 But we sauntered out the saloon doors and headed to Malee's Thai on Main, where Michael pronounced the Tom Ka Gai soup the best he'd ever had. And, trust me, he's had a lot. It was rich and flavorful, and the veggie spring rolls on the side were the icing on the cake.
From there, we walked over to The House Brasserie, where we had melt-in-your-mouth Brisket and Biscuits (kind of a more sophisticated version of chicken and waffles), and Zach led us in a champagne toast, which you can watch here: Food tour toast video
Because we needed something light by that point, we were glad to be introduced to Outrageous Olive Oils & Vinegars, where we tasted flavors like Wild Mushroom and Sage, Blood Orange and Dark Chocolate, drinking them like water. These are a far cry from the tasteless oils I'm used to buying in the grocery store. Rayna Griffin offered tons of suggestions on how to use the oils and vinegars in everything from salads to shrimp, and creative ways to mix flavors. This stop was absolutely a highlight of the tour.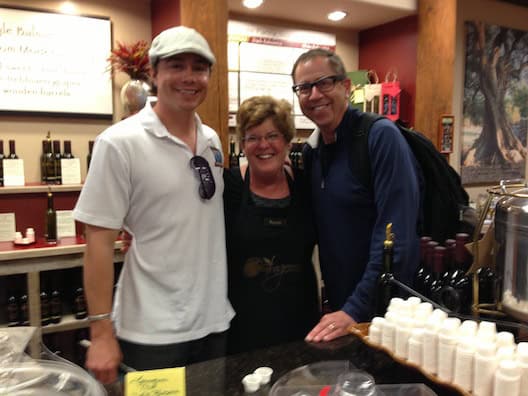 Next stop was Distrito, where Iron Chef Jose Garces celebrates Mexico City with unique interpretations of regional dishes and over 100 varieties of tequila. We were treated to street tacos and nachos with a homemade guacamole that Michael raved about. I'm not a guac fan – sorry, I know that's sacrilege in Southern California – but I couldn't have eaten another bite anyway.
Well, other than dessert. We are big believers in ending every meal with something sweet – we basically like to end every minute of our life with something sweet – so, at AZ 88, we somehow managed to scarf down taste the key lime tart and butter rum cake. By then we were in a food coma, content to put down our forks and use our mouths simply to talk to the people who spoke the same language of "ooh," "ah" and "ummm."
Four hours after starting out, we finally said our goodbyes and rolled ourselves down the street to our new home for the next two nights, the Hotel Valley Ho. "Home" is not an exaggeration because our room was about as big as our first apartment, with way cooler furnishings and a much more well-stocked fridge.
Although we should have gone to the gym, we instead went downstairs to the VH Spa for the Red Flower Hammam Experience. Karen, my goddess of a therapist, cleansed, exfoliated, misted, massaged and moisturized me with the most heavenly-smelling products. I felt like I was back on the food tour as I got whiffs of mint, tangerine, fig, coffee … oh, I can't even list any more without going into withdrawal. I asked Karen if she would come home with me but she is devoted to her job and left me with this prescription:
Michael and I both emerged from our locker rooms, feeling invigorated and ready for anything. Like dinner. I know – it's shocking that it could actually be time to eat again but we had sauna-ed and showered and taken our time leaving the spa. Thankfully, we only had to go to the lobby for ZuZu, the acclaimed restaurant that locals had been raving about to us since we got to Scottsdale.
Our server described the menu as an eclectic take on comfort food – but we're not talking mac and cheese. This is first class comfort. The orange and ginger seared ahi was delicious but I'm still drooling over the roasted tomato and goat cheese casserole, which was outstanding.
As entrees, Michael had the Cornish hen and I decided to be good and go with a light salad. Who did I think I was fooling?
After a couple of scoops of ice cream, we headed back to our room, vowing never to eat again. Until tomorrow.