best of scottsdale, day 4: music, massage, mexican food and, uh, michael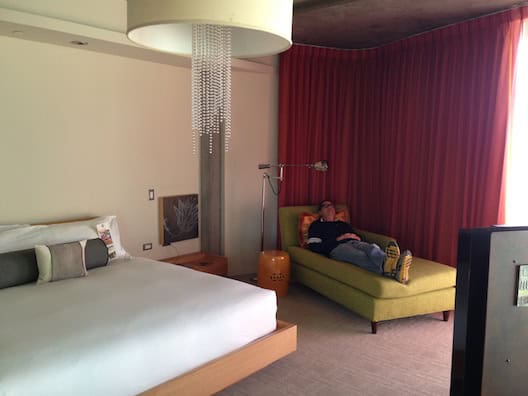 Let me try to explain how we felt about the Hotel Valley Ho.
On Saturday morning, we were planning to visit Singh Farms' farmer's market, which we had read gushing reviews about on Yelp. It's supposed to be lush and gorgeous and filled with fresh, farm-grown treats. I say "supposed to be" because, unfortunately, we never got to see it in person.
You see, Michael refused to leave the room. 
Take a look at that photo of him on the chaise lounge, above. Uh-huh. Not getting up.
I had to humor him for a little while and promise we'd find out where to buy one of those chairs for our own bedroom, before he finally agreed to go. We went down to the lobby to get driving directions but once we started talking to Yvonne, the amazing concierge who I'd like to have running our lives, we decided to forget the car and just walk around the Scottsdale farmer's market, which was conveniently right down the street.
Thank goodness we did because, well, in a word, cronuts. I'd like to show you a picture or at least credit the lovely baker who made my morning but it all happened so quickly … If anyone does know the cronut woman, please let me know so I can beg her to move in with us thank her publicly.
After breakfast, it seemed like a good time to head over to the Musical Instruments Museum, affectionately referred to as MIM by the locals. My friend, Beverly, had emailed me to make sure we didn't miss it.
The only problem was that Michael wanted to go back to the room and spend the day reading and writing IN THAT CHAIR.
So I kissed him goodbye and went to explore MIM. This is not some stodgy museum. It's big and bright and interactive. Along with your admission, you get a headset that immediately comes to life when you approach the different video screens. They explain what you're seeing and let you hear it. It's awesome.
Because part of me still believes I'm really Joni Mitchell or Stevie Nicks, I immediately made a beeline for the Women Who Rock exhibit.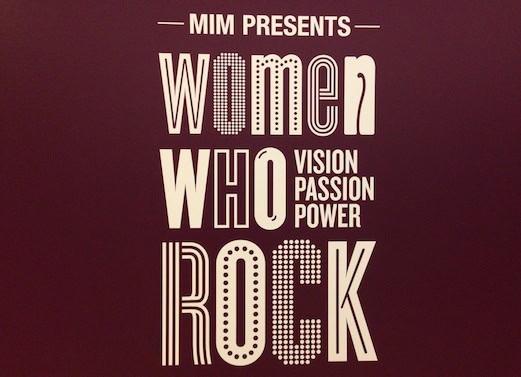 It's probably a blessing that Michael didn't come because I spent an inordinate amount of time admiring Stevie's flowy dresses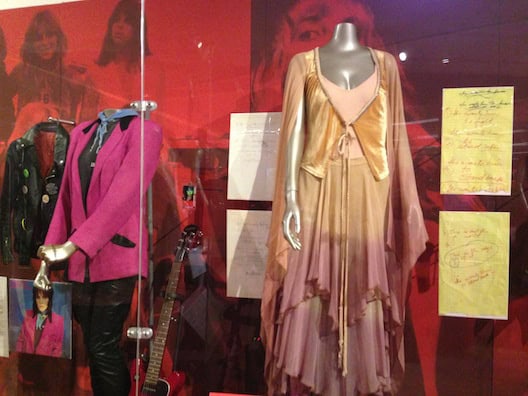 and Joni's notebooks,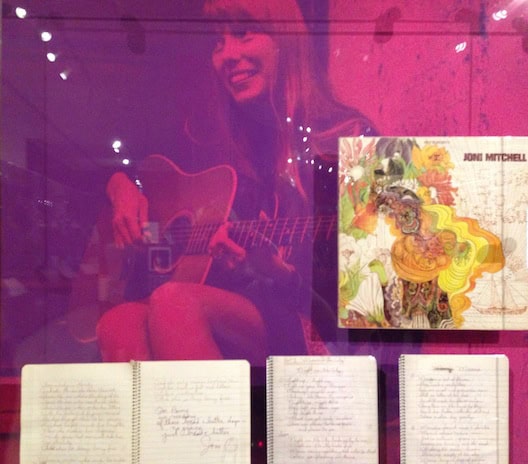 along with outfits and memorabilia belonging to everyone from Diana Ross and Aretha Franklin to Chrissie Hynde, Rihanna and Heart.
I loved watching the different generations of rock fans, ranging from adorable little girls with their moms to a couple of women probably ten years older than me, with whom I had a hilarious conversation about Lady Gaga's shoes. You could just tell by looking into every female face that they so related to one of these musical icons.
I went through the exhibit twice and then made my way around the rest of the museum. There was so much to see and hear, including a fascinating array of instruments from every corner of the world. I listened to genres of music I never knew existed, tried my hand(s) at the harp – whose strings surprisingly feel like those of a guitar –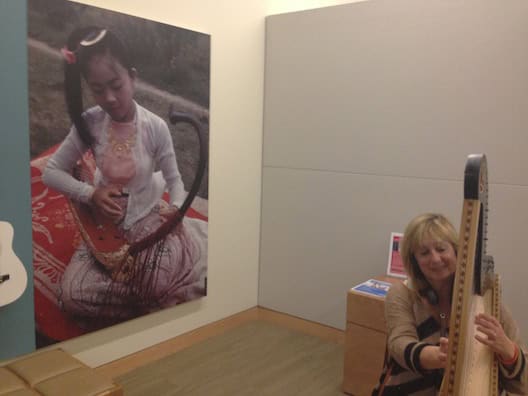 checked out Eric Clapton's classics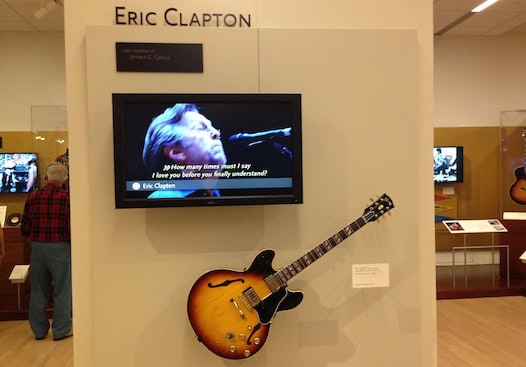 and stood in awe at the piano where John Lennon wrote "Imagine." I was really moved by the woman standing next to me singing along quietly, passionately and out of key with the music playing in her ears.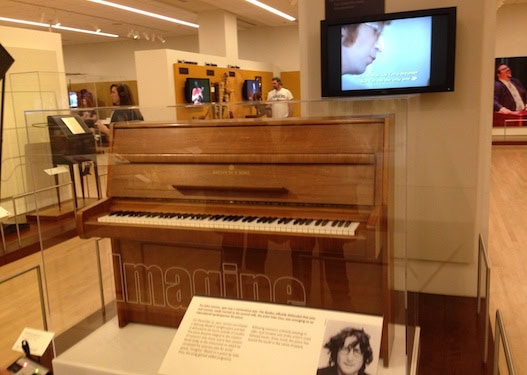 I even saw a property certificate of a violin stolen by the Nazis, which was particularly interesting after having recently reviewed The Monuments Men.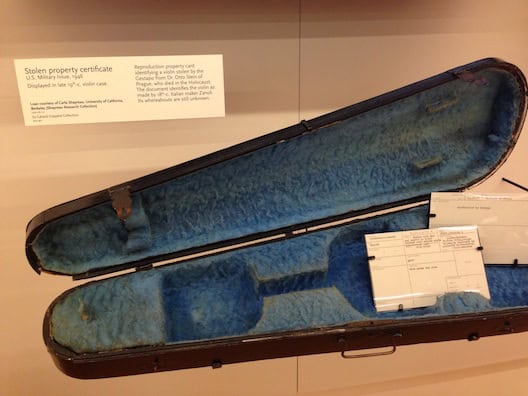 MIM has a great cafeteria, where I picked up a burger and Tater Tots (it must be a Scottsdale thing) and ate outside, in the sunshine, while enjoying a calypso band concert. The whole experience is so much fun, it will completely change the way you look at museums. MIM also has a really unique gift shop, so I bought a few surprises. I'm proud of my restraint because I could have filled a carry-on.
It helped that I had a massage appointment to get to. I've stayed at the Fairmont Princess a couple of times with Michael, and three annual birthday weekends in a row with my mom and sister. Willow Stream is one of my favorite spas anywhere, and they've somehow raised the bar again by focusing on, and actually adding the name, Well & Being. Everything they do is geared toward health, with the pampering simply a given.
I had decided to try a new spa treatment, the Hacienda Retreat, which is a luxurious combination of exfoliation, moisturization and massage. The products applied all over my body include ingredients like luscious-smelling lemon, lime zest and spearmint. They are outstanding, especially in the hands of the top-notch therapists at the Princess.
There are so many features that make Willow Stream a stand-out spa, and I'll have to come back to write about them because I didn't have time for more than five minutes in the Eucalyptus Inhalation Room, where I usually like to plant myself, and I couldn't try the system-shocking hot whirlpool to cold plunge pool experience. I also want to stand under the beautiful grotto waterfall with Michael.

Ah, Michael. My Hotel Valley Ho-obsessed husband heeded the advice of our new personal concierge, Yvonne, and took the free shuttle from Fashion Square (a mall that calls my name from hundreds of miles away) to the Princess to meet me for dinner. How can you not love a city that provides complimentary transportation from one coveted location to another?
Michael and I checked into La Hacienda, the Princess' innovative Mexican restaurant, and immediately started chowing down on the tortilla chips and guacamole, which was prepared at the table for us.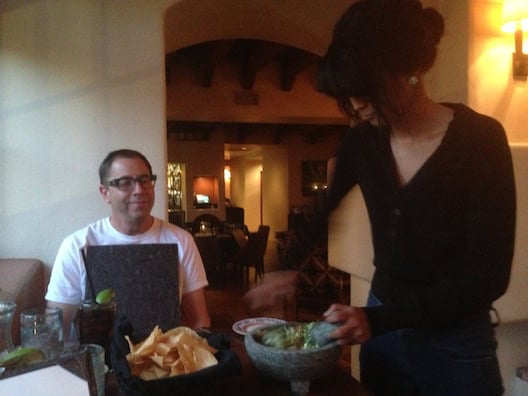 Because we stuffed ourselves on chips, I thought I'd order a couple of light items. I started with the Sopa de Calabaza – butternut squash soup with spiced yogurt, pomegranate and pumpkin seed brittle – which was smooth and creamy, with a deliciously surprising little crunch on top. Because I seem to be on a beet salad kick these days, I then had the Ensalada de Betabel. Yum. Just yum.
No, we didn't skip dessert.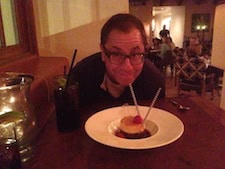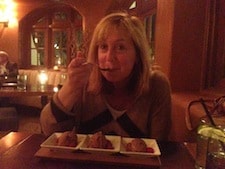 It's a good thing we were leaving Scottsdale the next day because if we kept eating like this, we were both going to need seat belt extenders on the flight home.