surf & sand: my new laguna beach home!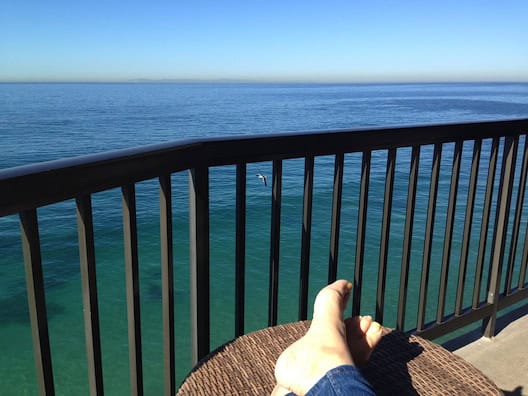 Oh, if only that title were true.
I mean, don't I look like I belong on that balcony overlooking the Pacific?
Michael and I discovered Laguna Beach not long after we moved to California almost 17 years ago, and we fell in love with it immediately. It's a gorgeous, art-focused beach town which I will write about separately but, because it's less than an hour's drive, we've never stayed overnight there.
Boy, have we been missing out.
When Visit Laguna Beach invited us to come and experience this gorgeous destination in ways we never had before, we couldn't wait to jump in the car and head to Surf & Sand, a luxury resort which had been recommended to us for years. In fact, as soon as I posted a photo on Facebook, it seemed like half the world wanted to share their fond memories.
The hotel is just a mile from Main Beach, and you really can't tell from the street front what's on the amazing other side of the building. So when we opened the door to our room and saw this, we just grinned at each other.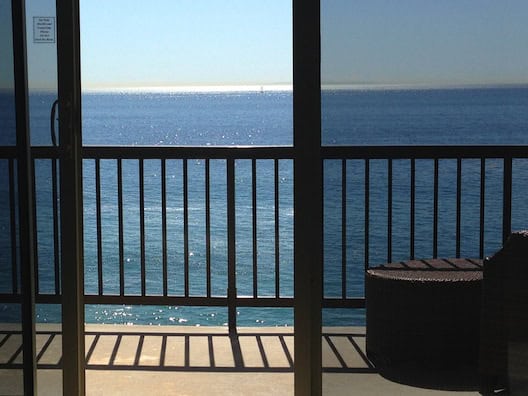 We live in San Diego, so we're used to good views. But this? It was like being on a cruise ship, surrounded by ocean.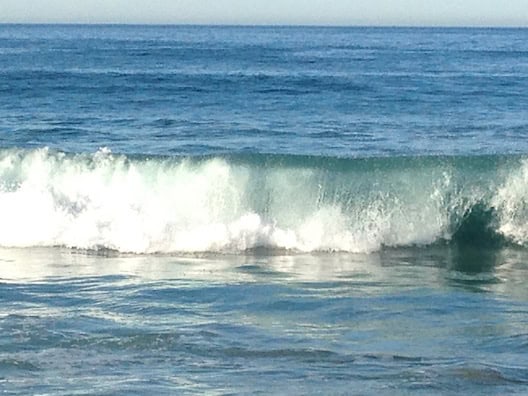 Also, we had a corner room so wherever we turned was spectacular.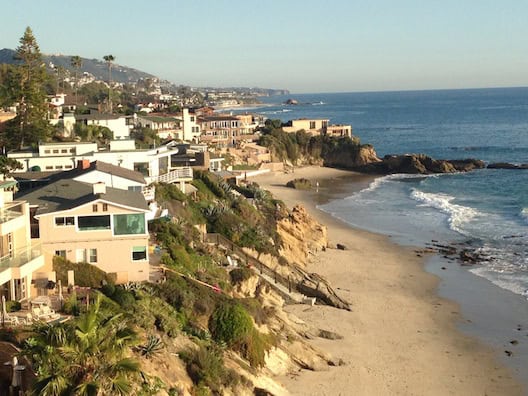 And we could enjoy all of it from the well-placed bed (which, by the way, lit up from underneath and was very helpful when I got up to pee in the middle of the night).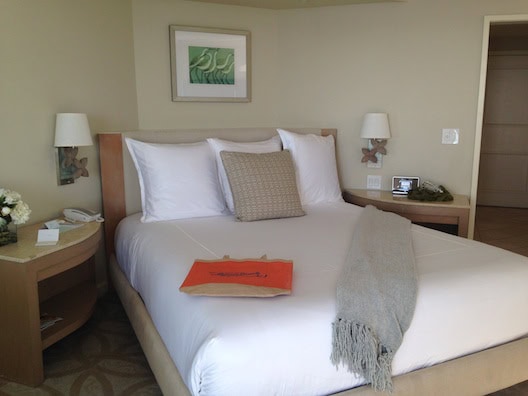 As if the views weren't enough of a welcome — and, trust me, they were! — we had this personalized treat waiting for us. To me, there is nothing that says more about a hotel than its customer service. When they go out of their way to do something special for a guest, it makes me want to sing their praises — which is what I'm doing here. And what I did on Twitter. And Facebook. And Instagram.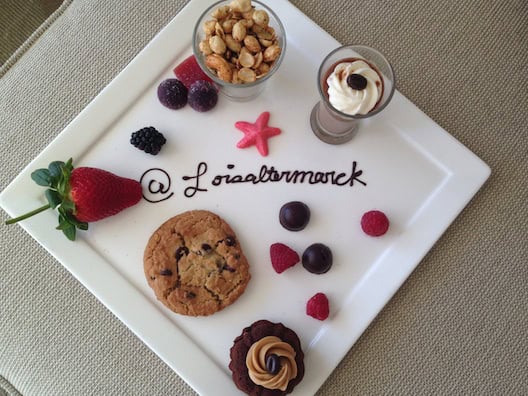 I know I have to show you more than just our hotel room but, honestly, why would you even want to leave a room like this? Even the bathroom was filled with products from my all-time favorite, philosophy.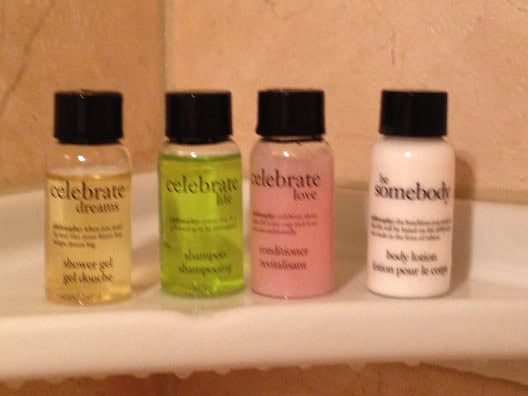 But we did leave the room and had an incredible couple of days doing things in Laguna which, somehow, we had never even known about before. I will share those with you later but, meanwhile, let me show you some other parts of the hotel. The next three photos are from Surf & Sand because my own pictures don't do them justice.
Just look at how pretty the pool is at twilight. We took a group photo here but can only imagine what we were all doing in it.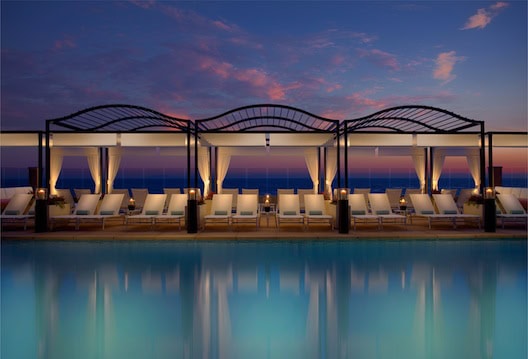 We enjoyed cocktails by the firepit — and, yes, the sunset really was that spectacular.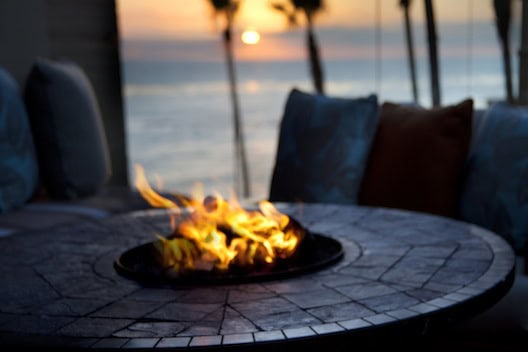 And dinner at Splashes? Well, that will require a post in itself but I'll just tell you it included duck eggs, Patagonian icefish and peanut butter-chocolate ganache WITH CELERY. Yep. You'll have to wait to hear about that because we are all still talking about it weeks later.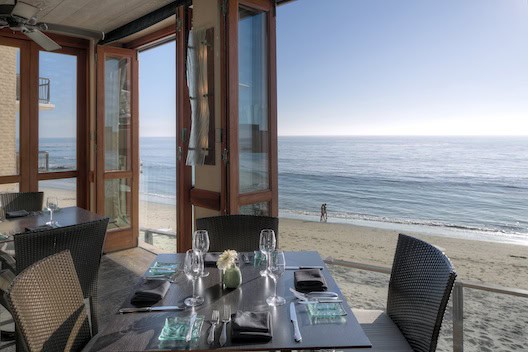 Going back to my own photos, Michael and I loved starting the day with breakfast at Splashes.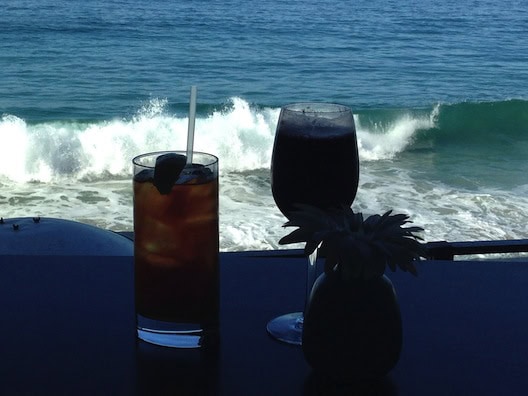 We even enjoyed our surprise guest.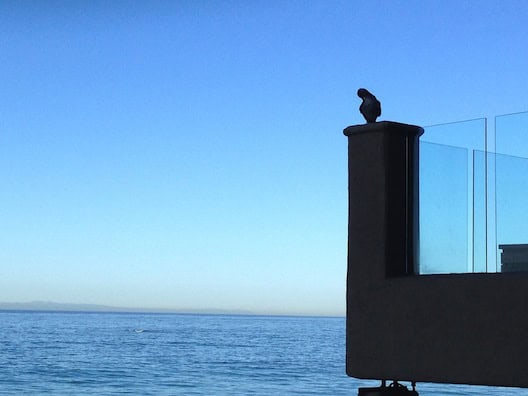 For two nights, we slept like babies, thanks to the roar of the ocean singing us its lullabye.
As someone who is happiest by the water, let me assure you I was very very happy here.
And next time we visit Laguna Beach again — which we will definitely be doing for Festival of the Arts and Pageant of the Masters –we will be staying overnight.
At Surf & Sand, of course.