We're Going to Australia with Oprah!!!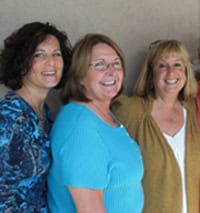 For those few of you who didn't hear us screaming when Oprah announced on her Farewell Season premiere show that she was taking us — and 297 other Ultimate Viewers — to Australia, here's the video! You can catch us in the audience at 2:59 — Susan's on the aisle in a blue shirt, grabbing a flag; Lois is to the left, in a yellow sweater, wiping her eyes; and Amy is next to her, in a blue patterned shirt, in shock!
We are thrilled, humbled, excited and grateful, and we enjoyed reliving the moment on our local San Diego Channel 8 news and in the San Diego Union-Tribune. What an amazing journey this has been, and we haven't even gone on the trip yet!
This post originally appeared on my former blog, StyleSubstanceSoul.