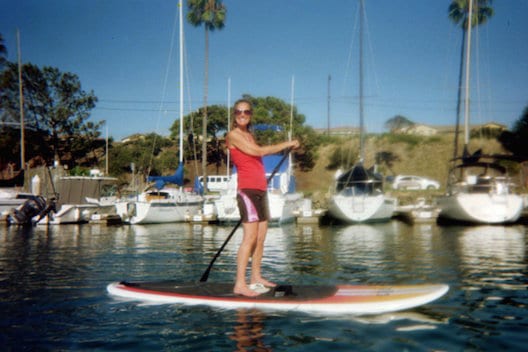 When my great friend, Elin Stebbins Waldal, told me she was finally facing her fear of the ocean by going kayaking, I was so proud of her. I think it's awesome to overcome your fears in midlife — something I did with the encouragement of Patty Chang Anker and her must-read book, Some Nerve. 
I asked Elin if she would share her experience with all of you because it's so empowering. I bet her story will inspire you to try something new, as well. Let us know what that might be.
Last October I faced my decades-old fear of the ocean by simply getting wet. You know, the up to your knees kind of wet. I had reached a point in my life where I realized that only I could redefine what getting older meant to me and I was determined not to lead a life filled with "I remember when I was able to …" stories.
Today, I can actually swim in the ocean. Although, to some, my steps may seem infantile, to me they are monumental.
In July, before I actually went swimming in the ocean, I was invited by Everyday California to go kayaking. In the ocean. [Read more…]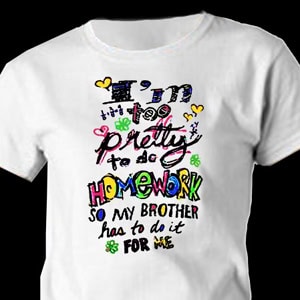 I'm kind of mortified that JC Penney still hasn't removed its sexist "My best subjects (boys, shopping, music, dancing)" t-shirt, despite an uproar by consumers and bloggers across the country. Sure, they pulled the one that read, "I'm too pretty to do homework so my brother does it for me," but we think the fact that they're still selling this one is pretty much a big fat middle finger to girls everywhere. Girls whose mothers, um, shop. And who have a choice of stores in which to do so.
In case they don't understand why everyone's making such a big fuss over this — it's just a cute little t-shirt, right? — we'd like to point them in the direction of a revealing article written by 12-year-old Rachel whose best subjects are, like millions of girls out there, apparently quite a bit deeper than the ones touted by JC Penney's demeaning t-shirts. You can read her essay, Marketing Pressure Hits Girls Hard, by clicking here.
Elin Stebbins Waldal has put together a stunning video of media images that bombard our daughters every single day. You will recognize many of them and, although, when you see them individually, you may just sigh, when you see them one after another after another, you get a sickening feeling that our society is slowly being poisoned.

Elin is the author of Tornado Warning: A Memoir of Teen Dating Violence and Its Effect on a Woman's Life, and she knows that the sexualization of women by the media can lead to abuse.
Please watch the video, share it with your daughter, write a letter — together — to one of the advertisers or companies depicted in it. And please post comments, and let me know your feelings. Let's change the messages we're sending to the next generation. "Cute" t-shirts focusing on girls' looking like sex objects turn into ads featuring women looking like this: