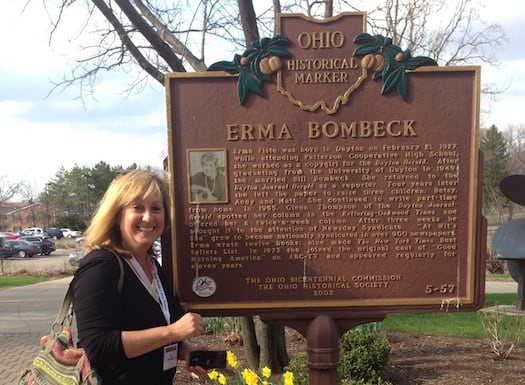 I laughed so much at the Erma Bombeck Writers' Workshop last weekend that my stomach still hurts. Since the next one isn't until 2016, I figure I have two years to recover – and to come up with a book proposal. And if you're considering going, well, I highly recommend it as both a literary lovefest and a great ab workout.  [Read more…]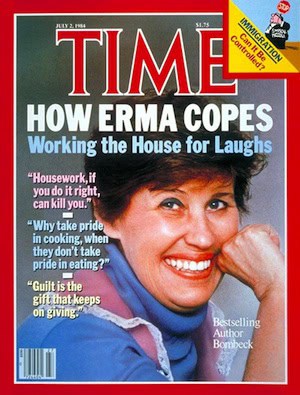 I could never have imagined when I was young and wishing I could write like Erma Bombeck that the prestigious organization continuing her work would name me – me! – Humor Writer of the Month or that I would be attending an actual Erma Bombeck Writers' Workshop with some of the best in the business. [Read more…]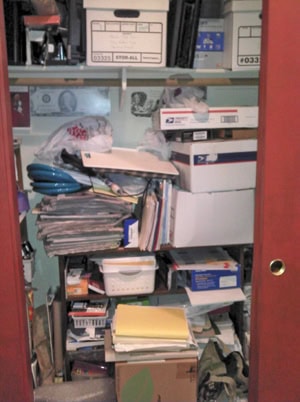 I can't say I make resolutions anymore. Instead, I call them goals. At the beginning of each new year, Larry, Catherine and I talk about the things we want to accomplish during the year. I can tell you my list has stayed the same the past few years and the only changes would be to add items.  Knowing how smart you readers are, you have probably concluded that I have not been accomplishing my goals — and you would be partially correct!
My list has included things such as: eat healthier foods, exercise more, lose 10 pounds, clean the office closet, clean out our bedroom closets, repair the closet shelf, clean the garage, go through our dresser drawers, get the retaining wall fixed, power wash the deck and put down new protective stain, touch-up the paint on the baseboards … you get the idea.
Now, I did lose about 8 pounds last year and exercised more and, for the most part, ate healthier foods but there is always room for improvement in these areas so they remain on my list year after year. The real problem comes with all of the house projects. By the time I have come home from my day job at our local elementary school district office, and spend the evening working on StyleSubstanceSoul, there's not much time left. On the weekends, I'm cleaning the house, washing cars, running errands, working on StyleSubstanceSoul and, next thing I know, Monday rolls around and it is time to do it all over again!
So, as I get older (59 will be rolling up here in a couple of months and I can't believe 60 is within earshot), I am more concerned about getting the essential things done and less concerned about the never-ending list of goals. I remember reading Erma Bombeck's 1979 piece, If I Had My Life to Live Over in her book "Eat Less Cottage Cheese and More Ice Cream," which came about after someone asked her, "If you had your life to live over, would you change anything?" Her immediate answer was "no," but once she thought about it, she changed her mind.
I know many of you have seen this before but it is a good reminder to live life rather than letting life get in the way of living. Thanks, Erma.
If I had my life to live over again …
I would have talked less and listened more.
Instead of wishing away nine months of pregnancy and complaining about the shadow over my feet, I'd have cherished every minute of it and realized that the wonderment growing inside me was my only chance in life to assist God in a miracle.
I would never have insisted the car windows be rolled up on a summer day because my hair had just been teased and sprayed.
I would have invited friends over to dinner even if the carpet was stained and the sofa faded.
I would have eaten popcorn in the "good" living room and worried less about the dirt when someone wanted to light a fire in the fireplace.
I would have taken the time to listen to my grandfather ramble about his youth.
I would have burnt the pink candle that was sculptured like a rose before it melted in storage.
I would have sat cross-legged on the lawn with my children and never worried about grass stains.
I would have cried and laughed less while watching television … and more while watching real life.
I would have eaten less cottage cheese and more ice cream.
I would have gone to bed when I was sick, instead of pretending the earth would go into a holding pattern if I weren't there for a day.
I would never have bought anything just because it was practical, wouldn't show soil or was guaranteed to last a lifetime.
When my child kissed me impetuously, I would never have said, "Later. Now, go get washed up for dinner."
There would have been more "I love you's," more "I'm sorrys."
But mostly, given another shot at life, I would seize every minute of it … look at it and really see it … try it on … live it … exhaust it … and never give that minute back until there was nothing left of it.
What would you do if you had your life to live over?