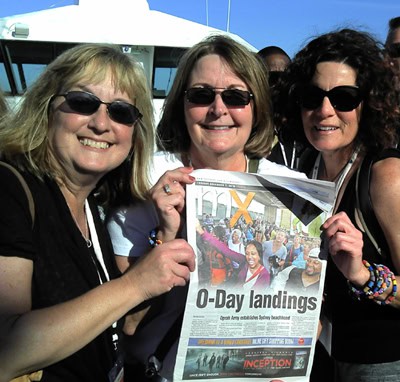 Last September 9, we were lucky enough to be invited to what we would soon find out was the season premiere of Oprah's 25th and final season. It was a show that would change our lives, and make us believe that anything is possible. The whole experience is still so surreal, and we are so grateful for every part of it — especially the 299 new friends we made!
We will be reliving our memories today, and you can come along. We wish we could have brought you to Australia — and you, and you, and you, and you ….!
Relive our Ultimate Australian Adventure with us:
Day 1 – Sydney Opera House and the Zoo
Day 2 – Curtis Stone Cooks Us Dinner
Day 3 – Snorkeling at the Great Barrier Reef
Day 4 – Hugging Koalas
Day 5 – Lois Holds Oprah's Hand
Day 6 – Climbing the Sydney Harbor Bridge
Day 7 – Sailing Regatta with Oprah
SAN DIEGO (CBS 8) – Oprah kicked off her final season Monday with a big surprise for her audience — a trip with her to Australia. Among those at the show were three San Diegans who can't believe their luck.
News 8 spoke with two of them about their upcoming trip of a lifetime. They taped the show last week, but they still get giddy just talking about the experience.
For 25 years Oprah has inspired her audience to make a difference. Susan Jensen and Lois Mark are riding that train.
Oprah held a contest to find her ultimate fans. Susan, Lois and a third friend Amy Krause knew they had to enter. After all, they started an Oprah-inspired website.
"We give them so many ways they can make a difference," Susan said.
It's called Style, Substance, Soul, a site for women to share information, encourage each other and give back to others in need, like their flip-flop recycling program which sends flip flops to Africa that are turned into jewelry.
"It keeps flip-flops out of the landfill here and it also helps have a sustainable economy for some women in Nairobi, and that's a very Oprah-esque thing. Giving back, it's a dual purpose," Susan said.
Next thing they know, Oprah's staff sends them an e-mail.
"'We happen to have some seats available for the September 9th show', and we jumped at the chance to go," Susan said.
The women had no idea what they were in for until they got in line and started talking those around them. Everyone had entered the contest.
"We knew oh my god – this is a really big show, and everybody was happy to be there because they love Oprah, and then to realize there was something bigger was really exciting," Lois said.
Oprah announced she's taking her entire audience of ultimate fans for an all-expenses paid trip halfway around the world for 10 days.
"Going to the Oprah show has been on my bucket list and going to Australia is on my bucket list, so I'm taking two things off in a short period of time. How great is that?"