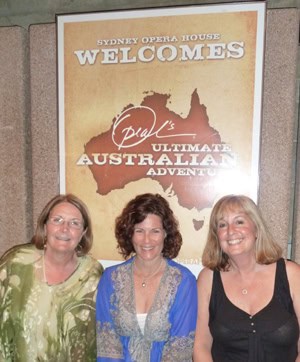 This was the day we had all been waiting for – we were going to be VIP guests at the two tapings of The Oprah Show at the Sydney Opera House. For Oprah's Ultimate Viewers, this really was the ultimate gift.
At 9 a.m. we were off to the first taping. The crowds on the street were as excited as we were, and they were screaming their welcomes to us and we were screaming our thanks right back at them!
With our yellow bracelets wrapped around our wrists, we were ushered to the VIP section – oh, we could so get used to this! – and were awestruck to look around and see 6000 audience members all smiling and laughing and feeling that same sense of gratitude and awe. Some Aussies had told us that it was harder to get tickets for this show than it had been for the Olympics! More than 350,000 people had sent in requests.
Sally Lou Loveman, who we remembered so fondly from that life-changing Chicago show taping back in September, warmed up the audience – which didn't seem to need much warming up! By the time Oprah came on the stage, we had been whipped into a frenzy!
For those of you who missed the first show, here's a quick recap: First up was the family of the late "Crocodile Hunter" Steve Irwin. I had interviewed young Bindi over the phone when her movie, Free Willy 4, was released on DVD, and was so impressed by how charming and articulate she was. In person, she, her little brother and mom set off an emotional torrent that just got more intense when Jay-Z surprised a compassionate boys' school teacher with a special appearance, and Oprah presented the students with a million dollars worth of laptops and computer equipment.
Russell Crowe visited next, followed by Christian and Rachel Anderson. Christian was battling cancer, and Oprah gave the couple a check for $250,000 so they wouldn't have to worry about bills and could just spend time together with their two little boys. We were in tears watching the video Christian had made for Rachel.
Next up was Bon Jovi, singing hits "It's My Life" and "Living on a Prayer." We were sitting in about the twelfth row so we can assure you that, yes, Jon Bon Jovi is still one of the sexiest men alive. As if all of that wasn't enough, Oprah ended the show by presenting the entire audience – all 6000 of us – with an exclusive pearl necklace from Kailis engraved with "Oprah The Farewell Season." We get so many compliments every time we wear it, and it is so meaningful to us because of the incredible memories it represents.
We were emotionally spent – and there was another taping coming up in the afternoon! After lunch in the Opera House (how lucky were we?), Susan went back to the hotel to call her husband and have a good cry (I think I was teary for a good three quarters of the trip but will probably have my breakdown sometime down the road when I come back down to earth), but Amy and I decided to use the couple of hours in between tapings to do some shopping! We found the fantastic Aboriginal Art Galleries at the Sydney Harbour, and spent all our time – and money – there, buying earrings, scarves, journals, artwork, boomerangs … we could go on but, suffice it to say, we spent enough to warrant a tax refund at the airport the next day. It was a good thing we had bought the extra suitcases!
After a quick change, we were back at the Opera House, this time sitting in the fifth row center – hello, Oprah! – and, because this would be the final show, we were ready for anything. We had a great time talking to the two Australian mother-daughter pairs sitting in front of us who had won the ticket lottery and were beyond excited. They had just found out that they had been selected to upgrade their seats to the VIP section, and they were feeling as crazy happy grateful as we all were to be sitting there!
We had to rehearse what would be the grand finale – a gigantic Australian flag unfurling over us while a children's choir sang "I Still Call Australia Home." We prepared for the waterworks to flow because we knew this would be a huge emotional moment.
Oprah came out, looking like a queen, and brought out her first guest – Bono! What a thrill! Next, making a grand entrance that would make headlines all over the world, came Hugh Jackman, speeding down a zipline from the top of the Opera House to the stage. Unfortunately, he smashed right into something hard and we got an up-close and personal view of it. Ouch. It was actually really scary and when he turned around, his eye looked awful. He was so gracious, and said it was completely his fault because he got a little overenthusiastic. What a gentleman – and what a cutie! Even the young male paramedic couldn't resist hugging him when he went onstage to help him!
Nicole Kidman and Keith Urban did their first interview together with Oprah, and they were adorable. Olivia Newton-John was equally adorable – and she's a shocking 62 years old now! She showed off the black leather pants she made famous in "Grease" – how could those tiny little things have ever fit anyone?!
The road trip ladies – who are as sweet in person as they were on TV – were sitting in the front row, and Oprah presented them with limited edition Australian Colours pink diamond "O" necklaces from Rio Tinto's Argyle Diamond Mine. And then she presented them to the rest of the 6000 audience members!
Then came the big moment when the kids' chorus started singing "I Still Call Australia Home," accompanied by Hugh, Olivia, Keith, Nicole and Russell Crowe. The star power on that stage was dazzling. When that flag starting unfurling over our heads, it was magical.
The Ultimate Viewers were the first to leave the taping, and the crowd's reaction as we walked out of there brought us to tears. We could totally feel the love as they waved to us, clapped for us and screamed for us to come back soon. One by one, they were calling out, "thank you," and we were calling out, "thank you" back to them. We were yelling, "We love you" to them and they were yelling "We love you" back at us. It was just a surreal moment and the perfect end to our trip.
Except we still had one big surprise in store for us.
After an evening of collecting email addresses and phone numbers, taking photos and packing up all our memories, it was time for the first group to leave for the airport. We were in the later group so Amy and I took a quick walk through the Botanical Gardens, then Janet and I visited the Sydney Museum. We didn't want to miss a thing!
We traded in our Australian phones for ones we could use back home, praying that all our photos and video made the conversion. Then we were off to the airport, where we stocked up on Tim Tams to share with our families and friends.
While we were waiting at the gate, our group was ushered together and we knew something was up. Suddenly, to everyone's shock, Oprah walked over. She didn't know why we were so surprised, saying of course she had to come say "goodbye" and "thank you" to us. Really?! She totally did not have to do that, and the fact that she did shows what a class act she is. We were so touched.
She thanked us for being the "ultimate Ultimate Viewers," and told us to expect some post-Australia depression. She encouraged us to hold this experience in our hearts forever, and to build on this momentum and spread the love. I said we would pay it forward and she repeated, "Pay it forward."
So that is what I'm going to do in both my personal life and through this blog.
I hope you'll join me as I pay it forward and make this the gift that keeps on giving.
Epilogue:
Watching the four Australia shows on TV last week was in some ways even more emotional than actually being on the trip. It made me realize just how big this experience was, and how incredibly blessed I was to have been chosen to be there. I have not taken one minute of this gift for granted.
I am on Facebook with my 299 new friends every day, not just reminiscing about the past but planning how we are going to use the incredible energy of this group to make a difference in the future.
I am so grateful for the love and support of my friends, families and readers, who have encouraged me to share my stories – and who keep asking for more, even when I feel I must be boring you to death. You have all made this experience even more meaningful to me.
The main reason I wanted to devote so much space to our Ultimate Australian Adventure is to show you that anything really is possible. I am living proof that dreams do come true.
So dream big, send your dreams out into the universe and watch the magic happen.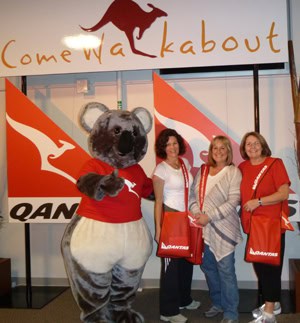 Arriving at the Qantas lounge at LAX in preparation for our flight to Australia was like coming home to our dearest friends. After all, these were the people with whom we had experienced one of the most surreal and emotional days of our life three months earlier at that fateful taping of The Oprah Show when we learned we were all going halfway around the world together.
There was Elissa Mast who we had connected so strongly with during our hours in the Harpo holding area; mom and daughter Priscilla Nelson and Avalon Middleton who we had bonded with at the Oprah Store; and Liz Kazungu and her mother who had been sitting behind us at the taping (which we felt was a sign because they were from Nairobi and we were wearing our Formerly Flip Flops bracelets from the exact same area!). It was like old home week, with lots of hugging, laughing and screaming.
We were divided into groups – we were Koalas, which we hoped boded well for our not-so-secret wish to get a chance to actually hold the cuddly creatures – and were thrilled that our old friends were all with us. We finally met Rachel — one of our blue-shirted group leaders from Event Architects, who we had talked to over the phone many times in hopes of convincing her to send us to the Great Barrier Reef — and took pictures with a cardboard John Travolta, sampled Australian treats and listened to didgeridoo music. We were handed Qantas bags filled with Australia guidebooks, a hat, a water bottle and comfy pajamas for the long flight. We even received Motorola cell phones to use in Australia.
By the time we actually boarded the plane at midnight, we were physically and emotionally exhausted. The flight was easier than we had expected (thank you, Ambien!) and, after 14 hours in the air and many months of anticipation, we landed in Sydney!
We had been warned that the paparazzi were out in force and that we should just smile and walk by them. "No problem," we laughed, rolling our eyes. It was such a funny concept – why would the press care about us? – that we couldn't even take it seriously. Until we walked off the plane.
As the Blue Shirts (our loving nickname for the amazing people from Event Architects who we quickly came to depend on for everything) quickly ushered us through the airport – and let me assure you that going through Customs (and life, for that matter) is much easier when you're with Oprah – we were surrounded by reporters screaming out questions and shoving cameras in our faces. Wow!
We were happy to get into the safety of the bus, and were awestruck when we pulled up in front of the InterContinental Hotel Sydney to find a red carpet laid down the stairs for us, with the staff lined up on both sides in their crisp uniforms and a traditional Aboriginal smoke ceremony taking place to bless us as we entered. The staff applauded us as we walked up to the hotel, and the General Manager shook each one of our hands and greeted us personally when we reached the top. This is the kind of welcome the Royal Family gets! It was touching and very humbling, and was topped off with the gorgeous voices of the St. Andrew's Children's Choir, which was performing for us inside.
Because there were three of us, Susan, Amy and I were prepared to take turns sleeping on a pull-out couch – we tended to forget we were with Oprah! – so you can't imagine our joy when we were each given our own room with a king-sized bed, breathtaking views of the Sydney Harbour and a welcome bag from the Intercontinental. We laughed when we discovered we had each taken a photo through the cute little window between our bathroom and bedroom straight through to the Sydney Harbour.
After settling in for ten minutes, it was time for the big briefing when we would find out where each of the eight groups would be going for its three-day excursion. So, over a buffet lunch (we were going to gain 10 pounds on this trip if we kept eating like this) and the gift of beautiful bags that were truly pieces of Aboriginal art — we were introduced to the generous people of Tourism Australia.
Finally, it was time to announce the destinations we had all been guessing at for months. We held our breaths – the Koalas were going to … Hamilton Island in Queensland! We all applauded enthusiastically; we knew we'd have a good time wherever we went. Then, because the response was obviously not loud enough, the announcement continued … "Queensland, the home of the Great Barrier Reef!" Oh, why didn't you say that originally?! We went wild! We were going to see one of the Seven Wonders of the World, and we mouthed a grateful "thank you" to Rachel, who just smiled knowingly.
Happy, happy, happy, we were off to our first activity of the trip. We had been given a choice between a bike ride or walk through Sydney or a tour of the Sydney Opera House, and it seemed like a no-brainer to us. This would be our only chance to get a private tour inside the Opera House and we weren't going to miss it.
As we walked over to the Opera House, donning our Oprah lanyards which we were told not to leave home without (unless we were walking alone, in which case we were advised to go incognito so as not to become any kind of target), people on the street waved to us, smiled and called out one warm "welcome" after another. It was amazing.
Harpo cameras followed us as our tour guide, Natalie Moran, took us into the hallowed halls of the Sydney Opera House (which, for the next eight days, would be referred to as the Sydney Oprah House). We were given a rare opportunity to watch rehearsals for both the Sydney Orchestra and the Australian Ballet and to learn about the building's innovative architecture. We ended the tour with a glass of champagne and were ready to leave, totally content and satisfied, but were called back and asked to have a seat on the steps of the lobby where we were welcomed by Richard Evans, Chief Executive of the  Opera House, and treated to a truly special private performance by celebrated pianist Simon Kenway and soprano Penelope Mills. Why can we never remember that everything is done in a big way in Oprah Land?! Mills' "Ave Maria" gave us all goosebumps, and the two graciously posed for photos with us afterwards.
Next stop, as though we hadn't been treated to enough in the five hours since we arrived, was a luxury cruise on the Captain Cook Cruises' MV Sydney 2000. We cruised through the beautiful Sydney Harbour, filling ourselves with cocktails and hors d'oeuvres as we headed to the Taronga Zoo. We were once again divided into small groups and excitedly went off with our wonderful guide, Amber Castle, to watch an incredible bird show, visit an adorable baby elephant, follow a renegade penguin and take a picture with a koala!
As animal lovers, we enjoyed every minute of our tour — which ended with a twilight Aussie barbeque buffet overlooking Sydney Harbour. The food, the setting and the view were all spectacular, and we were so excited about the stuffed koalas the Zoo sent us each home with. We had such a wonderful night getting to know the people at our table and marveling at the amazing gift Oprah had given us.
At one point during dinner, after we kept reminding each other, "And this is only day one!" Susan turned to me and said, "It doesn't get better than this." The woman next to her snapped to attention and told her, "You never say, 'It doesn't get better than this.' Instead, you ask, 'How can it get better than this?' and let the universe show you how."
That was life-changing advice which we passed on to all our fellow Ultimate Viewers and that we continue to live by now.
We went to bed that night after watching the late news filled with stories of our arrival and surrounded by the Australian newspapers welcoming Oprah on their front page.
Our last thought, before falling asleep with smiles on our faces, was "How can it get better than this?"
We would soon find out the answer to that …