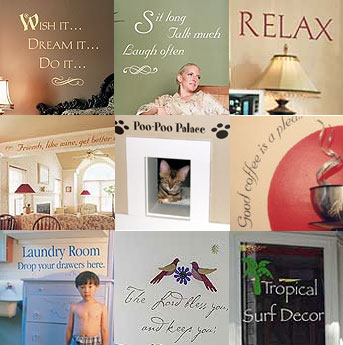 Vision boards have become so popular because they put your dreams right in front of you, making them feel more real and attainable.
Wallwords work in sort of the same way. Available in a huge variety of sizes, fonts and colors, these vinyl letters and graphics easily transfer to your walls and send out good karma like "And they lived happily ever after" or remind you to "Dream big."
What I like about Wallwords is that they give your home a story. The words you choose – there are more than 3000 phrases, plus you can custom order your own – provide a context to your life, whether it's a big "Everybody's got a laughing place" in your family room or a subtle "Relax" in your office. You can put up a poem you love, the lyrics to your favorite song or even the meaning of your child's name.
What I also like about Wallwords is that they're temporary and can be changed as easily as your moods. Whether you choose "Always kiss me good night" or "Closed until further notice," they definitely make a statement.
This post originally appeared on my former blog, StyleSubstanceSoul.