happy halloween!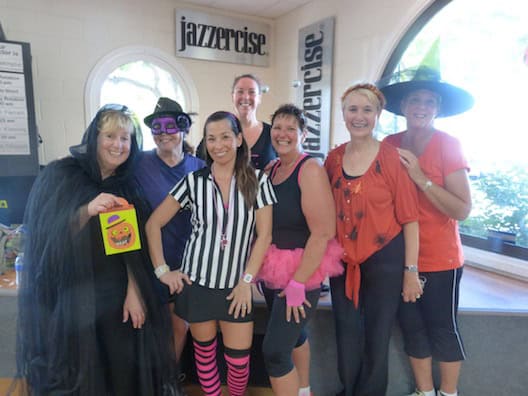 I thought this was going to be a pretty lame Halloween because:
1.  My nest is empty of trick or treaters
2.  I can't do "one for you, one for me" when giving out candy this year
But the holiday has actually been so much fun because of the amazing women in Jazzercise and Jenny Craig.
I lost two pounds this week, which is a miracle in itself, as you know if you're my Facebook friend and saw the desserts I brought home from the Nickel Diner in L.A. over the weekend.
I went for my weigh-in this morning, and probably lost another pound laughing at Marne and Penny's fantastic costumes. Penny is – wait for it – a deviled egg! Hilarious!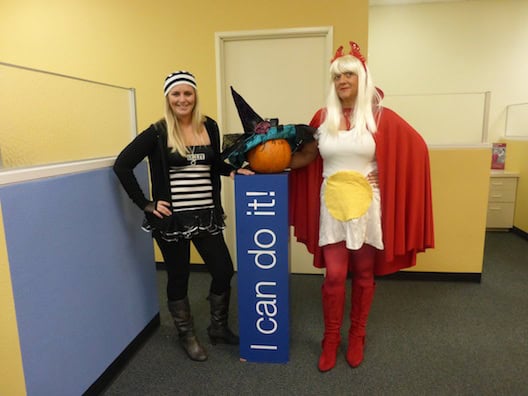 This was my Jazzercise class yesterday, taught by the awesome Dawn Washington. She gave out lots of prizes, and I won a pair of Halloween panties. So did Miss Boo-ty over on the right here!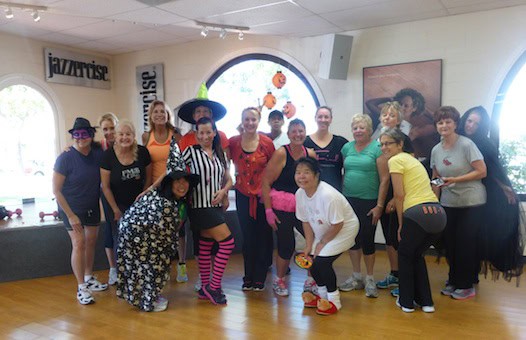 Dawn is hilarious, and I promised her that, after I lose 25 pounds, I will join her when she jumps off the stage to dance in the middle of the circle we form around her. Hmm … I just may have that Kit Kat after all.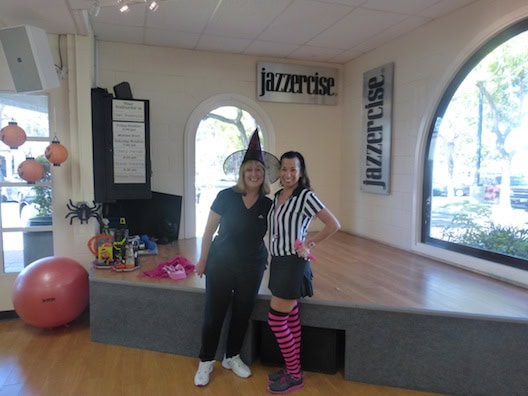 Today in class, the equally-awesome Kristen Penk wore her kitty ears as she led us in routines to "Monster Mash" and "Ghostbusters." She also pulled names for prizes, and brought in adorable cookies she had baked for the occasion. No one worried about eating all the goodies that were put out because we had so earned them after those work-outs.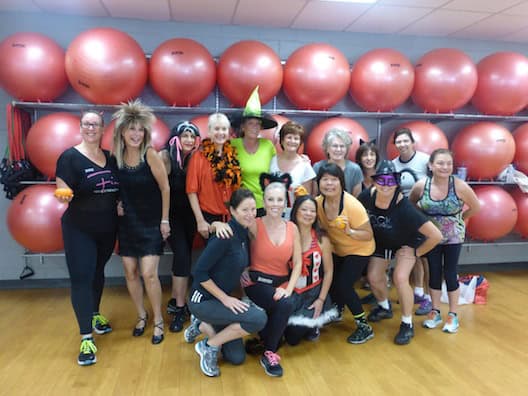 My classmate Cathy brought in mini-pumpkins for us to use as weights, and look at these healthy banana ghosts Tanya made. These women are unbelievably creative!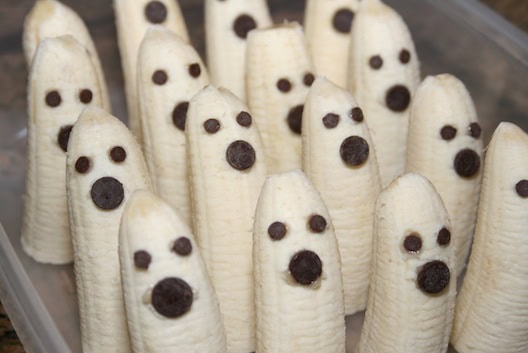 So, even though I won't be surrounded with chocolate this Halloween, I'm definitely surrounded with incredible women who I am now proud to call friends.
And that's the biggest treat of all.
*I received a free month on the program in order to do this review. There was no compensation. The opinions expressed are my own and not influenced in any way. Note: Clients following the Jenny Craig program, on average, lose 1-2 lbs per week.