going way, way back to my summers at camp willoway
As I was laughing and crying watching The Way, Way Back last week, it dawned on me that the most authentic coming-of-age movies – the ones that bring us right back to our own awkward years of growing up – always seem to take place during the summer. In fact, when I really think about it, my whole adolescence can be defined by the summers I spent at Camp Willoway.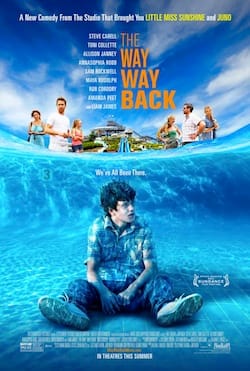 In the movie (which opens in select theaters on July 5 and is a must-see, by the way), 14-year-old Duncan (Liam James) is forced to spend his vacation in a beach town with his mom (Toni Collette) and her jerk of a boyfriend (Steve Carell). Shy and totally out of place, Duncan feels lonely and like an outcast until he is taken under the wing of Owen (Sam Rockwell), the wacky but warm manager of the local water park. There, he finds people who care about him – and, in turn, he finds himself.
Willoway was my Water Wizz. It's not that I needed somewhere to escape to – I had a loving family and great friends – but, thanks to the people I met there and the fact that I could be with them for weeks on end without having any other responsibilities, it felt like an oasis. It was the place where I became me.
Back then, New York City kids headed to sleepaway camps to get away from skyscrapers, concrete and crowds, and many of those camps were luxurious and filled with high-brow activities.
Willoway was not one of those camps.
I was 12 my first summer there, and I felt at home the minute I arrived and heard Box of Rain playing from a cassette player in the kitchen. I didn't care that our bunks were tents that would never be posted on Pinterest as examples of "glamping," that we basically lived on "bug juice" and that there was nothing like horseback riding on the schedule. I don't even remember there being a schedule. If there was one, we certainly didn't follow it.
Instead, we spent our days hanging out, talking endlessly, playing guitar and listening to music. The soundtrack to those summers was provided by the Grateful Dead, the Allman Brothers and the Band. To this day, if Friend of the Devil, Blue Sky or Up on Cripple Creek comes on the radio, I'm immediately transported back 40 years to those magical days in the chairs in front of the main house.
Our nights were spent sneaking into the boys' tents or entertaining them in ours. Summer love was exciting, probably because it was short-lived and passionate. It was a dramatic time filled with firsts, and no matter what happened, we knew we were okay because we were all there to support each other.
We became so close because we were literally together 24/7 and had the luxury of time to get past what was on the surface. We accepted and celebrated our differences, and got to know the staff as well as our fellow campers. At the end of my last summer there, we gathered around a TV to watch Nixon resign. It was the 1970's and we were young, liberal and idealistic. Thanks to the camp experiences that shaped my views, I'm still that girl.
There's a scene at the end of The Way, Way Back where Duncan tells Owen, "I wish I could stay here forever." That's exactly how I felt about camp.
My friends and I sobbed at the end of every summer, clutching on to each other and gushing "I love you," even though we wrote letters, spent hours on the phone and continued to see each other throughout the year. I still have the pillowcases everyone autographed each summer, along with the memory logs we printed up and the treasured photos of long-haired teens frozen together in time.
All these years later, Duncan may find it reassuring to know that, although most of us now have children who have already outgrown camp themselves, we still stay in touch through our Willoway Facebook group. I'm happy to see that Water Wizz has a Facebook page, too. This will make it easy for Duncan to connect with his pals years from now – when he's setting out on the journey of his life, confidently sitting in the driver's seat rather than merely watching the world pass by him from the way, way back.
This post was sponsored by Fox Searchlight Pictures. All opinions are, as always, my own.
This post originally appeared on my former blog, StyleSubstanceSoul.com.