omg, i've got bieber fever!
Let me first assure – ASSURE – you, I do not have a crush on Justin Bieber. He is younger than my youngest child, for one thing. Ewwww. And, sorry, but I just don't think he's a very talented singer. Or dancer. Or musician.
I do, however, think I've developed a slight case of Bieber fever after seeing Never Say Never, which may be one of the best movies I've seen this year. (Please put that in perspective. It's February, people! These are the months that try film critics' souls.) The reason it resonated so strongly with me is because the real star of this documentary isn't Justin Bieber – it's the fans. The movie is an ode to the millions of loyal little girls who turn a cute young boy into a pop idol. And haven't all of us been those little girls at some point? I know I was, as my friends who remember me proclaiming, "Frampton is God," will attest. (Sorry, Eric Clapton. And, sorry, Rabbi Moshowitz.)
At the advance screening of Never Say Never, which I only attended because I was reviewing the movie for NickJr.com, thank you very much, I was the oldest one in the audience by, oh, a good 20 years or so – and that was just compared to the moms, who had accompanied their daughters in the roles of drivers and popcorn buyers. The excitement was palpable from the minute I stepped into the theater, where the audience was happily – and loudly – responding "BIEBER!" to every "JUSTIN!" screamed by two tiny girls who semi-confidently held court in front of the screen. Each round was accompanied by wild giggling, which is a truly precious sound that we unfortunately grow out of as we grow up.
By the time the movie actually started, my ears were ringing but the audience's enthusiasm was infectious and I might've joined in with a "BIEBER!" or two myself but I was already getting odd looks for being there by myself rather than with my BFFs.
I got caught up in the movie immediately, "ooh"-ing and "ah"-ing along with the crowd as Justin's baby pictures and home movies filled the screen. I, of course, was thinking of my own kids at that age, but the rest of the audience apparently had other things on their mind. As Justin grew up – well, relatively – in front of us, the decibel level in the theater rose painfully every time he shook his head or took off his shirt.
This was totally an "aha!" moment for me, revealing the importance of hair in pop stardom. You can not be a boy toy unless you have great hair on your head and none on your chest.  Justin Bieber is easily as famous for his hair as he is for his voice. The Beatles were known as the Mop Tops. And my beloved Peter Frampton? Well, does the Frampton Comes Alive album cover not say it all?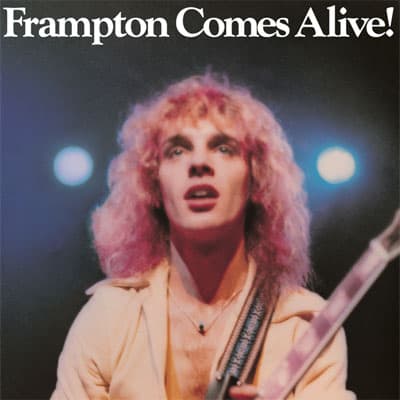 Conversely, a hairless chest is key. Body hair means "man," not "boy" – and that's scary. And real. That's why almost every girl interviewed in Never Say Never waxes poetic about how "cute" Justin is! Pop idols are cute! Like babies! And puppies! They're sweet and innocent, and they're the safest first loves. It's why my sister and I had posters of Donny Osmond and Davy Jones and Bobby Sherman and David Cassidy all over our bedroom walls. Real rock stars, like Mick Jagger, were too "dangerous," and we couldn't deal with an offer like "Let's Spend the Night Together" until we had gone through our cute boy stage during which the only place that anything really happened was in our imagination, where it was all about kissing and hugging and holding hands.
Having a crush on a pop idol is a female rite of passage, and what comes across so touchingly in this film is the fact that the young fans are not simply smitten with the star – they're equally in love with the idea of love itself. The Disney fairy tale version of love. The kind that still makes old Frampton fans like me sigh when I'm bathing the dog or loading the dishwasher and catch the eye of the real love of my life. When Justin actually calls upon a fan to sit onstage while he sings to her, she has no idea what to do with herself – or him. On your wall, a pop idol is still a fantasy to mold however you want. In real life, he's a real person with a mind of his own, though, and he's not always going to be crooning, "Baby, baby, oh," to you. So, really, your teenage crushes are supposed to stay on your wall (are you listening, Katie Holmes?).
Hey, Justin Bieber seems like a nice enough kid. He loves his mom, dad and Usher. He's hard-working, he cares deeply about his fans and he empowers his young audience by personally proving that dreams do come true. He's a good role model.
So, to this latest generation of little girls, I say go ahead and scream. We former fans of Davy, Bobby and Donny hear you. We may never buy Justin's CDs but, then again, never say never.